National Logistics Cell NLC Jobs In Pakistan 2013
National Logistics Cell NLC has announce various job in different department of their organization so if you are looking for Jobs In Pakistan 2013 then this NLC jobs is the best career opportunity to capture. As every Pakistani must know this that National Logistics Cell is a development organization that were created on 7th August 1978. This project was started in the response of the congestion at Karachi port due to which ship has to wait almost 50 days that was ultimately resulted in the cost damage of almost $12.5 Million per annum. So the when the working start by the NLC this cost saved and now this National Logistic cell is the largest Multi-Medal freight handler in Pakistan. The main role of the National Logistics Cell (NLC) are
Prepare long term (perspective), medium term (Five & Three Year) and  short term (Annual) plans.
Technical appraisal of the development projects / programmes pertaining to Roads & Road Transport, Railways, Ports & Shipping and Air Transport sub-sectors  and process these through DDWP / CDWP and ECNEC.
Monitoring/Evaluation of existing programmes/institutions and recommend measures for improvement.
National Logistics Cell NLC Jobs In Pakistan 2013
The post that are waiting for the eligible candidates are
Director Estate
Director Information and Communication technology
Director Audit
Technical Advisor
General Manager information and Communication technology
Senior Manager Technical
Principal Applied Technology
Senior Manager
Senior Manager Estate
Senior Manager Investment
Senior Manager violence
Manager Inventory
Project Manager
Manager Special Violence
Manager Investment
Manager Technical
Manager Pre Audit
Manager Finance and Accounts
Deputy Project Manager
Project Officer
Enterprise resource planning
Software Development (JAVA)
Software development (DotNet)
Medical Officer
Assistant Manager
Senior Accountant
Material Engineer
Field intelligence Supervisor
Personal Assistance
Auditor
Field intelligence operator
Admin Assistant
Upper Divisional Clerk
Lower Divisional Clerk
Telephone operator
Security Guard
Driver
Cook
Naib Qasid
Sweeper
To download the Application Form
CLICK HERE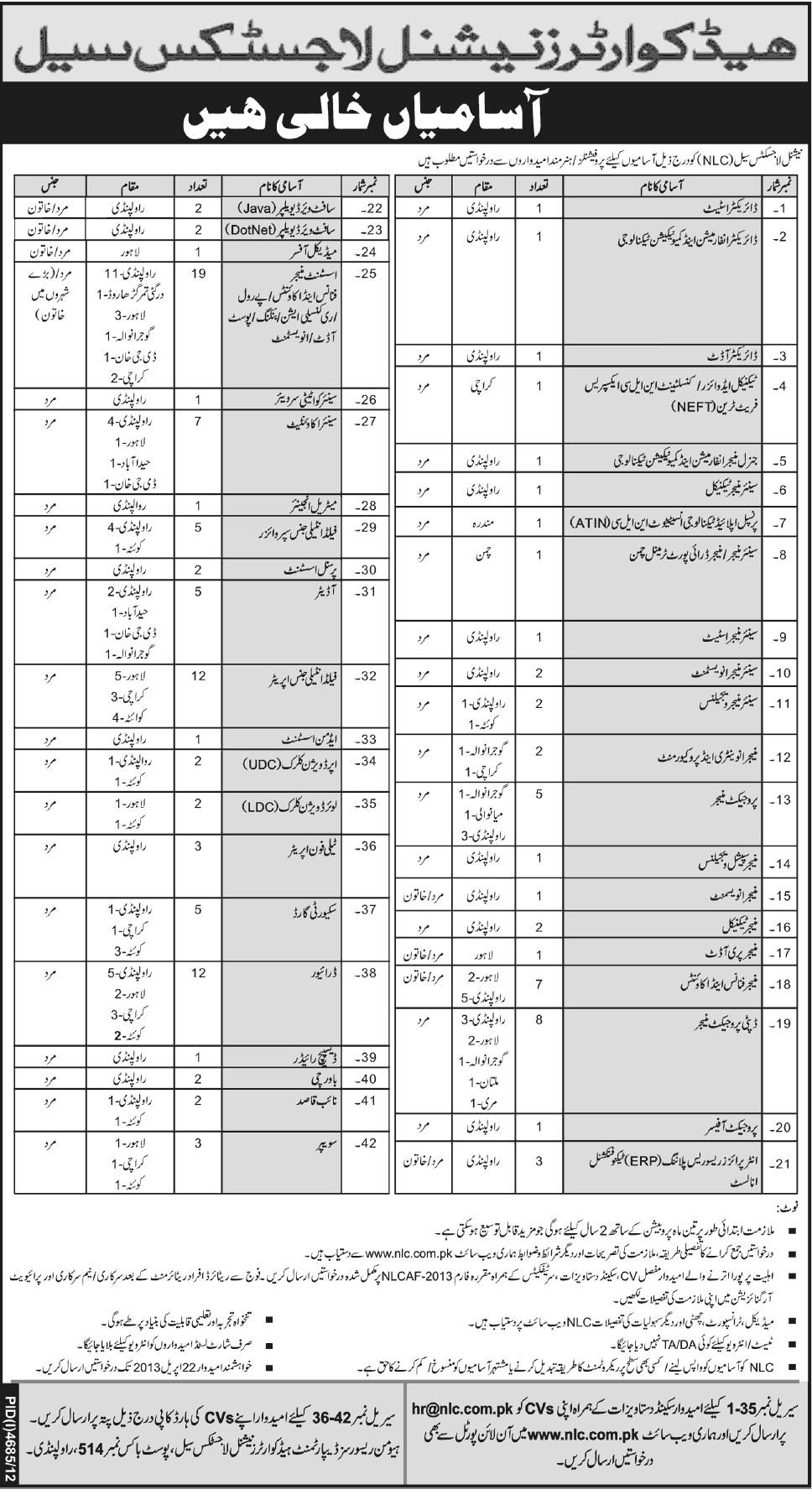 Read this advertisement carefully as this advertisement is released by the National Logistics Cell (NLC) in the most famous newspaper of the Pakistan that is Jhang this Sunday. If you are eligible for the post you wish to apply then do not wait so long as the last date top submit the application form is the 22nd April, 2013. No application form should be entertained that will receive after the given last date above in the advertisement.
Send Your CV to
Human resource Department Headquarter National Logistics Cell
Post Box No: 514, Rawalpindi
National Logistics Cell NLC Jobs In Pakistan 2013

,