The page is going to give an overview to readers about Aziz Fatimah Nursing College Faisalabad Admission 2019. The complete procedure to apply for the current opening of Aziz Fatimah Nursing College Faisalabad Admission 2019 is available here. Further, you will be guided that what you should consider before apply and what is the utmost requirements of the admission. Our audience of this page is future nursing career seekers and they are here to gather information. The BSc nursing 4 years degree program is going to consider the qualification for the FSc pre-medical with at least 50 percent marks minimum. If you are desired to get admission to BSc nursing in Faisalabad then it is a justified point to prove your approach. The second degree is the PSt RN Bsc nursing 2-years degree program means with science is enough for the admission that means the Dip. in general nursing and Dip. in Midwifery that means any post basic specialty for males and lie of midwifery admission the advertisement is considerable.
Aziz Fatimah Nursing College Faisalabad Admission 2019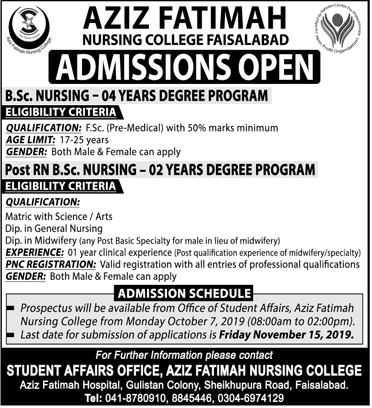 Programs offered by Aziz Fatimah Nursing College
B.Sc. Nursing 04 years
B.Sc. Nursing 02 years
Eligibility Criteria
For BSC Nursing-04 Year Program
Candidates must have passed the FSc. (Pre Medical) with 50% marks are eligible.
The age of the candidate must be between 17 to 25 years.
Both Male ad Female candidates can apply.
For BSC Nursing-02 Year Program
Candidate has passed Matric with Science/Arts.
Candidate must have Dip. in General Nursing and in Midwifery.
At least 01 years of clinical experience.
Has valid registration with all entries of professional qualification.
Male as well as female candidates can apply.
Aziz Fatima Nursing College Faisalabad Admission 2019 Schedule
The prospectus will be available from the office of Student Affairs, Aziz Fatimah Nursing College from 7th October 2019 from 8.00 am to 12.00 pm.
The last date for application submission is 15 November 2019.
Aziz Fatima Nursing College Faisalabad Admissions 2019
Students, applicants, and other career seekers only can take these programs as the most important to remain in touch with the admission wise approach. The 2 years of clinical experience is the plus point but experience without a letter is not acceptable. Midwifery and specialty are some ways that are being informed as per the requested way out. The PNC registration is valid and ll professional qualifications ensured. Please note down that both males and females can apply according to the below give admission schedule.
Contact Info:
Aziz Fatimah Hospital, Gulistan Colony, Sheikhupura Road, Faisalabad
Tel: 041-8780910, 88454446