Cadet College Mastung (Balochistan) admissions 2017 are now open in seven class and here we are providing you complete details about this admission including admission eligibility, prospectus along with admission form, last date for submission of admission form, admission procedure and all terms / conditions for this job according to the officials. So if your child have done his six class and now you want him to make the part of well maintained and well established educational system then this is the time to take steps and to visit the college for admission procedure because there are very few days are left to submit the application form. Cadet colleges admissions open and only those students are entertained with this admission who not only meet the eligibility but they also pass the entry test that is also taken out by the officials of the cadet colleges according to the previous syllabus a student have been studied in his previous class under the subjects match, English, Urdu and general knowledge. Those students who pass this entry test are call for interview and then they are entertained with the admission in Cadet College and the same criteria will be treated for Cadet College Mastung Balochistan Admissions 2017.
Cadet College Mastung (Balochistan) Admissions 2017
Eligibility Criteria
Students must have passed his previous class from any renowned school that is at least registered with any board.
Those students who are if studying in class 7 in any school other then cadet college and now they want to get admission in cadet college can apply for class 7
Age of a student should between 11 to 13 years till 28th February, 2017
Student must be medically fit and their medical examination will carry out from army hospital
Selection Procedure
Admission will only be granted purely on merit based and merit will be decided by taking an entry test that will be prepared from the Balochistan text book board 2016 syllabus.
Entry Test Details
Entry test prepared from four subjects having equal marks for each and the total marks are 100. Entry test is based on objective and semi objective type questions and that will be conducted by the NTS
English 25
Match 25
Urdu 25
General Science 25
Total marks 100.
Admission Procedure
Eligible candidates have to obtain the prospectus along with admission form available at Cadet College Mastung Balochistan by hand in Rs. 2000/- in case of by post it will be of Rs. 2500/-
Prospectus can also be obtained from NIB bank chowk Jinnah road, Quetta in Rs. 2000/- or it can be download from the college web site link and in case of download you have to attach bank draft of Rs. 2000 with your form
After obtaining the form read it carefully and after filling it dully and attach the required documents with your form resubmit it to the college admission office before till the last date of submission of admission form 31st December, 2016
Download Online Admission Form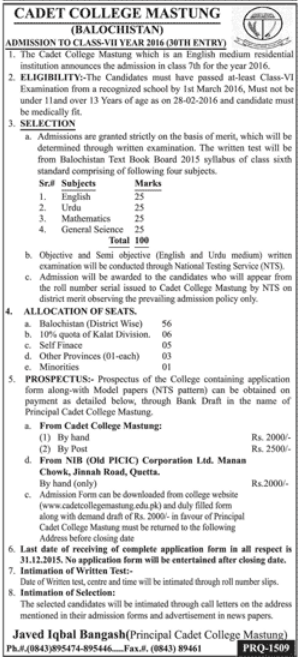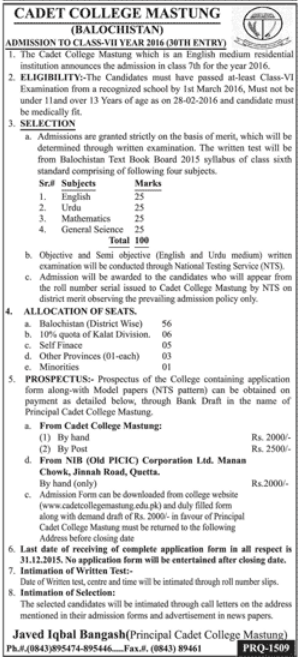 Cadet College Mastung (Balochistan) Admissions 2017 are open now and here we have discussed complete details relating to this admission with you and hope that you are all now fully aware with this admission details but in case you have any further confusion in your mind about admission in Mastung Cadet College Balochistan then you can concern us via our comment box below and we will reply you for your better consultancy thank you!