Cadet College Jhelum Admission 2019 1st year 11th class are announce by the officials so download Admission Form and get online written Test Result from this page easily that is why candidates there is no need to go anywhere else you just have to stay in touch with this page and keep yourself up to dated from all the latest updates. Well Cadet College Jhelum is one of the top Cadet Colleges of Pakistan that is the reason that every  year when the 1st year admission Schedule is announced by the officials the first choice of the students to take admission will be this college and hence every year a large number of admission application form is received to the management but the college is not is a state to allow admission to all of these candidates that is why an entry test is being prepared by the Management and only those candidates who will clear this entry test will be allowed to take admission. other wise these will be no admission allow to the candidates well every year the Cadet Colleges Admissions 2019 schedule is changed from the previous year and that is published in the leading newspaper of the Pakistan so the information could be reached to the every single candidates wishing to take admission in the 1st year FSc class.
Cadet College Jhelum Admission 2019 1st Year Form, Test Result
If you want to download the Cadet College Jhelum Admission 2019 1st Year Form along with the prospectus then you have three options that you can go to the college campus and collect you form personally, Second option in front of you is that you send a demand draft of Rs. 1500/- to the name of Cadet College Jhelum and get complete admission kit and the third option is Online which is available to this page so the final decision is up to you that for what option did you go for. To download the online admission form just click on the link below
CLICK HERE TO DOWNLOAD ADMISSION FORM
Cadet College Jhelum Admission 2019 1st Year Last Date is 30th April, 2019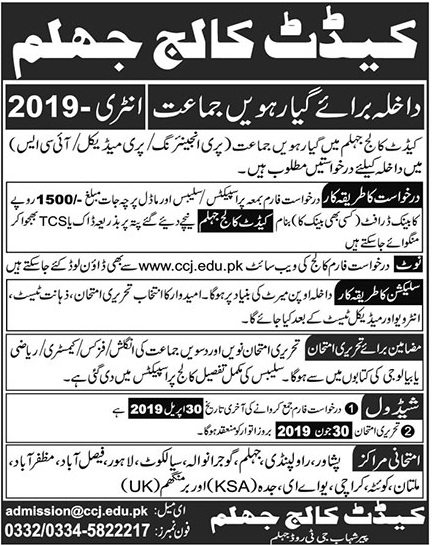 Cadet College Jhelum Admission 2019 Schedule:
Last date to submit the admission application form to the Cadet College Jhelum is

30th April, 2019



Written test from all the candidates will be taken on

30th June, 2019



New Classes will be start from August, 2019
Cadet College Jhelum Entry Test Result 2019
All those candidates who wanted to take admission in the cadet College Jhelum 1st Year have to appear in the Pre admission Entry Test in which the Written test will be comprises of four section that are English, Physics, Chemistry or Computer, Mathematics or Biology and the written entry test will be held in all the biggest cities of Pakistan including Jhelum, Rawalpindi, Peshawar, Lahore, Muzafarabad, Gujrawala, Faisalabad, Multan, Bahawalpur, Karachi, Gilgit, Quetta. Then Cadet College Jhelum Entry Test Result 2019 will decide that either you are eligible to take admission in this college or not.