The Admissions are offered for the Gulab Devi Medical Institute BSc Admission 2018 Form in different B. Sc Programs for all those candidates who have been qualified for their previous educations with Medical Sciences. The Gulab Devi Postgraduate Medical Institute is looking for those candidates who are self-motivated and confident with their studies so if you think that you these abilities then this is the time to plane about your higher education along with a well-reputed organization. Here on this page, you will find all admission related data according to the officials you just need to read this entire article as the admission procedure, Last date, and Eligibility Criteria is available according to the administrative committee of GDMI. The Gulab Devi Medical Institute was established in 2004 to provide the best quality educations in medical and healthcare professionals it is located in Ferozpur Road Lahore Punjab, Pakistan. This is affiliated in the list of University f Health Sciences UHS and College of Physicians and Surgeon of Pakistan FCPS. Gulab Devi Hospital is attached with it as a training hospital. Every year it is producing well-trained graduates who are performing their well to serve the nation with their best affections. Hence admissions are available in this well equipped College so you are advised to complete the Gulab Devi Medical Institute BS Admission 2018 procedure according to the officials and within the due dates so you can be entertained by the admission procedure. Scroll down this page.
Gulab Devi Medical Institute BSc Admission 2018 Form
Gulab Devi Admission programs
Gulab Devi Medical Institute is providing admissions 2018 in the B. Sc HONS programs which consist of four years of duration.
B. Sc Allied Health Sciences
B. Sc Cardiac Perfusion Technology
B. Sc Medical Laboratory Technology
B. Sc Respiratory Therapy
B. Sc Emergency and Intensive care Technology
B. Sc Operation Theater Technology
Gulab Devi Medical Institute BSc Admission 2018 Advertisement: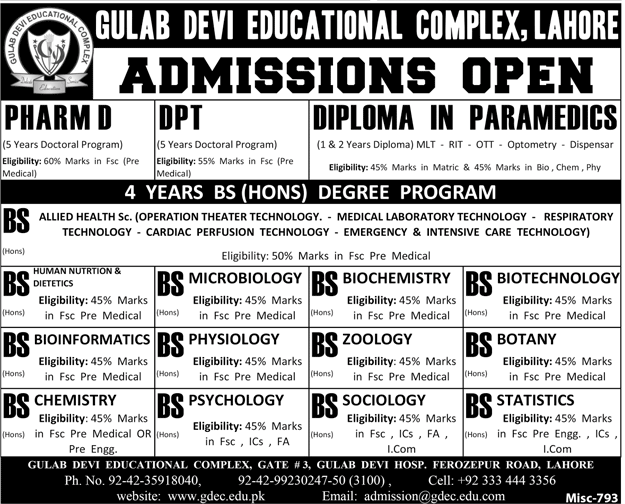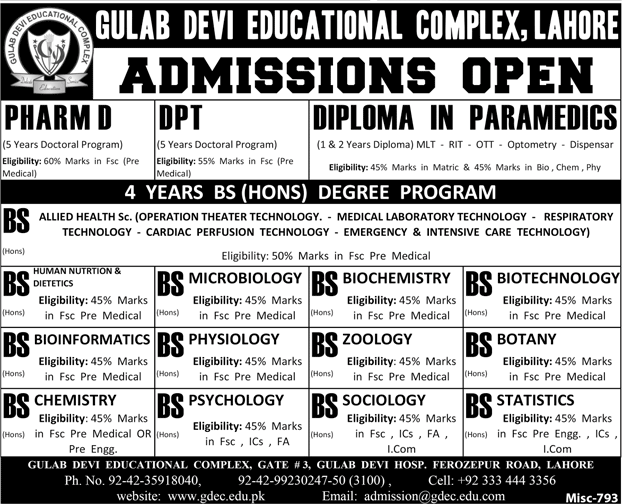 Admission Procedure
Willing candidates has to complete the admission procedure according to the officials of administrator committee has decided for this purpose that is obtaining of application form from the admission office along with the Gulab Devi Medical Institute BSc Admission 2018 application from the admission office read it carefully fill in dully and by attaching all the required documents resubmitted it to the same office before the last date i.e. September, 2018

Admission form can be obtained by paying Rs. 1500/- In cash during the office timing from 8:00 Am to 2:00 Pm.
Application form downloaded from officials website has to send with Bank slip of payment of Rs 15, 00/ in favor of Gulab Devi Medical Institute.
Click to Download Form 
Eligibility Criteria
Willing candidates has to qualify the following eligibility points restricted by the officials and necessary for taking admission in Gulab Devi Educational Complex.
Those candidates are eligible who had qualified their previous educations in pre-Medical Subjects i.e. F. Sc Pre-Medical
Candidates securing minimum 50% adjusted marks are eligible to get admission.
Entry test which is necessary to take admission conduct by UHS, Candidates has to clear this entry test with minimum 40% marks.
Gulab Devi Entry Test
Gulab Devi Medical complex is affiliated with University of Health Sciences UHS so any candidates who want to get admission in Gulab Devi Medical Institute has to clear the Entry test which will be conducted on August, 2018. This is a essential part of admission so candidates has to clear it with its requires percentage so they can be considered as eligible candidates and can get Gulab Devi Medical Institute BSc Admission 2018.