TDCP-ITHM Tourism Development Corporation of Punjab (TDCP) was established in 1987. It is an institution in Pakistan to give vocational and professional knowledge to the staff attached to this sector. Their programs are intended to cover various levels of executive power and workers in this field. They need to develop tourism activities in their organizations. Thus, the Tourism Development Corporation is near about to fulfill one of the purposes of its creation. The program aimed to develop professionals equipped with skills and techniques for top-class management of tourism and hospitality services.
ITHM College Faisalabad Admissions 2021
Now ITHM College Faisalabad has offered admissions 2021, for Matric, Intermediate, Bachelor, and Masters Level passed candidates. Now, this is a golden opportunity and people can enroll free of cost.
ITHM College Faisalabad Free Courses 2020
Hotel Management (1 Year)
Diploma in Culinary Arts (1 Year)
Professional Sheaf Training Program (6 Months)
Cooking Training Program (2 Months)
British Tourism and Hotel Management (6 Months)
Last Date for Application Submission:
The last date for application submission 12 June 2021, so all candidates who desire to get admission can apply now. Candidates can get admission forms from the College's Admission Office from 9 AM to 6 PM.
Admission Information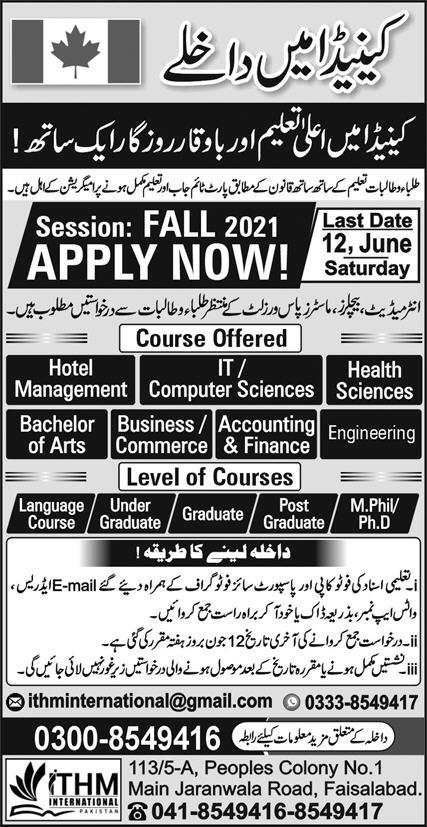 ITHM College Faisalabad Application Form
People are seeking the ITHM college Faisalabad application form that is available in the admission office as well as available on this page. On the other hand, you can apply for online admission and do a different course free of cost. So limited seats are available and time is too short because after a few days they will close the admission.
Contact Information:
Phone: 041-9220655, 8549416
UAN: 041-111-600-500
URL: www.ithmstudy.com