If you are looking for Minhaj University Lahore Spring Admission 2020 then you are here on the right page. The admissions are open now in various Undergraduate and Postgraduate programs. Minhaj University is committed to the ethics of excellence. Through its astutely tailored educational programs, it is playing its own part in accelerating the pace of national development and reconstruction, with a shift from routine education to the concept of human capital formation. It aims at the rebirth of latent potentialities of the youth of the country so that their skills can be enhanced and they can be transformed into properly educated and trained workforce capable of contributing to and strengthening of the national economy of the country. The University with its character and culture of promoting Islamic social values will fortify the very moral fiber of the youth. Scroll down to view the admission info.
Minhaj University Lahore Spring Admission 2020
The mission of Minhaj University is to make the younger generation grow into competent leaders in their own disciplines and executives of the future taking them into the mainstream of the national life. The University equips its students with sound personality and excellent academic and vocational skills to turn them into dynamic, creative and productive human beings equipped with moral vigor and spiritual vitality who would play a pivot role in realizing the goal of acquiring national splendor.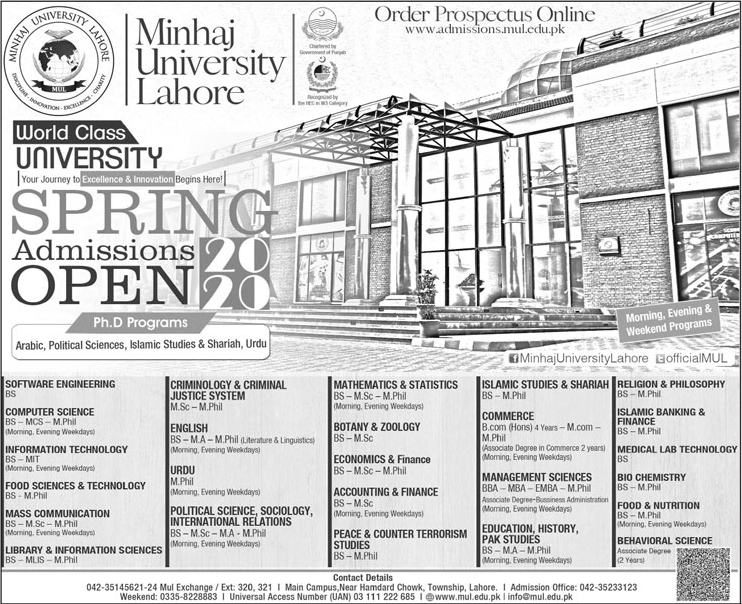 Minhaj University Lahore Admission Programs
The admissions are open in various undergraduate and postgraduate programs. The University is also offering a Ph.D. in Arabic, Political Sciences, Islamic Studies & Shariah, and Urdu. The institute is offering Morning, Evening, & Weekend programs. You can check the whole list of programs in the advertisement.
Entry Test Schedule for Minhaj University Admission
| | |
| --- | --- |
| Event | Date |
| M.Phil Urdu Entry Test | 01-02-2020 at 2.00 pm |
| BS Clinical Nutrition Entry Test | 03-02-2020 at 10.00 am |
| M.Phil Clinical Nutrition and M.Phil Food Science and Technology | 03-02-2020 at 3.00 pm |
Minhaj University Eligibility Criteria
All the candidates with a minimum of 50% marks in previous studies are eligible to apply in any field of the faculties including Basic Sciences & Mathematics, Economics & Management Sciences, Social Studies, Humanities, Languages, and Computer Science & IT (excluding M.Phil CS).
For Allied Health Sciences, the candidate must have a minimum of 60% marks to apply for various fields. It is different for some other fields.
Admission Form for Minhaj University Lahore
All the candidates can download the prospectus online by visiting www.admission.mul.edu.pk.
There you have to make an account with a valid email and password.
After this, you can fill the form and submit it to the University as written in the form.
Minhaj University Lahore Spring Admission 2020
So, this was all about the admissions. If you want to apply now for it, then you have to do it early because the last date is very near and the applications will not be accepted after it. You must have to apply now. This is one of the best universities in Lahore. If you have any queries, then ask in the comment section.