The Page specially explain the current PIM Karachi Admission 2018. It is the institute works under the ministry of Industries & Production government of Pakistan serving business and industry since 1954. The first diploma consider here is the healthcare and lean hospital management. It is professional diploma considerable for the PIM karachi and its classes been started from 9 Dec 2018. If we explain further then ilm.com.pk will gave you the idea that current diploma will help you to understand the health and healthcare system. It also includes the Models, System and national perspective and primary healthcare. The second one the association with hospitals. It has historical background, types, categories and models of the future. The third one is the facilities design.
PIM Karachi Admission 2018
As we mentioned earlier that PIM Karachi Admission 2018 have the considerable approach for he functional perspective and adjacencies in hospital buildings. The managing patient care areas includes the clinics, wards, CSSD and laboratory. Further it has the imaging services, deivery suites and ICUs. It is all about the 4 month plan only Sunday classes.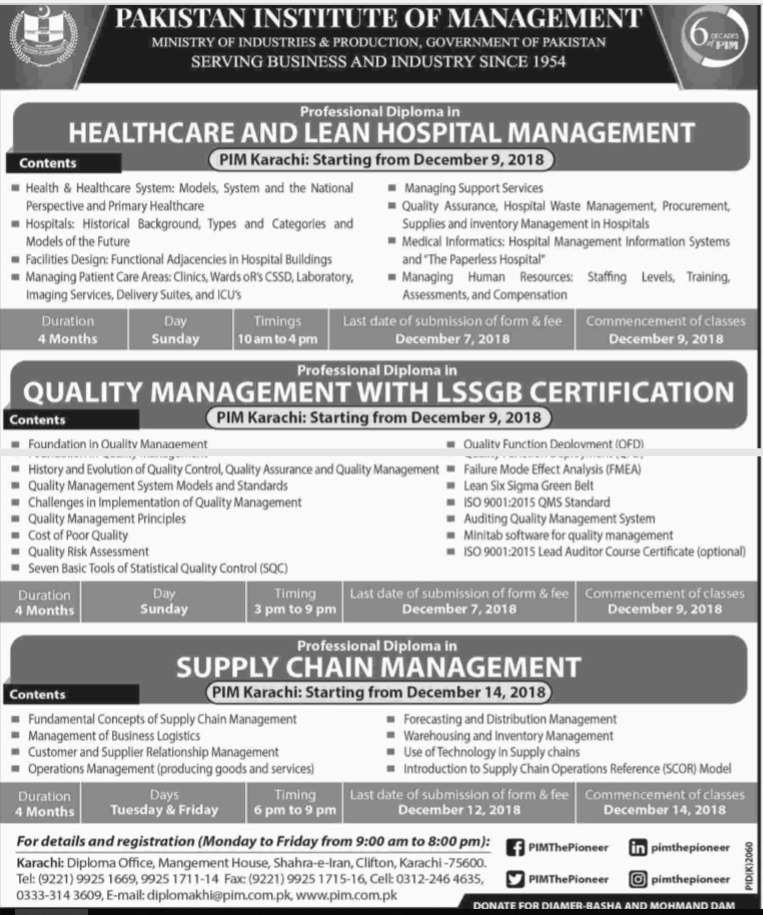 Further the time would be 10 AM to 4 PM. The last date for submission of form and fee is 07 Dec 2018. The 9 Dec 2018 is the last date for commencement of classes. The second one is the professional diploma in quality management with LSSGB certification.
Pakistan Institute of Management Jobs 2018
It is also the PIM Karachi degrees which started from 09 dec 2018. The foundation in quality management, quality function development, History of quality control and many other hidden perspectives of degrees features considerable here in this diploma.
It has 4 month duration with Sunday class only. Further its timing is 3 PM to 6 PM. The last one current Pakistan Institute of Management Karachi Admission 2018 is the professional diploma in Supply Chain management. It will start from 14 Dec 2018.