Admission for the session of 2019 to 2021 is open in Scholars College Lahore Admission 2019 that offer different courses at Inter Level like FA, FSC, ICS and ICom so all those who want to study under well educated and experienced faculty must take Scholars College Lahore under their consideration. other than the Intermediate level education this college also offer some bachelor and master programs too including BCom, BS, BBA, B.Ed, BA, M.com, MBA, M.Ed and MA. The History of Scholar College is not so long as the college were established under the motive of providing quality education in affordable prices to all the students of the nation in year 1982 under the leadership of Prof. Syed Khurshid Alam. Students increased every year and the popularity of the Scholars College is increased with the every passing year and this is just because of the quality education provided by the College faculty. This is also an honor for the Scholars College that it is the first commerce college in the Private sector of Punjab.
Scholars College Lahore Admission 2019
Financial Aid is also provided to the needy students in the Scholars College Lahore Admission 2019 and details are
We provide financial aid to Orphans and Handicap students.
At the time of admission, students who have scored A+ in their previous board or university, are given special scholarship.
Qarz-e-Hasna is also given to deserving students.
Financial Awards are given to students who show progress and maintain 1st, 2nd and 3rd position in the internal and external exams of the university, based on board or university criteria.
Special scholarships for Old Scholars, Kinship, Children of Government and Armed forces employees.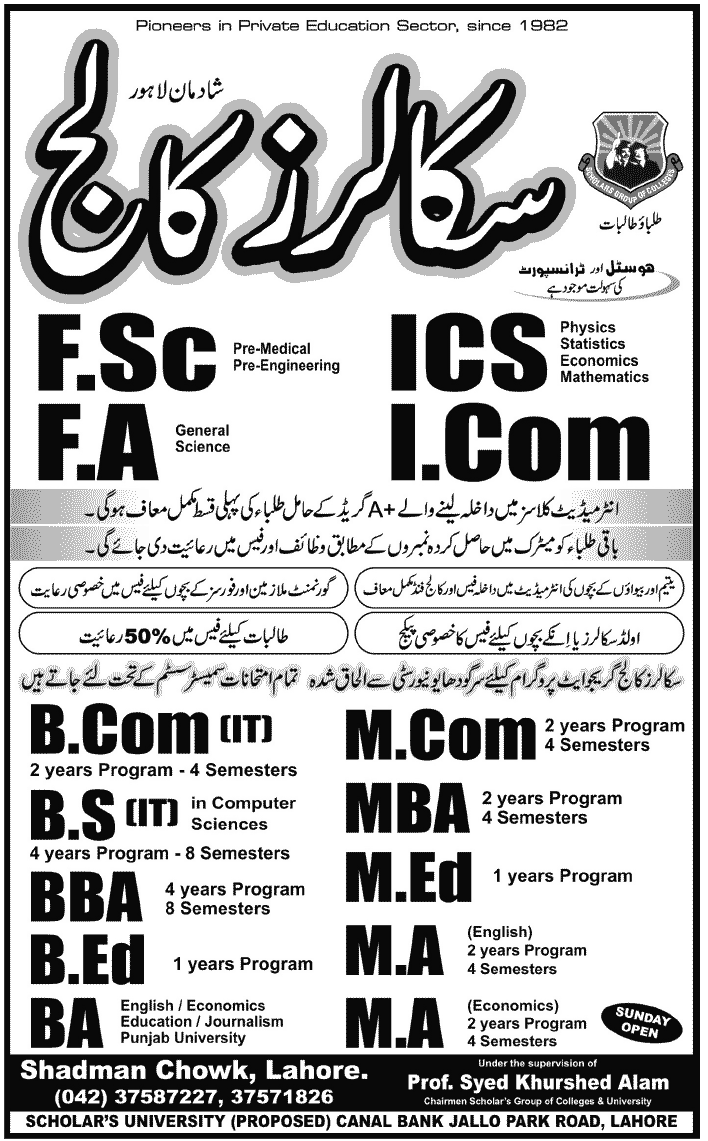 For More Information and Admission Contact:
Scholar college Lahore
Address: Shadman Chowk, Jail Road, Lahore
Ph: 042-37587227, 37571826