Sindh E-centralized College Admission Program SECCAP 2020-21 Form is online available on this page alternatively and you also can download through the official website. The Sindh Government prepares this type of procedure of getting admission in any of the college and schools in all over the Karachi so the students can apply without going out of their house college to college or find out their merit individually, as they can easily apply according to their merits by sending online their required documents for admission in any of the college. The SECCAP will differentiate the students for specified college according to their marks in last pass classes. So first you have to download admission form fill in and attach all the required documents with it and submit to any branch of Sindh Bank by paying the challan fee Rs. 60 along with admitting card and mark sheet. SECCAP Admission form Online will Available here soon. Other information about admission in SECCAP is widely discussed below. Have a look down.
Sindh E-centralized College Admission Program SECCAP 2020-21 Form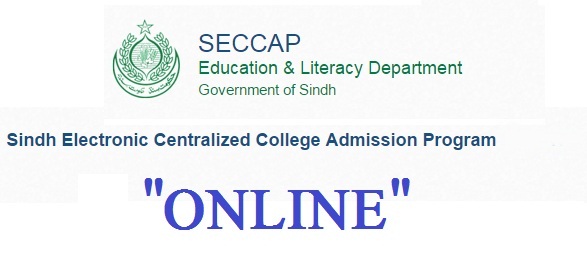 Eligibility Criteria
Students securing good marks in any technical education or, O level or equivalent.
Students passed their last examination before five years from 2018 are also eligible
Supplementary result waiting for students are not allowed for 2020-21 admission.
Students passed their SSC/ O' Level or equivalent in Arts subjects can't apply for Science subjects.
How to Apply
To apply to check your merit in your chosen subject in a specified college, first of all, buy the admission form along with the brochure from any branch of Sindh Bank at Karachi. Fill up the form carefully as the instruction mentioned on placement form and submit to prescribe branch of Sindh Bank of Karachi along with the required documents with the voucher of Rs. 60/-,
Photocopy of mark sheet/ Admit card
G.C.O (O 'Level) Students should attaché one copy of their mark sheet
The Technical Education board students should attach the copy of 9th and 10th result sheet
The candidate who has passed equivalent to Metric, O' Level or S.C.E. through foreign countries are to be Prerequisites form IBCC Islamabad.
CAP Form 2018 For College In Karachi
So if you are eligible for the admission process to fill the admission form keep some instructions in view .i.e.
Tick in the proper box either male or female.
Write the last passed examination roll number.
Write the year of passing of the last examination.
Marks obtained from the last examination
Similarly fill the box for Grade, Examination, Name of Board, Name of your School, Father name according to his N.I.C, Residential address, Phone Number, choice of college  or School, Signature, fill all these requirements according to your original documents very carefully in proper box, so that no objection can make at the end of the time.