The opportunity of the UET Mardan admission 2023 form, last date is available and students can easily do registration in the different programs because this institute offers multiple courses at a time. So if you are finding the information about admission then you on the correct place because all information about enrollment and all methods of application will describe in this article. As well as, for those students who cannot meet the merit list then this organization is offering self-financed. They can try for admission on self-finance. This institute has been authorized by HEC while all engineering courses are approved by the Pakistan engineering council. Management of this UET Mardan admission 2023 form's last date is 06 September 2023. Candidates can easily submit the registration form and documents before these dates because if the student will submit documents after this date then management will not accept your application. So, be careful about admission.
UET Mardan Admission 2023 Form, Last Date
For the information of the candidate UET Mardan Admission 2023 Form, the Last Date of admission is 25-01-2023 and students can apply online before the last date because after the due date, no documents will accept by the university management.
| | |
| --- | --- |
| Last Date | 25-01-2023 |
| Entry Test | 29-01-2023 |
| Entry Test Result | 31-01-2023 |
| Last Date for Research Proposal | 02-02-2023 |
| Display of Merit List | 02-02-2023 |
| Admission Interview | 06-02-2023 |
| Commencement of Classes | 13-02-2023 |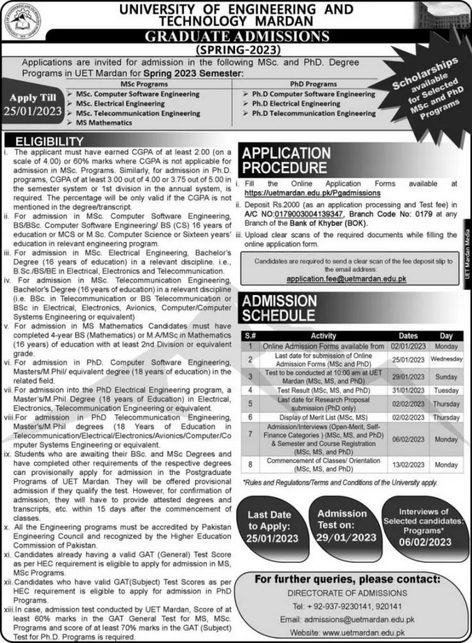 For the information of the student, the last date of UET Mardan admission 2023 is 25-01-2023. Before this date, everyone can apply to ungraduated programs and postgraduate programs. Most of the institute extends the date but no chance will appear in this institute.
UET Mardan Admission 2023 Form:
Most of the candidates who want to get admission to this institute are finding admission. For the information of the students, you can easily avail of an admission form from the admin office while if you cannot go to university then you can easily apply online. This option is existing for the facilitation of the students. The application form download link is mentioned above content so you can easily get the admission form.
Criteria of UET Mardan Undergraduate Programs:
Some restrictions have applied to students for admission so before applying you can read.
Candidate must pass from a previous class like intermediate.
50% to 60% marks are necessary to apply in UET Mardan.
Physics mathematics and chemistry will eligible for all programs in engineering.
Physics, mathematics, and computer science will eligible for a BSc in computer software engineering and BS in computer science.
ETEA test is necessary for all students who are applying for admission while on the time of merit list ETEA test marks will count.
Criteria of Postgraduate programs:
After graduation, most students apply for postgraduate programs while some various students cannot know the eligibility criteria for postgraduate programs. All instruction is mentioned so you can easily get information.
First, a 2.0 CGPA Is compulsory.
In every semester 50% marks will considerable.
If your 16-year education does not complete then you will not eligible for admission.
UET Mardan Admission 2023 Procedure:
Apply Online:
After clicking on this link, you will create her account.
Then the portal will require some information about your previous academic detail. You will provide all information.
If your information will wrong, then your portal will not accept your application and appear an error on your screen. So be careful about documentation.
After submitting the documents you will receive a fee challan.
You will pay a fee challan in a near branch of (UBL) and after submitting the fee some specific digit will mention on your bank receipt. Then you will enter all numbers on your portal and your entry test card will release by the university. Sometimes students submit the fee and do not know about the entry test card. If you do not enter the digit in the portal, then you can visit the admission office for the purpose of the card.
All information about the UET Mardan admission 2023 form, the last date has mentioned with the complete description as well as this organization offers scholarship base courses because some students got excellent marks in the previous exam. On the other hand, UET Mardan is giving a good environment with expert faculty members that are providing education. This public sector university and every person who is eligible for admission can easily apply. Furthermore, all studies are on research base students can easily do experiments in labs. So, if you want more information then you can visit the UET Mardan campus.