Abdul Wali Khan University AWKUM MS, Mphil, LLM, PhD Admissions 2021 are now open for all eligible candidates. AWKUM is looking for all those candidates who are eligible and want to grow their educational careers with a well-reputed organization. So if you are also among those candidates who have such abilities and want to be a part of this University. You are here on the right way to get eligibility criteria; the last Date for applying, the Online Application form, How to get admission 2021 in AWKUM, and all relevant data about this admission. You just need to read this entire article with full attention and response against the instructions written here. Abdul Wali Khan University Mardan AWKUM was established in the year of 2009 as a public type university by the Government of Khyber Pakhtunkhwa. University is affiliated with Higher Educational Commission HEC and 49 institutes are affiliated with this University. AWKUM start functioning as a post-graduate college Mardan and with the passage of time this university raised its fame as the best University in town. This University every year offers admission for graduate, undergraduate, M. Phil, and Ph.D. programs. Every year when this University opens admissions a huge number of applications are invited but admission granted only to those students who pass the entry test.
Abdul Wali Khan University AWKUM MS, Mphil, LLM, PhD Admissions 2021
Abdul Wali Khan University AWKUM has announced the Admission for MS, M.Phil, LLM, and P.hD. So don't waste the time and do the registration. Furthermore, the last date of the registration, entry test schedule an interview time are going to list below. For the knowledge of the students firstly you will clear the entry test and then will appear in an interview. After these steps university management will decide about your admission.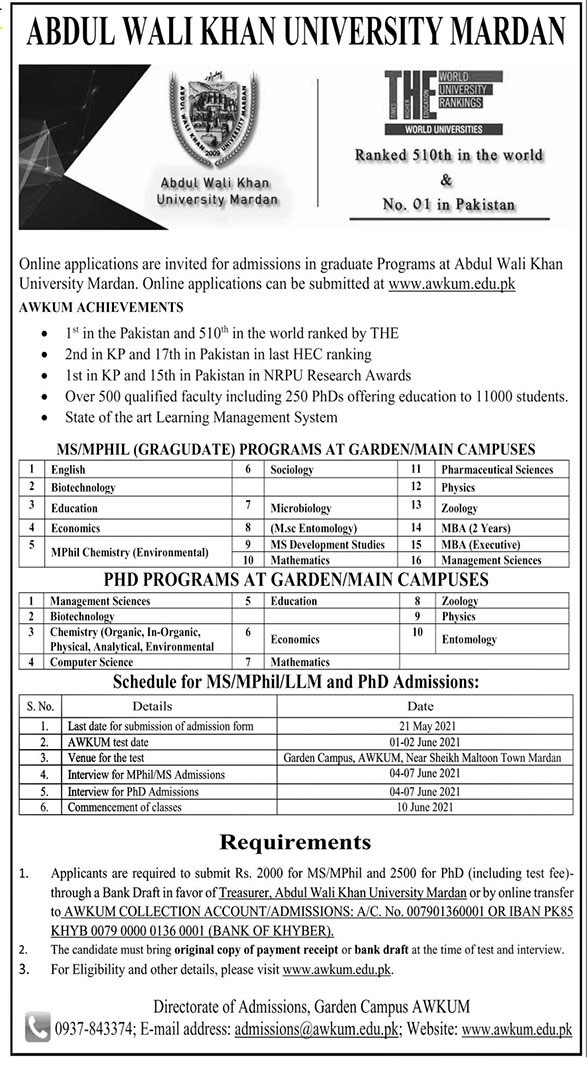 Abdul Wali Khan University Admission Last Date
The last date of the admission registration is 21 May 2021. After this date admission will close and nobody can apply. So time is too short while you can send the admission form and apply online because both processes exist.
AWKUM Admissions 2021 Programs
Abdul Wali Khan University Mardan AWKUM is offering admission 2021 for higher educations in the following faculties.
Main Campus, Mardan
MPhil Islamic Studies
MS (Management Science) with Specialization in HR and Finance
MPhil Mathematics
MPhil( Political Science)
LLM
Ph.D. Islamic Studies
Ph.D. (Management Science)
Ph.D. Mathematics
MPhil Leading to Ph.D. (Political Science)
MPhil (English)
Garden Campus, Mardan
MS Economics
MPhil (Pharmaceutical Science)
MPhil Education
D (Economics )
MPhil (Physical Education and Sports)
Ph.D. Education
University College of Science, Shankar Mardan
MPhil Chemistry (Organic, In-Organic, Physical, Analytical, Environmental)
MPhil Botany
MPhil Zoology
MPhil Physics
MPhil Biotechnology
Phil Biochemistry
MPhil Environmental Science
Ph.D. Botany
Ph.D. Chemistry (Organic, In-Organic, Physical, Analytical, Environmental)
Ph.D. Computer Science
Ph.D. Zoology
Ph.D. Physics
Ph.D. Biochemistry
Ph.D. Biotechnology
AWKUM Admission 2021 Eligibility Criteria
Well candidates you are hereby notified that only the eligible candidates will get admission. Eligibility Criteria is widely mentioned in the following advertisement dispatched by the officials of Abdul Wali Khan University Mardan AWKUM.
The second important thing is also to keep in mind that is National Testing Services (NTS) Gat general test for MS, Mphil, LLM admissions, and NTS GRE test for Ph.D. programs.
If any candidate who fails in this test evens he or she is eligible according to the eligibility criteria will be rejected for this admission.
How to Apply
Well, candidates if you are eligible then you should click on the link above to apply online. Sign up and get your online form and fills in dully and attaché all the required documents with it. Also, attach the bank draft of Rs. 12000/- for MS, MPhil, and LLM admissions and bank draft of Rs. 2500/- for Ph.D. Admission. Then you will enter in entry test.
So, this is all about Abdul Wali Khan University AWKUM MS, Mphil, LLM, PhD Admissions 2021. If you have read this entire article then you should respond against the instructions.