Students from Azad Jammu and Kashmir are encouraged to apply for admission in government universities of Pakistan on the quota basis. Higher Education Commission has reserved seats for the students of Azad Jammu and Kashmir. Complete detail about AJK Students Reserve Seats Admission In Pakistan Universities is given on this page. All technical colleges and universities are offering admission to AJK students on quota basis as well as on self-finance basis. It is compulsory for students to pass UET Lahore ECAT test with at least 60% marks to take admission. Seats are limited to districts and in case if there is no application from any district that the seats will be divided to other districts. It is compulsory for the candidate to bring the certificate that he/she is the permanent resident of AJK otherwise the application will not entertain. In this article, you will learn about AJK Reserve Seats Admission In Pakistan Universities.
AJK Students Reserve Seats Admission In Pakistan Universities
AJK Students Reserve Seats admission Criteria:
Admission in Pakistan universities will be according to the criteria of the specific university which will be mentioned in the prospectus, so must study prospectus before applying for admission
It is compulsory to appear and pass UET Lahore ECAT test for students who are applying for the admission in universities in Punjab province
For other universities, entry test is also compulsory to pass otherwise admission will not granted
Those students who are living in Kashmir but their parents or guardians are living out of Kashmir due to any reason, in that case, it is compulsory to provide a residential certificate
Hafiz e Quran students will get 20 extra marks during merit calculation
Students who have done A level, o Level or CGPA holders must have to bring equivalence certificate from their concern institution
The student who is applying for more than one course must have to submit the separate application and separate challan form
AJK Students Reserve Seats Admission Last Date:
The last date to apply for the three-year diploma of associate engineering/ intermediate/ master program/ Mphil admission is 17 August 2018
For rest of the courses last date to apply online is 14 September 2018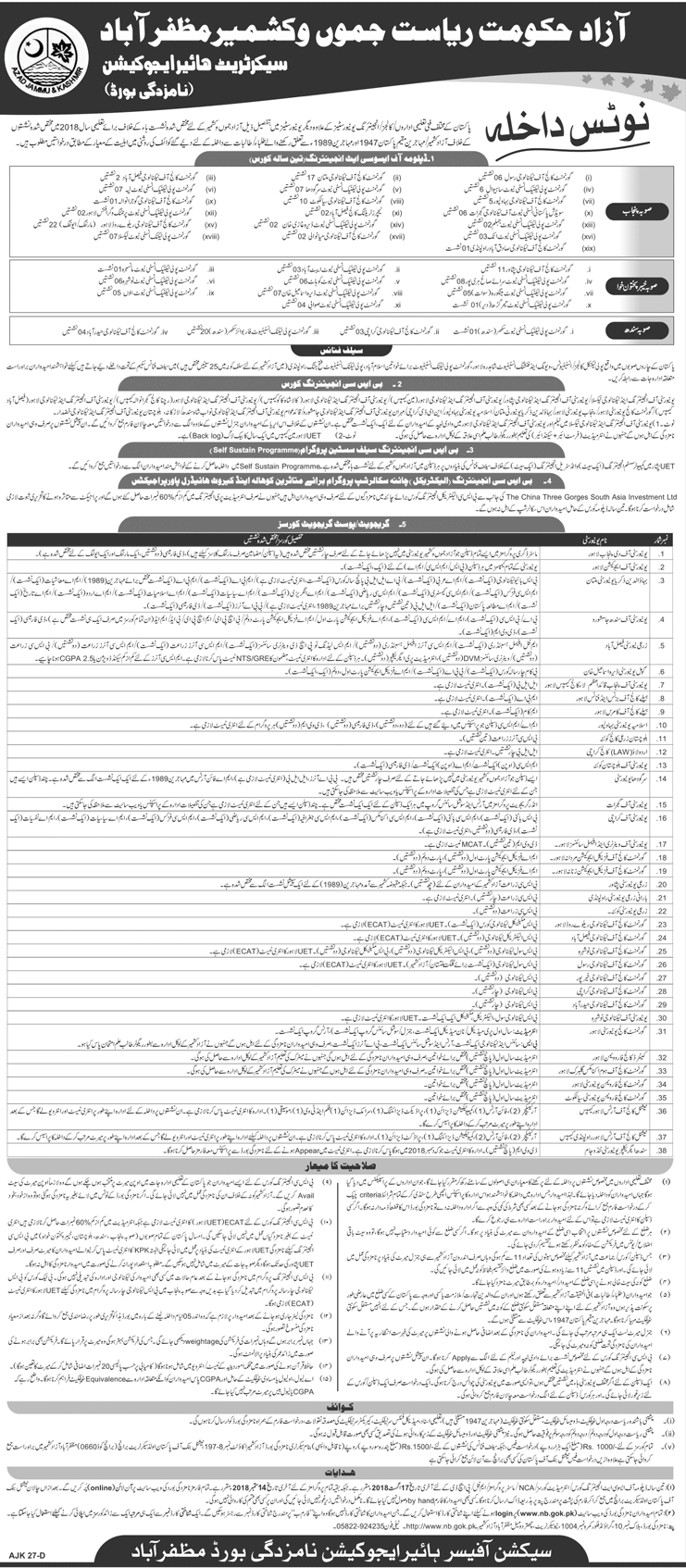 Application Procedure:
All applications will be submitted online at the official website of Namzadgi Board Muzaffarabad. Students can fill online application by logging in at www.nb.gok.pk. On this website, register with your CNIC number or form-B. By hand, applications will not accept. Those who are applying on merit must have to submit 1000 fee as application fee while those who are applying on self-finance must submit 1500 as application fee. This fee can be submitted in online branches of National Bank of Pakistan. AJK Students Reserve Seats Admission In Pakistan Universities will close on 14 September.