Bahauddin Zakariya University BZU Multan is now offering admission 2016 in Pharm D Course so all those students who want to study Pharm D from the BZU Mutan should have to submit their application till the last date for the submission of form that is 25th October, 2016. Department of Pharmancy were established in the faculty of Medicine, Dentistry & pharmacy on 1976. In the starting days the department start working in a rental house then this moves to the BZU campus on 1984. When the department is started the initial course offered to the students is B pharmacy which is a four year bachelor degree program. Now according to the rules and regulation of the Higher Education Commission Pakistan HEC B Pharmacy degree is being replaced by the D pharmacy which is a 5 year degree program. So all those students who have completed their B pharmacy from the Bahauddin Zakriya University can take admission in the Pharm. D. Codense Course. This is a one year program and after that a degree of Pharm D will be given to you as you already have studied 4 year pharmacy education and just now 1 year more and your 5 years of education is completed.
Bahauddin Zakariya University BZU Multan Pharm D Admission 2016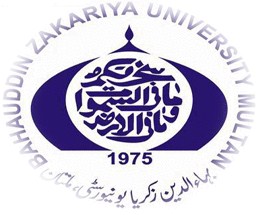 Eligibility Criteria:
All those candidates who hold a degree of graduate of B Pharmacy (4 Years program) from the Bahauddin Zakriya University, Multan since from the inception of the department from 1996 and onward are the only eligible candidates for applying Pharm D Condense course (1 Year) program.
Availability of Application form:
Prospectus along with the application form can be obtained from the
Habib Bank Ltd. University Branch, Multan
United Bank Ltd. University Branch, Multan
HBL, Board of Intermediate and Secondary Education Branch, Multan
From the above listed banks you can get the application form for the admission in Pharm D Condense course in against the payment of Rs. 250/-.
Other than that you can also get the application form by mail as you have to send a bank draft of Rs. 300/- in favor of treasurer, Bahauddin Zakariya University, Multan for registered post delivery and if the delivery in by courier service then bank draft of Rs. 350/- will be send to the BZU.
All the complete application form should be reach to the admission office till 25th October, 2016 as this is the last date for the submission of application and all those application which will received after the last date or that is incomplete in any sense should not be entertain.
For More Information Contact:
Registrar
Bahauddin Zakriya University, Multan
PH# 061-9210097, 061-9210071-74