Bahria University has announced admissions and students can take admission. Bahria University Islamabad fall admission 2018 has been all started now! In this post, we will be giving you complete of the information about this BUI fall admission 2018 so that if you want to take admission in the Bahria University Islamabad, you can freely do that! These admissions have been opened for the undergraduate and postgraduate programs. BS in electrical engineering, BS in computer engineering, BS in geology, BS in media studies,  MS in electrical engineering, MS in computer engineering, MBA in finance, marketing- all these admissions have been opened up in the Bahria University Islamabad. So, if you are planning to take admission in the Bahria University Islamabad, you have to submit the application forms right on time. They have started issuing the application forms; you can also fill them up online. If you have any question in your mind about these admissions 2018 then you can freely ask. Bahria University Merit Scholarship is also being offered to students. You should also be visiting the site of Bahria University Islamabad so that you may regularly be catching up with the details of these BUI fall admissions 2018. Fill up the forms and start preparing for the test. If any changes will be made in these fall admissions 2018 then we will let you know and we will keep you posted.
Bahria University Islamabad Fall Admission 2018 Form, Last Date
Admission Open from Monday 14 May 2018
Dead Line for Apply Online: 24 July 2018
Dead Line for Submitting Hard Copy of Admission Form: 24 July 2018
Computer-Based Entry Test BU Islamabad campus: July 2018
Entry Test Result Announcement/ Interview: will be intimated via officials website soon
Commencement of Regular Classes: September 2018
Click on the Advertisement to View in Zoom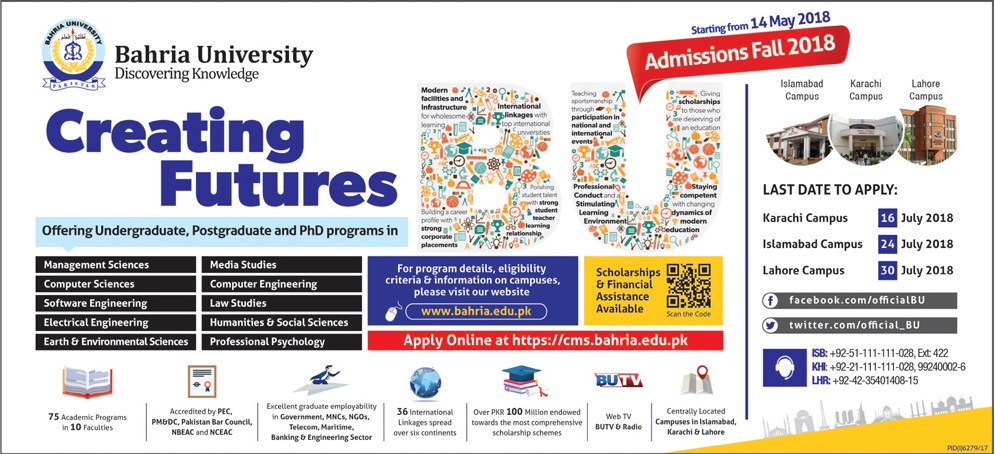 We have also been sharing the ad of this Bahria University Islamabad admission 2018 so that you may get in hand all the complete details and right information from this ad. It is time to start preparing for this Bahria University Islamabad entry test 2018, we will be updating you with all the details about this entry test 2018, you must have to stay connected with us on this webpage. If you also want to have the admission details of other universities then you can also get that information from here. All the best to all the candidates that will be applying for this entry test! so download Bahria University Islamabad Fall Admission 2018 Form.