It is here to inform you that Bahria University Islamabad Admission 2024 Apply Online for programs BS, MS (Software Engineering & Telecom & Networking, MS (Electrical Engineering), Ph.D., BS, BBS, MPM, MBA (2 Years), MBA (3 Years) BSS and LLB are open. Bahria University is a project of the Pakistan Navy and was also established under the supervision of the Pak Navy in 2000 from that time its mission is to be at the top of the leading higher education institutions of Pakistan so it is on its success path slow and steady. This University is among those universities that cannot compromise on their study and just focus on that how to provide quality education to the students of the nation.
NOTE: Bahria University Islamabad Admission 2024 announced for M.Phil program. All candidates send their admission forms by 14 December 2023.
Bahria University Islamabad Admission 2024
Bahria University Islamabad Campus is among the top educational institution in Pakistan every year there are many students who are willing to take Admission to it but due to a limited number of seats, not every student is able to get admission as all the students who have submitted their admission form must have to appear in the entrance test will not just to appear but to clear this test to as if you are not able to clear and get the passing marks in the entrance test then he or she will not be able to get admission. So if you are prepared for the entry test then do collect your admission form today and submit it before the last date.
| | | |
| --- | --- | --- |
| Admission Start Date | Admission Last Date | Apply Online |
| November 2023 | 14 December 2023 | Click Here |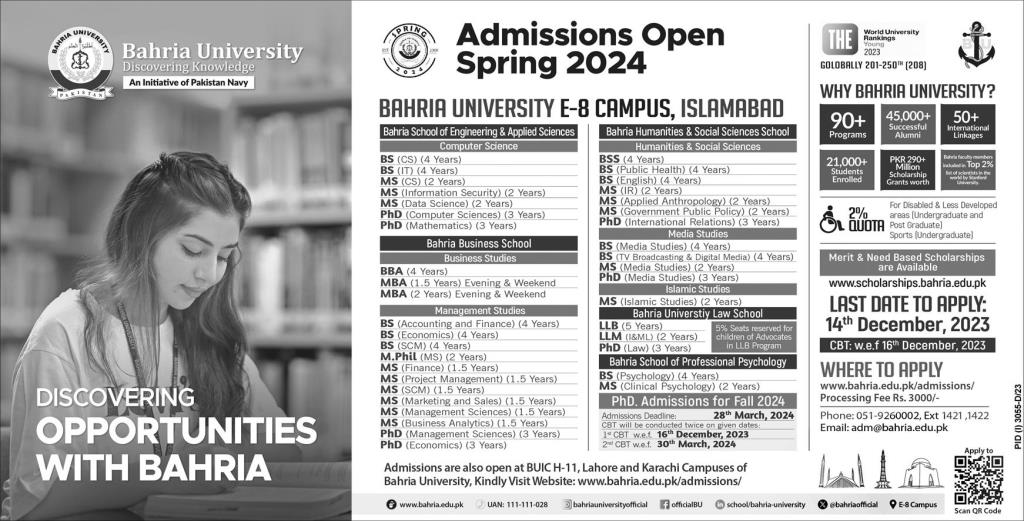 Bahria University Last Date to Apply 2024
Bahria University Islamabad Admission 2024 Last Date has been announced by the official and those candidates who are going to apply online for admission submit the application before the last date which is 14 December 2023. After this date, no application will receive by the management.
Bahria University Apply Online
No need to go to the university campus just click on above the link and apply online for admission. On the other hand, you will submit all documentation online, and then the management of this university will verify from the relevant board. So few days are left to close the admission.
Some Other Important Information:
students with ETS Scores have the option to present their ETS Score or appear for admission Test for Programmes as Tabulated Below for BU Islamabad Admission 2024.
BBA / BSS / LLB: SAT-I
MBA: GMAT
BS (CS): SAT- II (Maths)
MS: GRE (general)
Prospectus and Admission Processing Fee:
For Local Student: Rs. 2000/-
For foreign Students: US$ 60
For More Information:
Islamabad Campus
E-8 Islamabad
UAN: 051-111-111-028, Direct: 051-9243598, Fax: 051-9260889
Now Bahria University Islamabad Admission 2024 Apply Online has many campuses in two major cities of Pakistan Karachi and Islamabad the capital of Pakistan. Bahria University is providing good education through a highly qualifies faculty hired by the University management and offers a variety of programs from Business administration, computer sciences, and psychology, to medical and dental health, and maritime research. Students enter this university with different aims and dreams and University has the ability to fulfill all dreams for which they are looking at Bahria University.