Baqai Medical University Karachi now announce the Pharm D Admission 2018 of five year program so the Admission Test Result and Merit list of the selected candidates will be uploaded to this page as soon as the Management of the University declared it. So stay in touch with this page if you want to get all the latest updates regarding the Pharm D Admission. Prior to Pharm D this Degree is known as B Pharmacy which is a four years graduate program but later on the Higher Education Commission HEC Pakistan changes the rules and regulations of this degree and B Pharmacy becomes the Doctor of Pharmacy Pharm D and also one years increases in the completion of the degree. Baqai Medical Complex were started which then establish Baqai Medical College on 1988 at that time college were only offering undergraduate programs and then later on seeing the performance of the University it is decided that the graduate and post graduate program also being offered by the university too. Now the time has come when a person thinking of Best Medical Colleges in Karachi then he cannot stop himself while considering the Baqai Medical College in the list. As there are many institution in the University so among them the Baqai Institute of Pharmaceutical Sciences is the leading one. Pharmacy degree is now getting its recognition in the field of Pharmacy in Pakistan so there are many colleges that starts offering pharmacy degree. Baqai Medical University Admission is open for medical programs. The institute of the Pharmacy is comprises of four departments that are Pharmaceutical, Pharmaceutical Chemistry, Pharmacology and Pharmacology.
Baqai Medical University Karachi Pharm D Admission 2018
Admission Application Form:
All the willing candidates who want to take the admission in the Baqai Medical University in Baqai Institute of Pharmaceutical Sciences can take their admission application form against the payment of Rs. 1000/- from the admission office of the University during the office timing that is from 9:00 am to the 4:00 pm. So students don't be late if you want admission then do not cross the dates as after the date is end your admission form will not be accepted by the administration.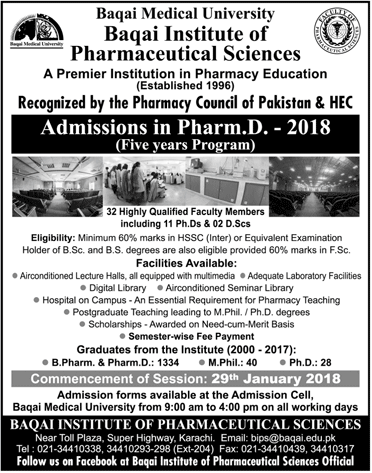 Entrance Test and Merit List:
All those students who have submitted their admission form to the admission office should have to appear in the entrance test as after the entrance test result the merit list of Pharm D will be displayed and that merit list will decided that whether you are competent enough to get admission in the Baqai medical University or not. so students there is no need to go anywhere else just stay in touch with this page and get all the latest updates regarding admission, Entry Test result or the final merit list. If you candidates have any kind of inquiry regarding this then you can write is down in the comment section given below our response team will provide you the proper solution of your problem.
For More Information Please Contact:
Baqai Institute of Pharmaceutical Sciences
Near Toll Plaza, Super Highway, Karachi
Tel: 021-34410338, 34410293- 298 (Ext) 204