The Page about Hajvery University HU Admission 2019 Last Date Form is open in various department so all those who wanted to study in a world-class centre of learning with quality education can join Hajvery University. Hajvery university is a degree awarding University and recognized from the government of Pakistan as well as the higher education commission (HEC) of Pakistan and Now offering Spring Admission in Pakistan Universities. It is also recognized by other bodies like Pharmacy council of Pakistan, Engineering Council of Pakistan. Every year there are app. 4500 students male and female both who got their degree from the Hajvery University. This University comes in the top-ranked university by HEC as a W category and leading university in private sector too.
Hajvery University HU Admission 2019 Last Date Form
There are many department now working in the Hajvery University like HU Business School, Humanities &  Social Sciences, School of Engineering, School of Media Studies, School of Mathematics, School of Fashion Design, Commerce & Banking, School of Pharmacy and School of Computer Science. All these department are facilitating students with the quality education along with many other facilities like highly Educated and Experienced faculty, Latest teaching aids, Library, Computing facilities, Link with the industry and internships.
Hajvery University Admission 2019 Last Date is 20th July, 2019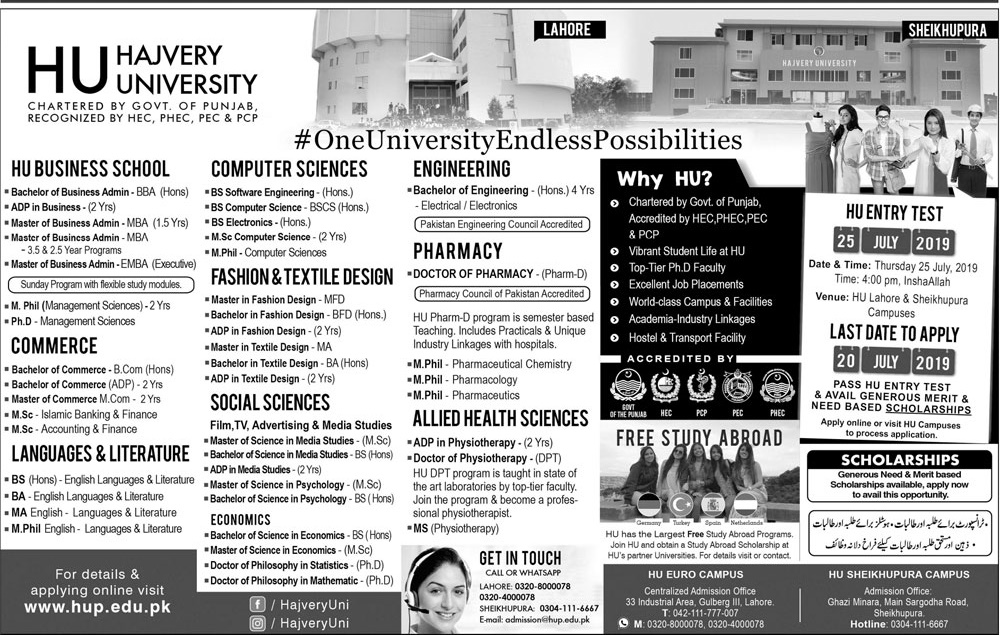 Admissions for the spring semesters is open in Hajvery University for the Following programs.
Hajvery University Lahore Admission 2019 Form
Pharm. D Doctor of Pharmacy 5 years (approved from Pharmacy Council of Pakistan Accredited)
DPT 5 years Doctor Of Physical Therapy (Approved with Higher Education Commission of Pakistan Accredited)
M.Phil Pharmacy
Here are the Hajvery University Admission 2019 Form details
The biggest edge of this university is that it is located in the center of the City Lahore where all other University is outside the city. This university is not limiting itself in Lahore but also University is making an another marvelous building in the third biggest cities of Pakistan that is Multan and to apply online you can click here at above given link for Hajvery University HU Admission 2019 Last Date Form
For more information contact:
Euro Campus: Centralized admission office
33 industrial area, Gulberg III, Lahore UAN: 042-111-777-007
Main campus: 43-52 industrial area, Gulberg III, Lahore
Phn: 042-35717130-31