BBA, MBA, DBA, MS, Ph.D., ME, BS, LL.B, BA. Law and other Bachelor and Masters Program admission are open and here is the detail of Hamdard University Karachi Admissions 2021. The latest news heard by ilm.com.pk sources that Hamdard University is which is among the oldest Universities of Pakistan announces the admissions 2021 for its Main Campus which is in Karachi and also in Islamabad  Pakistan and Hamdard University Karachi announces Admissions 2021. Here is yo can find all information Regarding the Hamdard University Karachi Admissions but before that let's have an overview of the University as the Hamdard University was established by Shaheed Hakim Mohammed Said in 1948. The aim of the University was to provide the education of herbal medicinal products and in a very short period of time, this University made its name in the top educational institutes of Pakistan. Since the first day of its inception the University provides quality education through highly qualified and experienced faculty and management members so here is more detail of the Hamdard University Karachi Admissions 2021.
Hamdard University Karachi Admissions 2021
Hamdard University is giving the opportunity to the students who are seeking admission after graduation so ow they can apply to Hamdard university in different programs that are mentioned below the advertisement. While the GAT test will organize on 10 January  2021 while the last date of admission is 31 December 2020. After this date, no application will receive and entertain.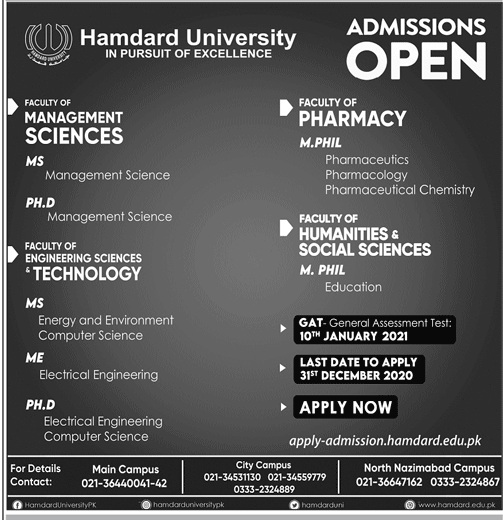 The admission to the University is, however, subject to fulfillment of the following conditions:
Meeting eligibility criteria in totality
Attaining a meritorious position based on the admission test and interview
Paying of all dues including admission, tuition, and other fees and charges
Submitting a Medical Fitness Certificate from Hamdard University Hospital
The signing of an undertaking to abide by rules, regulations, and guidelines framed by the University from time to time
Hamdard University Karachi Admission Form
prospectus and application form is available during office hours from the given addresses, on payment of Rs. 1500/- in the form of cash / Pay order, in favor of Hamdard University, Karachi. An application form can also be download and submitted online. The admit card for the test and interview will be issued on payment of Rs. 1500/- as cost of Application Package
Admission Schedule:
Last Date for Submission of Application Form: 31 December 2020

GAT Entry Test: 10 January 2021

Display of Merit List: —–

Commencement of Classes: —–

Note:
No request for a change in address at any stage will be entertained.
The University has the right to change the Admission Test/Interview Schedule and/or venue due to any unforeseen circumstances.
If it is discovered at any stage after admission that a candidate had made a false or incorrect statement or used fraudulent means for admission or does not fulfill the eligibility requirements, the admission shall be canceled.
Hamdard University Karachi Entry Test Result 2021

Hamdard University Karachi Entry test Date is January at Main campus Karachi so on entry Test day transport will be available for the main campus from Nagan Chowrangi at 10:00 am. All those candidates who have submitted the admission form can get the entry test Result 2021 from this page so that they are aware of that whether they qualify to take admission to the University or not.
For More Information Contact:
Admission Cell
Hamdard University
Madinat al-Hikmah
Muhammad Bin Qasim Avenue, Karachi-74600
Tel: 9221-36440035-40, Ext.: 358,
9221-36440041-42
Fax: 9221-36440185
Email: [email protected]
 Admission Office
Hamdard University Islamabad
Campus
F-8 Markaz, Islamabad.
Tel: 9251-2287312-4
Fax: 9251-2287319