For the information of the students, Hamdard University School Of Law Admissions Fall 2020  is open now for LLB, BA LLB. Students who want to pursue their career in law are bounded to submit their admission form before the last date that is notified through the advertisement of this admission. Hamdard School of law is a dynamic & vibrant full-time law college that is affiliated with the higher education commission HEC and Pakistan Bar Council PBC. So if you want to get a demanded degree in the law field with highly skilled and professional teachers then this is the time to meet the admission procedure. Here in this post, we have discussed complete admission details including admission advertisement, programs, eligibility, date schedule, and all rules and regulations for this admission. You are all advised and recommended to read each point on this page along with the advertisement attentively. Don't wait to bring the last date but your admission form for Hamdard University School of Law must be submitted before the deadline. Because it is to be restricted for all students that if any admission form that is received after passing the last date will not be entertained in any case. So keep reading this page if you really want to take this admission in LLB/ BA LLB at Hamdard University.
Hamdard University School Of Law Admissions Fall 2020 LLB, BA LLB Form Date
For the knowledge of the students Hamdard University School Of Law Admissions Fall 2020 LLB, BA LLB Form Date has issued and all admission close on 26 July 2020. Meanwhile, they conduct the entry test on 20-21 July.
LLB

B (Three (3) years degree program)
A. Law (Five (5) years composite degree program)
Eligibility Criteria/ Admission Requirements
For LLB: A bachelors degree in any discipline from any HEC recognized university, college or institute or equivalence
For BA LLB: Students who have done intermediate, "A" levels, or equivalence from any BISE recognized college or institute.
Hamdard University School Of Law Admissions Fall 2020 Schedule
Admission's Deadline: 26 July 2020

Date of Entry Test: 20-21 July 2020

Regular Classes Will be start from August 2020
Hamdard University Admission Procedure
So if you are eligible for this admission according to the above-written criterion then you have to obtain an admission form in Rs. 15,00/- from Hamdard School of Law, Hamdard University City Campus. After obtaining the admission form you have to fill in the form dully, attaching all the documents with your form, and then make sure that your information should be accurate and according to written in your original documents. Then resubmit this form to the same office before till the last date of submission of admission form before till ht e last date of submission of admission form that is been mentioned above.
Hamdard University LLB Admission 2020 Advertisement
It is to be suggested and recommended you that you must read the advertisement by clicking on add below to make it bigger. It is because in the advertisement of this admission other queries relating to this admission will be clear.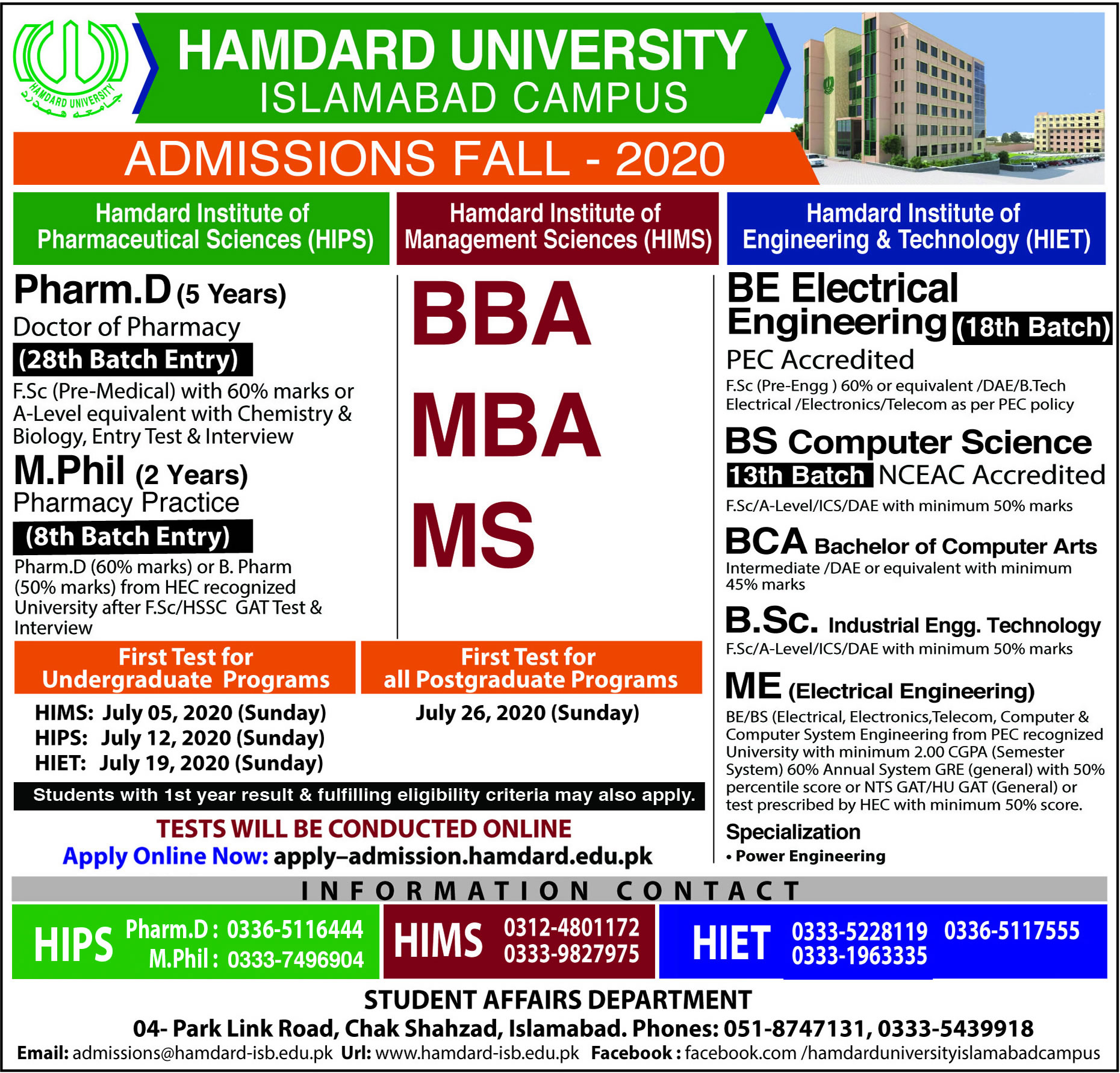 Hamdard School of Law is a legal educational department of Hamdard University that is departing law relating studies under a well-motivated and highly expert teaching faculty. Here we have discussed all this admission including Hamdard University School of law admissions Fall 2020 LLB, BA LLB Form date, and advertisement. Hope you are all now fully satisfied with this admission details but in case of any further query, you can leave your comment in the following box. Thank you!