Institute of Business Administration IBA Karachi Short Summer Courses 2019 along with the Admission Form, Courses List and Fee structure for all the courses offered are available to this page. Students admission are open these days in all the summer courses and Summer Schools so if you want to take admission in the IBA Short Summer courses then you have to register yourself for the programs as the admission form are available online from 12th June till 22nd June, 2019. The Institute of Business Administration IBA Karachi is the oldest business school of the Pakistan that is established in 1955 to provide the quality business education to the students. IBA Karachi has many collaborations with the other foreign universities like Wharton School of Finance, University of Pennsylvania, University of Southern California. From the first day of the inception of this University the quality education is being focused by the management as well as the faculty members and few year back summer classes also start in the IBA Karachi in IBA Summer School where Summer short courses are being offered to the candidates.
IBA Karachi Short Summer Courses 2019 Form, List, Fee
According to the Higher Education Commission HEC Pakistan IBA Karachi is the top educational institute of Pakistan that is offering Business administration courses to the students. The other complete information is available to this page so there is no need to go anywhere just stay in touch with this page for all kind of latest updates. Students read this article till the end of this page to get all the updates which may be useful for you for the admission purpose.
Eligibility Criteria:
All the candidates who are enrolled in O-Level, Matric, A-Level, Intermediate in any of the program are eligible to apply
All those candidates who already enrolled in any of the HEC recognized Higher education institute
Adults who have at least matric level education
Students of the IBA in all the programs including undergraduate, Graduate and PhD.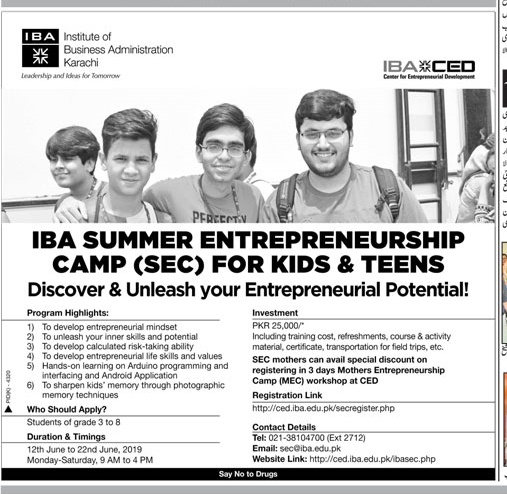 Fee Structure:
S.No.
Special Interest Courses
Total Hours
Course Fee (Rs.)
1

An Introduction to Fashion Journalism

10
                        4,000
2

Brand called YOU

20
                        8,000
3

Business Communication 101

24
                        9,600
4

Essential and Effective Writing Skills

30
                     12,000
5

HRM in SAP ERP

20
                        8,000
6

Marketing for Beginners

18
                        7,200
7

Principles of Islamic Economics

12
                        4,800
8

Major English Poets

36
                     14,400
9
Application Development for Mobile Devices
36
                     14,400
10
Public Speaking
30
                     12,000
11
Perfecting your Resumes and Interviews
12
                        4,800
12
Fundamentals of Brand Management
24
                        9,600
13
Life and Career Planning
30
                     12,000
14
Chamber of English Language
36
                     14,400
15
Introduction to Microsoft SharePoint 2013
24
                        9,600
16
Introduction to Robot Programming
15
                        6,000
17
Data Analysis using SPSS for Managers and Researchers
36
                     14,400
18
Basics of Photojournalism
36
                     14,400
19
Web-based Application Development
36
                     14,400
20
Intro to Entrepreneurship & FBM
24
                        9,600
21
Role of Cinema in Perception Building
30
                     12,000
Also check: IBA Karachi National Talent Hunt Program 2019
Admission Form:
CLICK HERE TO APPLY ONLINE
Last Date for registration is June, 2019 so make sure that your admission form will receive to the admission office of the IBA Sukkur before or till that date as once this date gone your form will not be entertain in any case. Apply for IBA Karachi Short Summer Courses School 2019 before last date.