Institute of Business Management (IOBM) Admissions for Summer 2014 is open in various programs including BE, MBA, MSC, MS, M.Phil, Ph.D. IOBM is one of the leading institute of Pakistan which is recognized nationally and internationally for the delivering quality education, skills, confidence and value to its students. The only mission of the Institute of business management is to use the best teaching and training methodologies so that the students get more from a teacher and enlighten the name of Pakistan.
Important dates:
| | |
| --- | --- |
| Online Form Availability | —– |
| Collection of Admit cards | —–(Between 9 am to 4:30 pm Except Friday) |
| Aptitude Test Date | —– |
IOBM Summer Admission 2014
Admission Open in Programs:
BE (Electrical Engineering in Electronics)
BS(Industial Engineering & Management)
MBA (executive)
MBA (Evening)
MBA (Asvertising & Media Management)
MBA (Finance & Risk Management)
MBA (environment & Energy Management)
MBA (Educational Management)
MSc (Organizational Psychology & HRM)
MBA (Industrial Management)
MBA (Telecommunication Management)
MS (Computer Science)
MS (Statics & Sientific Computing)
MS ( Mathematics & Scientific Computing)
Mphil (business Management)
MS (Economics)
PhD (Social Science Education and Psychology)
PhD (Environmental & Energy management)
PhD (Economics)
Summer Cash Programs
HRD /Supply Chain Management Certification
Admission Form:
Admission form is available in the Institute of Business Management main campus
For online admission form CLICK HERE
Sample Test Paper:
CLICK HERE
Advertisement: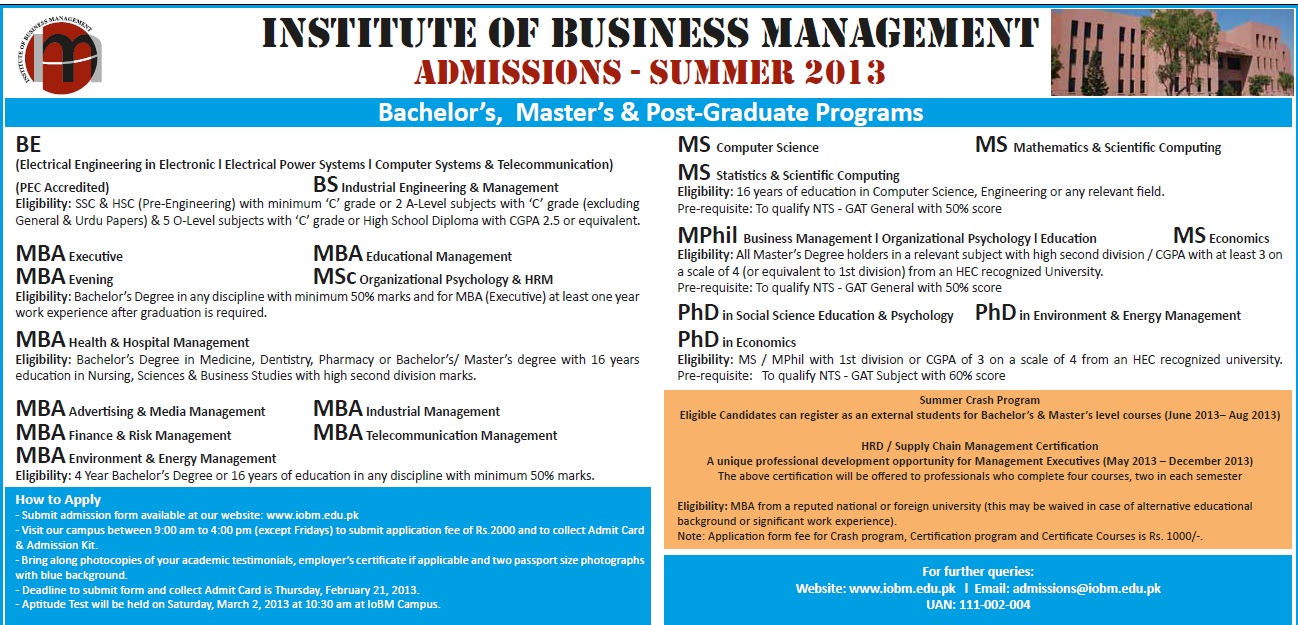 How to Apply:
Submit admission form available at the official website.
Visit the campus between 09:00 am to 4:00 pm (except Friday) to submit application fee of Rs. 2000 and to collect admit card & Admission Kit.
Bring along photocopies of your academic testimonial, employer's certificate if applicable and two passport size photographs with blue background
Deadline to submit and collect admit card is 2014.
Aptitude test will be held on Saturday 2014 are 10:30 am at IoBM Campus.
For Further queries:
UAN: 111-002-004