Institute of Business Management IOBM Admission 2020 Form is announced by the admission department of the University. All the candidates who want to take admission and they are eligible to send their application along with all the documents and NOC, CNIC, Domicile and fresh photographs. All the documents should be attested and only attested to the gusted officer whose grade is 16 or above. If the application is incomplete or will not attested the university will not entertain those applications. The admission form is available on our website. The students visit the University campus between 9:00 am and 4:00 pm expect Friday to submit an application fee of Rs 3000 and collect their admit card and Admit kit. The last date to collect the Admit card is given in the post. After the due date, the university will not give admit cards. So, read the entire post to check all the information. Institute of Business Management is one of the leading institutes nationally and the Institute gave the students skills, confidence, Knowledge, to become successful professionals globally. The mission of the Institute of Business Management is to provides its students' faster learning environment and a growing future. Our aim is to use the best teaching and training methodologies. The University's motive is to give its students a healthy learning environment and gave them interpersonal and leadership skills. Allow freedom of thought and expression. So it's a golden time for the student to study the wonderful and world best university to become the professional. So do fast to take admission in this university for a better future and this is not the only benefit of students also for their parents and their countries. So apply before the last date. The course details is mention on the Institute of Business Management Admission 2019 advertisement
Institute of Business Management IOBM Admission 2020 Form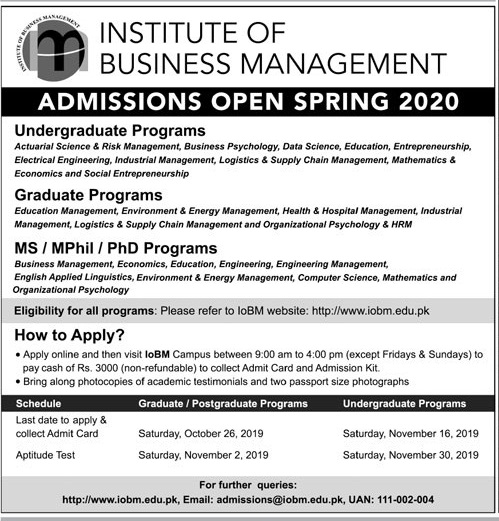 Programs offered by the Institute of Business Management
These are the programs offered by the University:
Undergraduate Programs
Graduate Programs
MS/MPhil/Ph.D. Programs
IOBM Admission 2020 Schedule
Event
Graduate/Post Graduate Programs
Undergraduate Programs
Online Form Availability
7th October 2019 to
26th October 2019
07th October 2019 to
16 November 2019
Collection of admit cards
14th October 2019 to
26th October 2019
14th October 2019 to
16th November 2019
Aptitude Test date
02 November 2019
30th November 2019
Interviews of Qualified Candidates
9th and 10th November 2019
11th and 12th November 2019
Display of Merit List
16th November 2019
18th December 2019
Orientation
04 January 2020
04 January 2020
Commencement of Classes
11 January 2020
13 January 2020
Eligibility Criteria for IoBM Admission 2020
Candidate must have passed HSSC with at least 55% marks.
Foreign candidates with 3 A-Levels with a minimum of two C's or American High School Diploma with CGPA of 2.5.
For foreign candidates, IBCC equivalence is required.
Applying Procedure for IOBM Admission 2020
Apply online for the admission form and then visit the IoBM campus between 9.00 am to 4.00 pm to collect your admission form (Charges of Rs.3000/-) for the application process.
Attach all the required documents with the application form and then submit it.
Visit www.iobm.edu.pk/for more information.
Institute of Business Management IOBM Admission 2020 
If you want to get the Institute of Business Management IOBM Admission 2020 to these professional courses so hurry up to send the application along with all the documents and processing fees to the University campus.