Islamic International University Fall Admission 2019 are announce by the officials so get the admission Form and know Last Date to submit the application form because it is clearly mentioned in the advertisement that all the applications that would receive after the last date will not be entertain in any case and the last date to submit the application form is 21st June, 2019 so make sure that you admission form should received to the admission office within the due date if you serious about taking admission in the Islamic International University. Admission are open in the programs of PhD, MS, MA, BS, BA, LLB, LLM and MSc for the fall session 2019. Since from the first day of the inception of this University in 1980 the university is providing quality education to the students of the Pakistan so if you are also among those students who are waiting for the opening date for the admission could now apply and the complete information which may you useful for you in all aspect could be easily get from this page. Students there is no need to go anywhere else just keep in touch with this page and stay up to dated from all the latest updates that are in the about the Islamic International University IIU Admissions Fall 2019 and its application form and other details like eligibility Criteria.
Islamic International University Fall Admission 2019 Form, Last Date
Admission Application Form:
Admission Application Form could be get from the Habib Bank Limited IIU Branch, First Women Bank Ltd IIU branch and Allied Bank Limited IIU branch from the Islamabad in against the paymen of Rs. 550/-
Admission application form could also be download from this page easily so its all depend on you that for what option did you go for either go and collect your admission form physically or download it while sitting at home
All those candidates who have collected the admission form online should have to submit the prospectus fee in any bank branch of the given above online bank.
Documents Require For Admission Form:
candidates should have to submit the Application Processing Fee which is non refundable in IIUI bank account in designated branch or Bank Draft or Pay Order favoring  IIUI payable at HBL IIU Branch, Islamabad as Rs.550/- (For Pakistani Applicants) and Rs.1250/- (For Applicants using Downloaded forms)
The Challan Form should also be attached with the admission form at the time of submission.
All the applications that will found incomplete or receive late will not be entertain in any case.
Three passport size recently taken fresh photographs should be attached.
Two (02) sets of attested photocopies of final degree/certificates and other testimonials are attached.
Copy of CNIC or Passport for candidates over the age of 18 years and Child Registration Form for candidates below 18 years is attached.
Applications received after the due date are not entertained.
IIU Admissions Fall 2019 Advertisement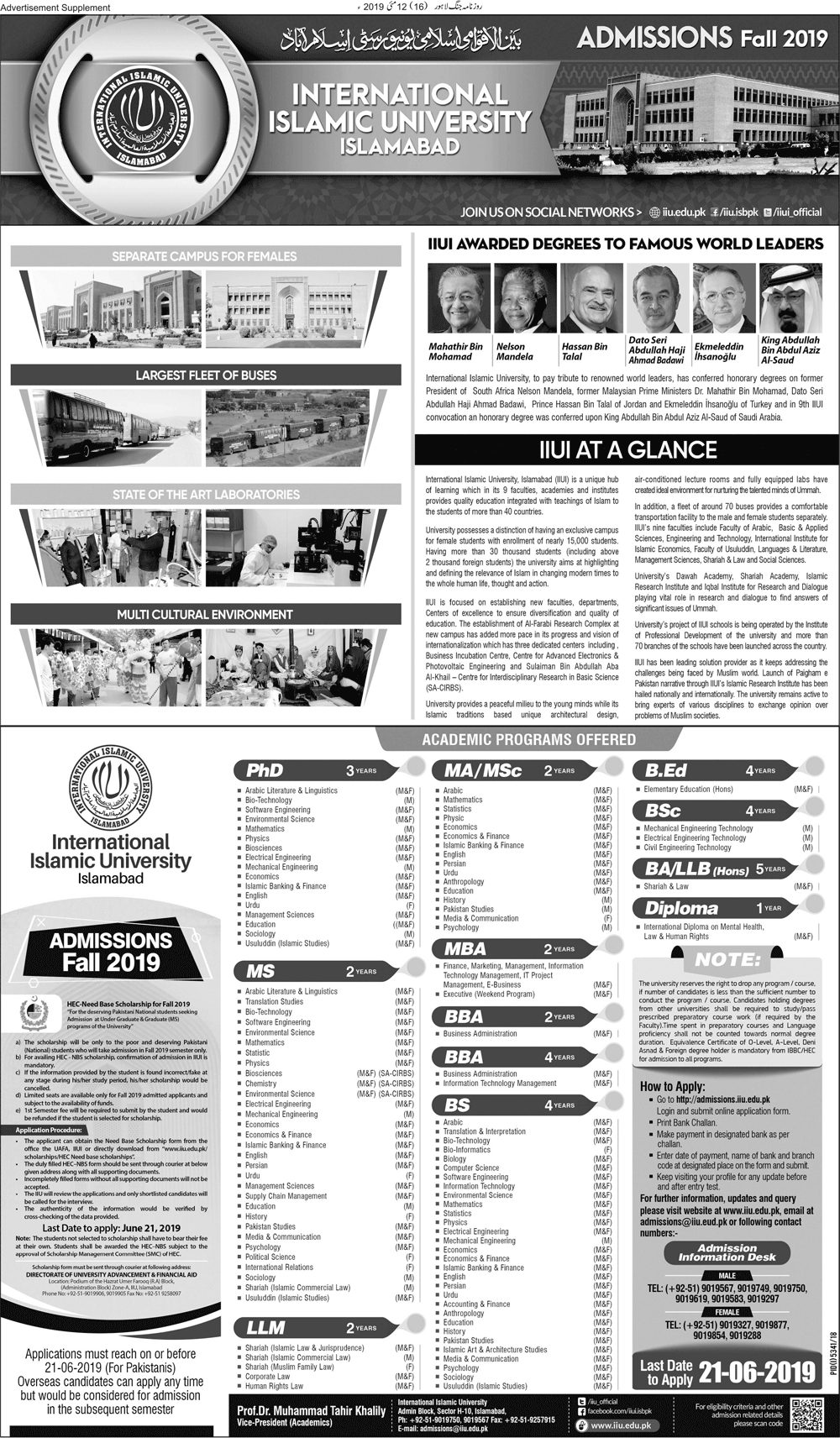 For any kind of More information you can contact to the admission information desk generated by the Management of the Islamic International University IIU Islamabad
ADMISSION TEST SCHEDULE FOR FALL 2019
Name of the Academic Program
Offered For
Date & Time
FACULTY OF ARABIC
Department of Arabic Literature
Ph.D Arabic 3 years
Male & Female
—-
MS Arabic 2 years
Male & Female
—-
MS Teaching of Arabic to Non Arabs 2 years
Male & Female
—-
M.A Arabic 2 years
Male & Female
—-
B.S. Arabic 4 years
Male & Female
—-
Department of Translation & Interpretation
MS Translation Studies 2 years
Male & Female
—-
B.S. T& I 4 years
Male & Female
—-
FACULTY OF BASIC & APPLIED SCIENCE
 Department of Computer Science & Software Engineering
Ph.D Computer Science 3 years
Male & Female
—-
Ph.D Software Engineering 3 years
Male & Female
—-
MS Computer Science 2 years
Male & Female
—-.
MS Software Engineering 2 years
Male & Female
—-
BS Computer Science 4 years
Male & Female
—-
BS Software Engineering 4 years
Male & Female
—-
BS Information Technology 4 years
Male & Female
—-
 Department of Mathematics & Statistics
Ph.D Mathematics 3 Years
Male
—-
Ph.D Statistics 3 years (Evening)
Male
—-
MS Mathematics 2 years
Male & Female
—-
MS Statistics 2 years
Male & Female
—-
M.Sc Mathematics 2 years
Male & Female
—-
M.Sc Statistics 2 years
Male & Female
—-
BS Mathematics 4 years
Male & Female
—-
BS Statistics 4 years
Male & Female
—-
 Department of Environmental Sciences
Ph.D ES 3 years
Male & Female
—-
MS ES 2 years
Male & Female
—-
MSc HS&EM
Male
—-
BS ES 4 years
Male & Female
—-
Department of Bioinformatics & Biotechnology
Ph.D Bio-Technology 3 years
Male & Female
—-
MS Biotechnology 2 years
Male & Female
—-
MS Bioinformatics 2 years
Female
—-
BS Bioinformatics 4 years
Female
—-
BS Biotechnology 4 years
Male & Female
—-
 Department of Physics
Ph.D Physics 3 years
Male & Female
—-
MS Physics 2 years
Male
—-
M.Sc Physics 2 years
Male & Female
—-
BS Physics 4 years
Male & Female
—-
Centre for Interdisciplinary Research in Basic Sciences
Ph.D in Natural Science 3 years
Male & Female
—-
MS in Natural Science 2 years
Male & Female
—-
FACULTY OF ENGINEERING & TECHNOLOGY
 Department of Electronic Engineering
Ph.D Electronic Engineering 3 Years
Male & Female
—-
MS Electronic Engineering 2 Years
Male & Female
—-
BS Electronic Engineering 4 years
Male & Female
—-
Department of Mechanical Engineering
Ph.D Mechanical Engineering 3 Years
Male
—-
MS Mechanical Engineering 2 Years
Male
—-
BS Mechanical Engineering 4 Years
Male
—-
Department of Civil Engineering
BS Civil Engineering 4 Years
Male
—-
 IQRA COLLEGE OF TECHNOLOGY
B-Tech (Mechanical) 4 Years
Male
—-
B-Tech (Electrical) 4 Years
Male
—-
B-Tech (Civil) 4 years
Male
—-
FACULTY OF MANAGEMENT SCIENCES
Ph.D (Fin., Mkt, HRM) 3 years
Male & Female
—-
Ph.D (TM) 3 years (Evening)
Male & Female
—-
MS (Fin., Mkt, & HRM) 1.5 years
Male & Female
—-
MS (TM) 1.5 years (Evening)
Male & Female
—-
Masters of Supply Chain Management 2 years (Weekend Program)
Male & Female
—-
MBA (Fin., Mkt., HRM&MIS)3.5 years
Male & Female
—-
MBA-ITM 3.5 years
Male & Female
—-
MBA (Fin., Mkt. HRM & MIS) 1.5 years
Male & Female
—-
MBA-ITM 1.5 years
Male & Female
—-
MBA Executive 2 years
Male & Female
—-
BBA 4 years
Male & Female
—-
BBA-ITM 4 years
Male & Female
—-
BS Accounting & Finance  4 years
Male & Female
—-
 FACULTY OF USULUDDIN (Islamic Studies)
Ph.D Usuluddin (Islamic Studies) 3years
Male & Female
—-
MS Usuluddin (Islamic Studies) 2 years
Male & Female
—-
MA Usuluddin (Islamic Studies) 2 years
Male & Female
—-
BS Usuluddin (Islamic Studies) 4 years
Male & Female
—-
INTERNATIONAL INSTITUTE OF ISLAMIC ECONOMICS
School of Economics
Ph.D Economics 3 years
Male & Female
—-
Ph.D Econometrics 3 years
Male
—-
MS Econometrics  2 years
Male
—-
MS Economics  2 years
Male & Female
—-
M.Sc Economics 2 years
Male & Female
—-
BS Economics 4 years
Male & Female
—-
Department of Economics & Finance
MS Economics & Finance 2 years
Male & Female
—-
M.Sc Economics & Finance 2 years
Male & Female
—-
School of Islamic Banking & Finance
MS Islamic Banking & Finance 2 years
Male & Female
—-
M.Sc Islamic Banking & Finance 2 years
Male & Female
—-
 FACULTY OF LANGUAGES & LITERATURE
Department of Urdu
Ph.D Urdu 3 years
Male & Female
—-
MS Urdu 2 years
Male & Female
—-
MA Urdu 2 years
Male & Female
—-
BS Urdu 4 years
Male & Female
—-
Department of Persian
MS Persian 2 years
Male & Female
—-
MA Persian 2 years
Male & Female
—-
BS Persian 4 years
Male & Female
—-
 Department of English
Ph.D English 3 years
Male & Female
—-
MS English 2 years
Male & Female
—-
MA English 2 years
Male & Female
—-
BS English 4 years
Male & Female
—-
 FACULTY OF SOCIAL SCIENCES
Department of History & Pakistan Studies
Ph.D History 3 years
Male & Female
—-
Ph.D Pakistan Studies 3 years
Male
—-
MS History 2 years
Male & Female
—-
MS Pakistan Studies 2 years
Male
—-
MA History 2 years
Male
—-
MA Pakistan Studies 2 years
Male & Female
—-
BS History 4 years
Male & Female
—-
BS Pakistan Studies 4 years
Male & Female
—-
Department of Education
Ph.D Education 3 years
Male & Female
—-
MS Education 2 years
Male & Female
—-
MA Education 2 years
Male & Female
—-
BS Education 4 years
Male & Female
—-
B.Ed (Hons) (EE) 4 years
Male & Female
—-
B.Ed (Hons) (SE) 4 years
Male & Female
—-
Associate Degree in Education 2 years
Male & Female
—-
Department of Psychology
MS Psychology  2 years
Male & Female
—-
M.Sc Psychology 2 years
Male & Female
—-
BS Psychology 4 years
Male & Female
—-
Department of Sociology
Ph.D Sociology 3 years
Male
—-
MS Sociology 2 years
Male
—-
M.Sc. Sociology 2 years
Male & Female
—–
BS Sociology 4 years
Male & Female
—-
M.Sc. Anthropology  2 years
Female
—-
BS Anthropology 4 years
Female
—-
 Department of Media & Communication Studies
Ph.D M&C 3 years
Male & Female
—-
MS M&C 2 years
Male & Female
—-
M.Sc M&C 2 years
Female
—-
BS Media & Communication 4 years
Male & Female
—-
 Department of Politics & International Relations
Ph.D Political Science  3 years
Male & Female
—-
Ph.D International Relations 3 years
Male & Female
—-
MS Political Science 2 years
Male & Female
—-
MS International Relations 2 years
Male & Female
—-
MA Political Science 2 years
Male & Female
—-
MA International Relations 2 years
Male & Female
—-
BS Political Science 4 years
Male & Female
—-
BS International Relations 4 years
Male & Female
—-
FACULTY OF SHARIAH & LAW
Department of Shariah (Islamic Law)
Ph.D Shairah (IL&J) 2 years
Male & Female
—-
MS Shariah (IL&J) 2 Years
Male & Female
—-
LL.M Shariah & Law 2 Years
Male & Female
—-
MS Shariah & Law 2 years
Male & Female
—-
B.A. / LL.B. Shariah & Law 5 years
Male & Female
—-
Department of Law
 Ph.D Law 3 years
Male & Female
—-
LLM International Law 2 years
Male & Female
—-
LLM International Trade Law  2 years
Male & Female
—-
LL.B (Evening) 3 years
Male & Female
—-
JOINT PROGRAM OF IIIE, FSL & FMS
Ph.D IB&F 3 years
Male
—-

Female: +92-51-9019327, 9019877, 9019854, 9019288 Male: +92-51-9019567, 9019749, 9019750, 9019619, 9019583