Khadim Ali Shah Bukhari Institute Of Technology Admission 2019 is now open for undergraduate and postgraduate programs. Candidates are allowed to take admission to Khadim Ali Shah Bukhari Institute Of Technology KASBIT Admission 2019 who have passed their intermediate or bachelor's. KASBIT is a private degree-awarding college which was established in 1999 in Karachi. This college was registered as a corporate body and registered with the government of Pakistan. It is recognized by the Higher education commission. It has three departments including the Department of Business Administration, Department of Commerce and Department of English. This college also provides extra activities along with education. It opens admission for two times every year. KASBIT admission fall 2019 is now open. Students who have at least 60% of marks are allowed to apply for admission. This college is also offering different merit and needs base scholarships to its students too. The date for the Entry Test has been announced by the officials. The admissions for the university are on Merit basis.
Khadim Ali Shah Bukhari Institute Of Technology KASBIT Admission 2019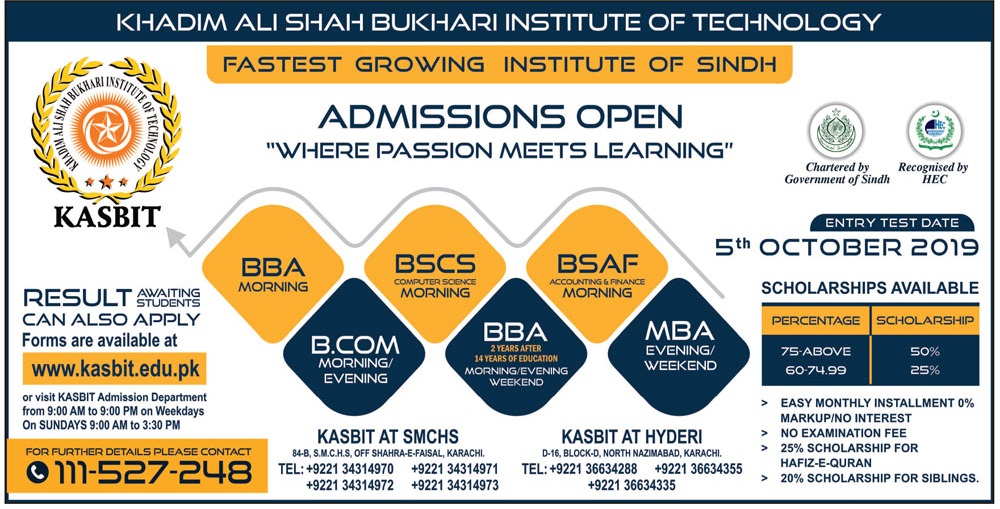 Programs Offered by KASBIT:
This college opens admission under different departments every year through a newspaper advertisement. Currently, admissions are open in the following programs.
B.Com (Morning/Evening)
BBA (Morning)
BSAF (Morning)
MBA (Evening/Weekend)
BSCS (Morning)
KASBIT Admission 2019 Criteria:
Candidate should have 50% in Inter/A-Level for BS(CS).
For BBA candidate should have 2nd Division or A-Level with minimum to C's.
For MBA candidate should have a minimum of 2nd Division or 2.5 CGPA in previous studies.
This university takes an entry test exam and it is mandatory to pass the exam with at least 50% marks.
Result awaiting students can also apply for the admission.
KASBIT Admission Procedure:
Khadim Ali Shah Bukhari Institute Of Technology KASBIT Admission 2019 are now open for undergraduate and master's programs. Candidates are allowed to do online registration.
To do online registration, the candidate has to visit httpss://kasbit.edu.pk.
There you have to fill online application.
Those applications which will be received after the last date will not consider online.
Secondly, students can also take their prospectus from the campus of this college. You can also do manual registration by filling by hand application forms.
Scholarships are also available for need and merit-based scholarships.
Entry Test of KASBIT:
The Entry Test will be conducted on 5th October 2019.
Scholarships offered by KASBIT:
25% Scholarship is given to the Hafiz-e-Quran Student
20% scholarship is for the siblings.
Students with More than 60% and less than 74.99% marks are given a 25% Scholarship.
Students with a percentage above 75 are given a 50% Scholarship.
Entry Test off KASBIT:
The date for the Entry Test is announced by the Officials. After the Entry Test, the result will come very soon. The students will be selected after the Entry Test. So we can say that these entry tests are very important for the admissions. The candidates should prepare themselves for the entry test and be ready for the next steps after the admission. So Best of Luck to all the students.