Admissions are now in Lahore College for Women University LCWU in Masters in Teaching of English to Speakers of Other Languages (MA TESOL) for the session of 2014. Here you will get all the necessary information and guidance about your admission according to the LCWU's authorized. This fastest growing educational web site always provides you the latest updates about any educational activity.  The University for this Program is looking for in-service teachers of English at school, college and university level, as well as those fresh graduate candidates (pre-service) who are going to intend their carrier as teaching. So if you are among those candidates who are intending to take up teaching as a career, or you are in-service of teaching, you should have to complete the process of admission. For this purpose the prospectus along with admission form or application forms can collect from the college admission office and can download from the official web site of LCWU. Last date for submission of admission from and eligibility criteria and all other documentations are discussed bellow. Let's have a look down.
LCWU MA TESOL Admission 2014 Eligibility, Form, Merit List
Admission Program
This time the admission is open only for Masters in TESOL (Teaching of English to Speakers of Other Languages). The duration for this program is consisting of Two years and the class timing if from Afternoon 3:00 Pm to 5:00 pm.
Eligibility Criteria
Following Candidates are eligible for getting admission in LCWU for MA TESOL.
Those Candidates are eligible who have the degree of Bachelor education (BA, B. Sc) or equivalent from Higher Educational Council (HEC) Recognized University.
MA / m. Sc or 16 years educational qualified from any HEC recognized University
Minimum qualification is 14 years of education i.e. candidate should have qualify the bachelor degree.
In-Service teachers of English at any school, college or University level are also eligible for TESOL.
Candidate already holding the diploma in TESOL, ELT, TEFL, Applied Linguistics, from any other HEC recognized institute or University can directly apply for part II in MA. TESOL.
Admission Form
Prospectus along with the admission form are available from Monday 18th August, 2014 from the main office of the college, and after the completion and attach all the required documents you have to resubmit it to the same office as the last date of submission of admission form is Tuesday, 26th August 2014. As these dates are finally restricted by the LCWU officials so keep this in mind and before the last date fill in the admission form and submit it to the admission office. After that any admission will not acceptable by the college administrator in any case.
Display of Merit List
The LCWU will took the admission test by all the candidates which is prepared by the LCWU officials to purify those candidates who are eligible for admission from huge number or applicants after that the result in the shape of Merit list will be display on Thursday, 9th September, 2014.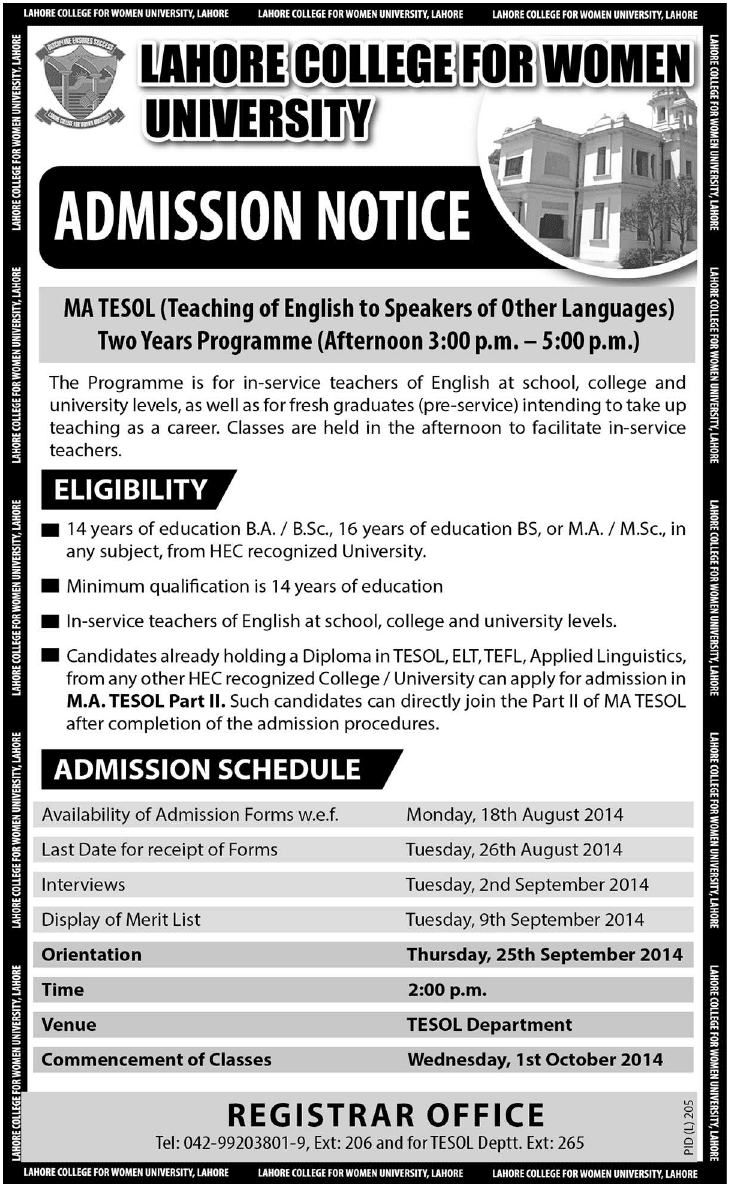 Schedule of last dates
| | |
| --- | --- |
| Availability of admission form | 18th August, 2014 |
| Last date of form submission | 26th August, 2014 |
| Interview | 2nd September, 2014 |
| Display of Merit List | 9th September, 2014 |
| Orientation class | 25th September, 2014 by 2:00pm |
| Venue | TESOL Department |
| Commencement of classes | 1st October 2014 |