Mehran University MUET Jamshoro Undergraduate Admission 2018 is now announced. This is the best Engineering University of the Pakistan as Higher Education Commission (HEC) has ranked this University as the 4th Best Engineering university of Pakistan. Every years many graduates of Engineering get their degree from the Mehran University and more than that are wishing to take admission in the University every year.  Mehran University Jamshoro offer Engineering degree program in many engineering courses that are listed down on this page in detail. There are more than 20 year that Mehran University of Engineering providing education to the students of the Pakistan with quality and responsibility. Mehran University truly believe on the equality that is the reason that only those candidates who get passed in the Entry test that is taken by the admission department of the Mehran University were able to get admission in the University. Since the first day of its inception University is providing quality education to its students just because of the highly qualified and experienced faculty members of the University. It has the best educated faculty and those try to facilitate students as much as they can.
Mehran University MUET Jamshoro Undergraduate Admission 2018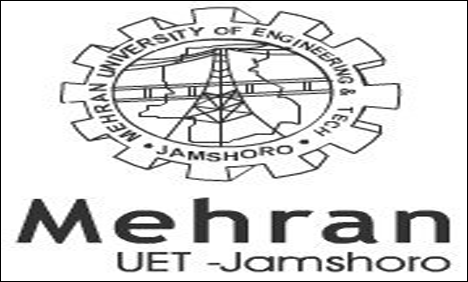 Eligibility Criteria For Mehran University MUET Jamshoro Undergraduate Admission 2018:
All those candiate who have passed thier HSC-II with Pre Engineering in the annual examiantion 2018 but not more than prior to examination 2011 with at least B grade having 60% aggregated Marks are eligible to apply for the admission in Mehran University under any scheme regular, Self Finance or special Scheme.
Those candidates who have passed thier Intermediate level examiantion with General Science subjects are only eligible to apply for the degree courses mentioned below with at least 60% aggregated marks
For diploma courses all those candidates who have cleared thier Intermediat level examination under any subject having 60% aggreagated marks are eligible to apply and get admission.
Mehran University MUET Jamshoro Undergraduate Admission 2018
A.    B.E in:
1. Civil4. Electronics7. Petroleum & Natural Gas

10. Software

13. Textile

2. Electrical5. Environmental8. Chemical

11. Mining

14. Bio Medical Engineering

3. Mechanical6. Telecommunication9. Computer Systems

12. Metallurgy & Materials

15. Industrial & Management
B: Bachelor of Architecture
C:Bachelor of City & Regional Planning
DEGREE COURSE (at SZAB Khairpur Mir's Campus)
| | |
| --- | --- |
| 18. Civil Engineering | 19. Mechanical Engineering |
| 20. Electrical Engineering | 21. Petroleum & Natural Gas Engineering |
Prospectus and Admission Form:
Prospectus along with the application form can be obtained from the designated branch of Habib Bank Limited from 19th July till 6th August, 2018 on payment of just Rs. 2200/-. After filling the admission form with the correct information you have to submit the application to the same branch along with the photostat copies of the required documents mentioned in the admission form.
Designated Branches of Habib Bank Limited:
| | |
| --- | --- |
| (1) Sindh University Old Campus, Hyderabad | (9) Frere Road, Sukkur |
| (2) Unit No.7 Branch, Latifabad, Hyderabad | (10) The Mall Road Branch, Khairpur Mirs |
| (3) Jail Road Branch, Hyderabad | (11) Naushehroferoze Branch |
| (4) Saddar Branch, Hyderabad | (12) Masjid Road, Nawabshah |
| (5) Station Road, Dadu | (13) Main Bazzar Sanghar |
| (6) Bunder Road, Larkana, | (14) Jinnah Road, Mirpurkhas |
| (7) Station Road, Badin | (15) National Highway, Thatta |
| (8) Mehran University Sub Branch, Jamshoro | (16) Hassan Square Branch, Karachi |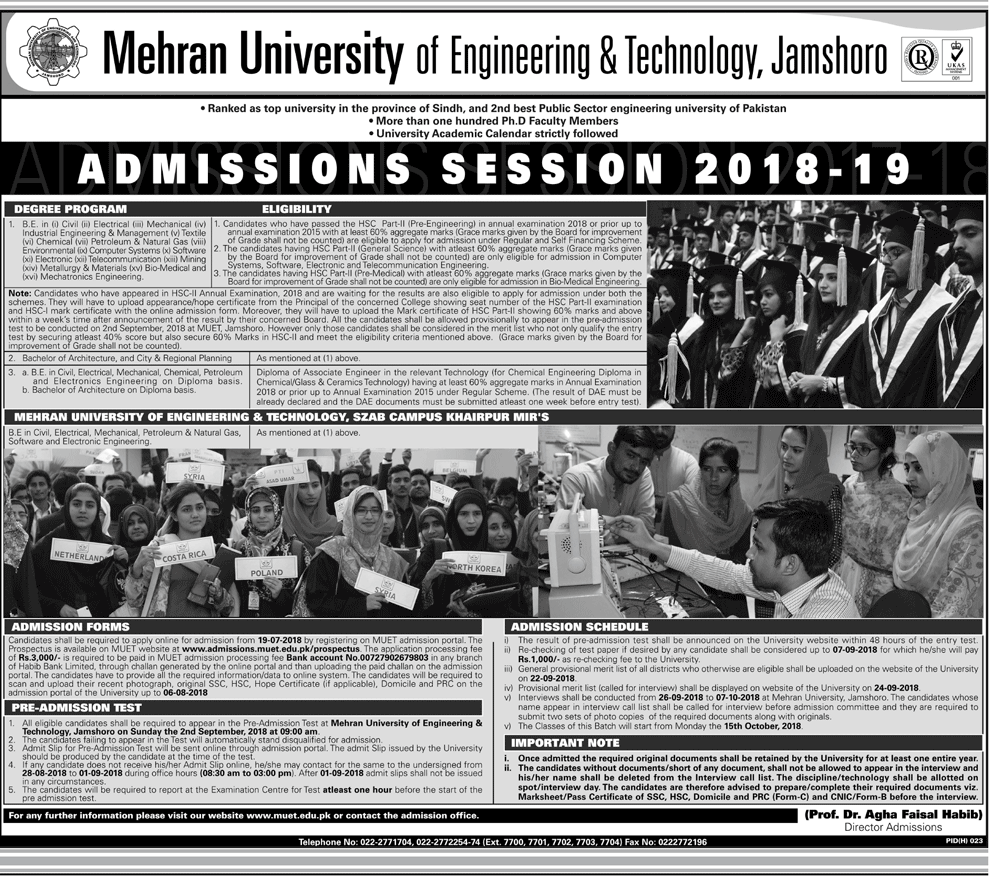 Entry Test date and Merit List:
Only those candidates who got passing marks in the entry test will able to get admission in the Mehran University.
For More detail of click on the link below
For More Information Contact the admission office
Ph: 022 2771704, 022
2772254-74 (Ext: 7700, 7702) Fax: 022-2772196.
(Prof. Dr. Rizwan Ali Memon)
Director Admissions