National College 0f Business Administration and Economics NCBA&E Admission 2019 are open now so here is the Admission Test and Forms Complete details so that students while sitting at home can get answer to his or her all queries related to admission in NCBA&E. College has extended the last date for the admission on the request of many parents and students too while the admission test will be taken by the University on 17th January, 2019 so students be prepare for this if you want to be a part of the 2nd top Business college of Punjab. Yes according to the new ranking of Higher Education Commission (HEC) National College of Business Administration and Economics stood in top ten colleges of business category and at 2nd best position in the Lahore Punjab. National College of Business Administration and Economics NCBA&E Spring Admission 2019 is open. Now for the new session of year 8201 NCBA&E has opened its admission so that candidates can apply and eligible candidates can get admission.
NCBA&E Admission 2019 Entry Test, Admission Forms
NCBA&E was established in 1994 as a Private institute. After few year with the great afford of the management of the University and dedication of the faculty members to deliver knowledge to the students lead this college to get a chartered from the government of Punjab in year 2002. From the first day of its inception NCBA&E is working for delivering quality education to the students of the Pakistan. This college is situated in the biggest city as well as the historical city of Punjab too That is Lahore. Now presently College offered many programs at professional certification, Undergraduate studies,  Graduate studies and post graduate studies.
NCBA&E Admission 2019:
School of Business Administration:
BBA
MBA
B.COm
BS
MSC, B.Com
School of Computer Sciences:
BS Hons
MSc
MSc, BSc
BS (CS) Hons
MCS, BCS
School of Social Sciences:
BS
MSc/M.A, BSc/B.A
BFA
M.Ed, B.Ed
B.Tech
MS/ M.Phil & Ph.D Programs:
Computer Science
Environmental Management
Mathematics
English
Business Management
Bio Statistics
Education
Statistics
Economics
Computing Maths
NCBA&E Entry Test
National College of Business Administration and Economics will take an admission test on behalf of this entry test candidates are allowed to take admission in the college so it is compulsory to all students to appear in the college test that is going to be held in the month of February so students are you ready for the entry test..
NCBA&E Admission Form
There are two ways to collect admission form of the college and one is via going to the college campus and collect it by yourself and the second way to collect admission form is this page. So click on the down link to download
Last Date is 15th January, 2019

Admission Test: 17th January, 2019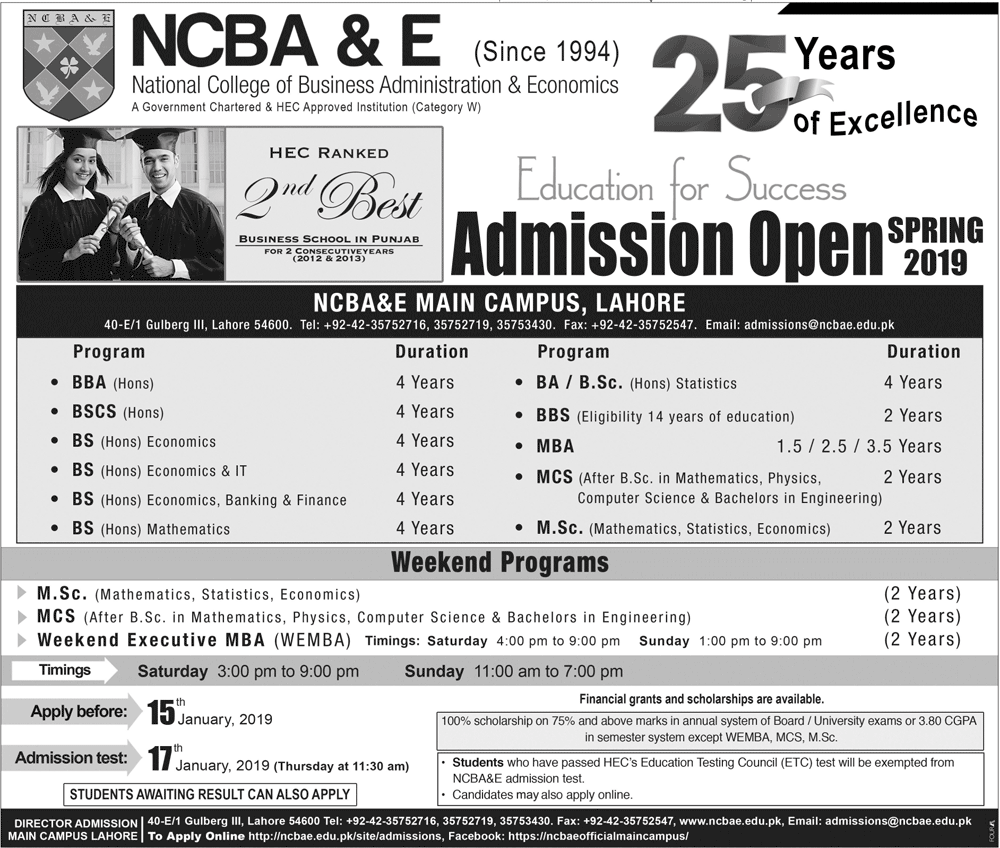 So all those students who are eligible according to the eligibility criteria mentioned in the advertisement can apply for the admission in the NCBA&E but do keep in your mind about the last date for the submission of application as after that due date your application form will not be entertain.
For More Information Contact:
Main Campus Lahore
40-E/1 Gulberg III, Lahore 54600
Tel: 35752716, 35752719. 35753430, 35756871.