NFC University Multan Admissions 2019 is now offered by the officials of NFC Institute of Engineering and Technology NFC IET Multan for undergraduate degree programs in Engineering and non-engineering programs for all those candidates who have been qualified for their previous examination with the relevant fields. NFC Institute of Engineering Multan BSC Engineering Admission 2019 Merit List detail is available here. The NFS is looking for all those candidates who are self-motivated and confident with their studies and want to play a vital role in the industry of Pakistan. So if you are willing to get admission then you are advised to complete the admission procedure according to the officials which are restricted by the officials for all those who want to get admission to the NFC Institute of Engineering and Technology, Multan. The NFCIET was established in 1985 and located in Multan as a public sector institution to provide the best quality educations in the fields of Engineering and Technology. The National Fertilizer Corporation Institute of Engineering and Technology or NFCIET later in 1994 started graduate engineering classes in Chemical Engineering, now it also offers graduate in Electronics and Computer Engineering. It is standing in the list of HEC Recognized Universities List and also PEC Recognized Engineering Universities. This institute is functioning to produce to best quality graduates along with convenient facilities like merit-based scholarships for deserving candidates and the facility of transportation for its enrolled candidates. Hence admissions are open in this well-named University and if you want to get admission then you have to complete the following admission procedure. The first Merit List will be displayed on 11 October 2019. Similarly, the Second Merit List will be displayed on 29 October 2019.
NFC Multan Engineering Merit List 2019 1st and 2nd Merit List
Programs Offered by NFC University Multan:
NFC Admission 2019 in Undergraduate programs are open in the following programs:
BBA
Bachelor in Architecture Design
BSc:
Chemical Engineering
Electrical Engineering
Mechanical Engineering
Civil Engineering
Petroleum & Gas Engineering
Energy System Engineering
Environmental Engineering
Computer Science
Chemical Engineering Technology
Electrical Engineering Technology
Mechanical Engineering Technology
Civil Engineering Technology
NFCIET Admission Procedure
Prospectus and Application form can be obtained from the office of the Institute on cash payment of or through courier service/ urgent mail service (Within Pakistan) by sending a bank draft in favor of the FC Institute of Engineering & Technology, Multan.
NFCIET Eligibility Criteria
For BSc Engineering Programs:
Minimum 60% aggregate marks in F.Sc (Pre-Eng)/DAE/ICS/equivalent exams and ECAT test is necessary for Candidates.
For Bachelor in Architecture:
50% aggregate marks in FSC/ICS or Equivalent or DAE on reserved seats. A departmental Aptitude Test will be conducted for candidates after applications.
Minimum 45% aggregate marks in F.Sc(PreEng/Medical)/DAE/F.A/D.Com/I.Com/equivalent exams and ECAT or NAT test is necessary for the candidates.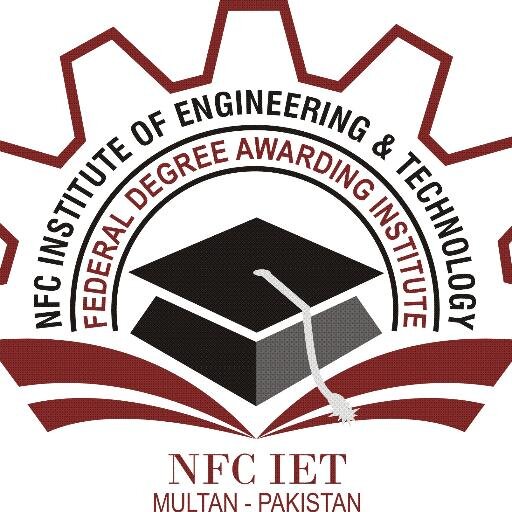 NFC IET Merit List
Only those candidates are eligible to get admission in any programs that are purified from the Engineering College Admission Test ECAT or National Admission Test NAT for foreign candidates. If you have also appeared in the entry test then your Merit list will be displayed on the main board of NFC IET on 11 October 2019. The Second Merit List will be displayed on 29 October 2019.
 For Further Details Contact:
Tel: 061 9220012-16
Chairman Admission Committee 2323, Admission Room: 2324, 2278
NFCIET, Multan, Pakistan