5 Years LLB Admission of session 2018 are open now in University Law College and Merit Lists is available here. Punjab University Law College LLB Admission 2018 merit list is available for students. Punjab University PU constituent college is University Law College which is situated in the Quid-E-Azam (New) Campus Lahore and specially dedicated to provide education to those who are interested in Law. According to the Notification Punjab University Law College, LLB Admissions will start from 1st October 2018 and it goes on till 10th October 2018 as this will be the last date to submit admission forms to the admission office of the University. In the beaning Anjuman-I-Punjab starts Law classes in 1868 and then this is taking over by the Punjab University in the year 1870. The institutions offer different degree and diploma programmes to the students who want to make their career in Law. From 1890 Punjab University Law College has access to award LLB and LL.M degrees to the students who get passed in the examination since when the Law college came under the supervision of the Punjab University the system has been developed as the number of students are a lot more than the available number of seats so it should be something that controls all this and this is the merit list. Also check, PU LLB Part 1, BA LLB Entry Test Result 2018.
Punjab University Law College LLB Admission 2018
Programmes offered by the Punjab University Law College are listed below
Degree Programmes:
Diploma Programmes:
Taxation Laws
Labour Laws
Intellectual Property Laws
International Trade Laws
Banking Laws
Corporate Law and Practice
Environmental Laws
Punjab University Law College LLB Admission Schedule:
The prescribed admission form along with prospectus will be available from the Law College Office according to the Punjab University Law College LLB Admission 2018 schedule
Date of Admission:  1st October 2018

Last date to submit admission form: 10 October 2018

Price of Admission form: Rs. 200
Total Seats Available: 
It is clearly mentioned in the Admission notice that all those admission forms that are incomplete or received late should not be entertained in any case. so students if you want to take admission then you have to submit your application before the last date of application submission.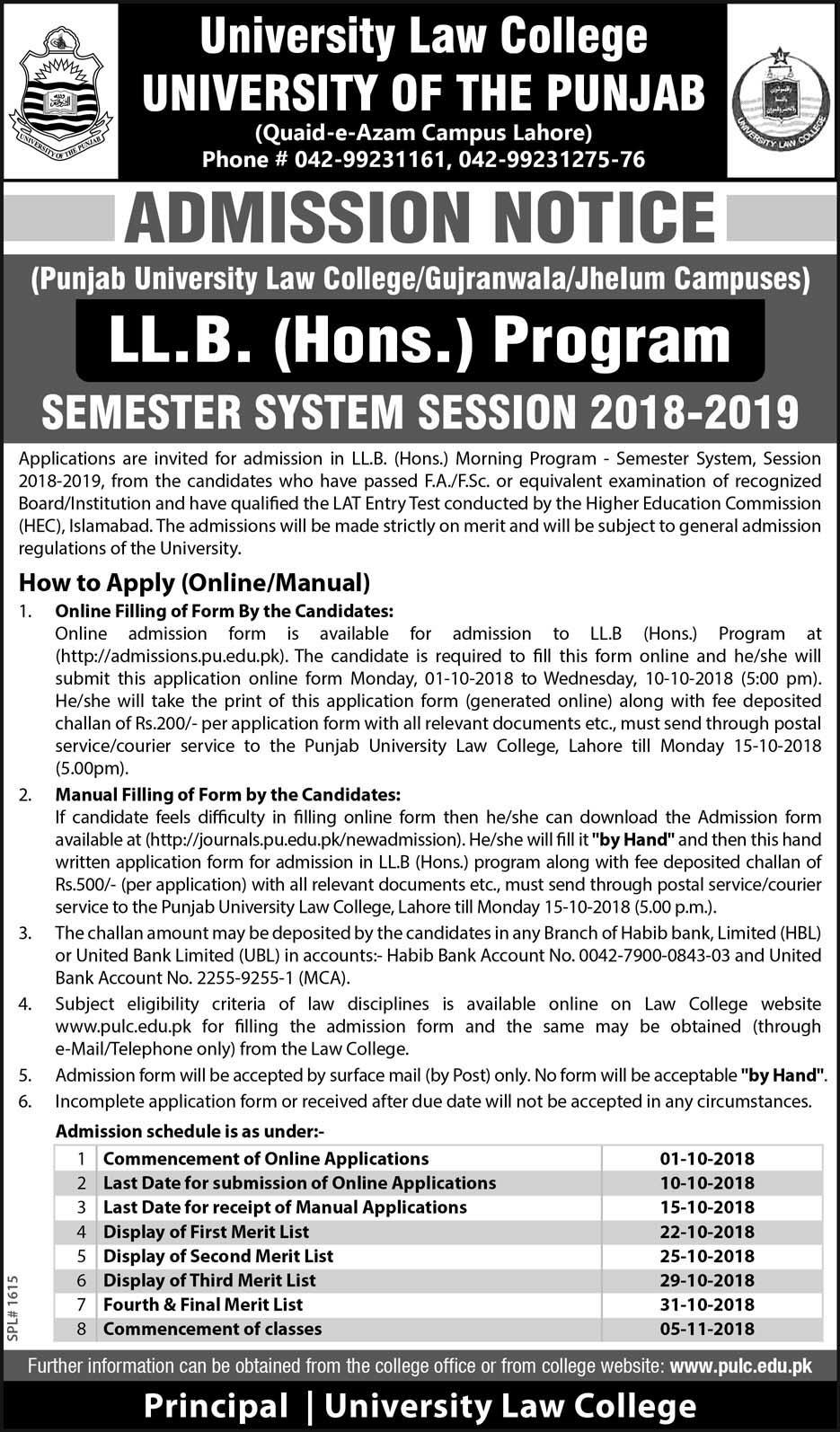 Punjab University Law Colleges:
As the last date for the submission of application is  September 2018 so after receiving all the applications from the interested candidates University official will make Merit Lists according to the scheme so only those students who get their name in the merit lists displayed by the official according to the given schedule will able to get Punjab University Law College Admission 2018.
Punjab University Law College LLB Merit List:
First Merit List: 22 October 2018

Second Merit List: 25th October  2018

Third Merit List:  27 October 2018

Fourth Merit List:  31st October 2018

For all the other updates and the Merit lists detail you have to stay in touch with this page as this page will keep you up to dated from every latest news that what is going on the educational world of Pakistan. So check Punjab University Law College LLB Admission 2018.