Important news for candidates Sindh Madressatul Islam University SMIU Admission 2021 is open in BS, BBA, ADE, B.Ed., MS, and MBA Programs and all those candidates who want to take admission in this University can submit their complete application form to the relevant department before 3rd September 2021 as this is the last date and forms received after that day will not be taken under consideration. Sindh Madressatul Islam was established in the year 1885 by the Khan Bahadur Kassanally Effendi at that time it was a school as this school was so much famous that the founder of Pakistan Quid-E-Azam Muhammad Ali Jinnah was also studied there. After serving the nation for about 58 years this school was converted into a college on 21st June 1943. Sir Syed Ahmed Khan and also the Muhammad Ali Jinnah want to see this college upgraded as the University but unfortunately in his lifetime they could not see this and since 1943 till 2011 this institute is known as the College but then president of Pakistan Asif Ali Zardari upgraded this college as a University in the Sindh on 21st February 2012. Since the first day of its establishment, this University's main aim is to provide quality education to the students of Pakistan and it is fulfilling this promise completely and this thing can be seen from the crowd of the students who want to be a part of the Sindh Madressatul Islam every year.
Sindh Madressatul Islam University SMIU Admission 2021
Those students who seeking the Sindh Madressatul Islam University SMIU Admission 2021 now can apply to this institute for enrollment. On the other hand, the last date of admission 3 September 2021 has officially announced by them and the duration of time is too short. Further, require documentation is given that is necessary at the time of registration.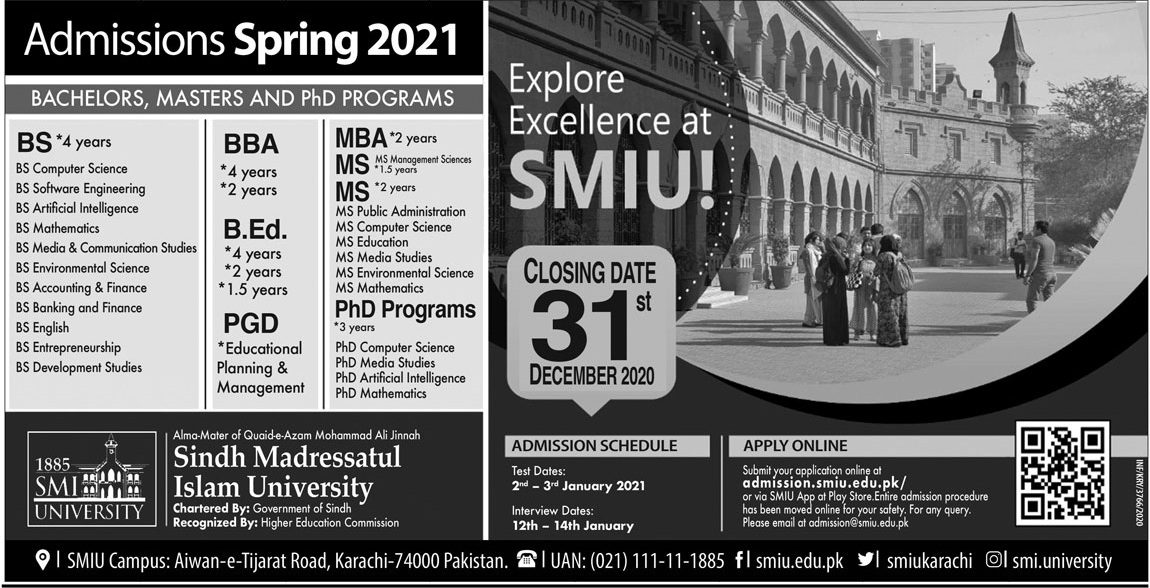 SMIU Admission Spring 2021 Schedule
Now, we are going to mention the test schedule of the SMIU all all the things will perform according to the time table who have officially declared the management.
| | |
| --- | --- |
| Last Date of Application | 31 December 2020 |
| Test Date | 2nd and 3rd January 2021 |
| Interview Date | 12th to 14th January 2021 |
| Merit List | Click Here to View |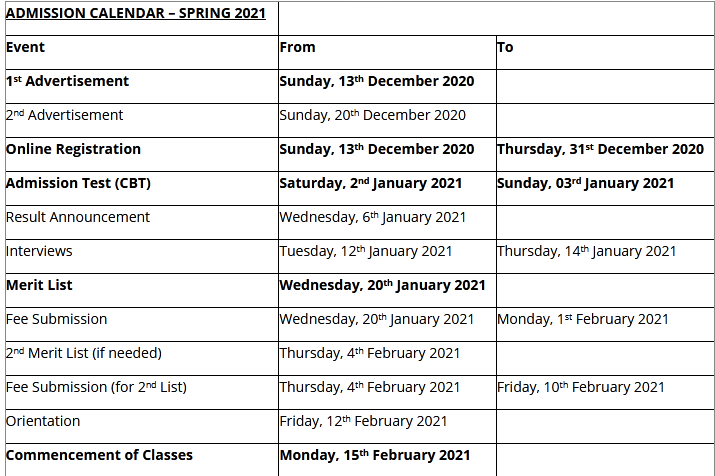 Documents You Require:
Attested copies of the following documents are  required along with duly filled in the admission form
BS/BE/M.Sc./M.A./M.Com. Passed Marks  Certificates (02 attested photocopies) for MS Program
H.S.C. Part- I, II Passed Marks Certificates (02  attested photocopies)
S.S.C. Part- I, II Passed Marks Certificates (02  attested photocopies)
All the A-Level, Character Certificate from the Principal of the Institute last attended.
O-Level results submitted for equivalence  calculation should be determined by the Inter Board Committee of Chairman,  Islamabad
Domicile Certificate of the candidate (or of father/ mother if the  applicant is under 18 years of age and his/her name is included in it) and  P.R.C. (originals to be shown at the time of payment of fees)
Computerized National Identity Card or NADRA
Six recent photographs
SMIU Online Admission Form 2020
SMIU Online admission form 2021 is now available and those people who are interested now can apply on 31 December 2020 because that is the last date. After this date, no application will be entering the management. So hurry up because time is too short and click on the link and fill in all required valid information because if you put the wrong information then your application will reject by the organization.
For More information about the Sindh Madressatul Islam University SMIU Admission 2021:
Phone: +92 21 99217501-3
Address: Aiwan-e-Tijarat  Road, Karachi, Pakistan.
For More Information Contact:FAX:+92 21 99217504