The University of Engineering and Technology UET Lahore Undergraduate Reciprocal Admissions 2018 has announced. Those students who have Punjab Domicile are eligible to submit the application against the reserved  seats in universities of other provinces on reciprocal basis for the entry 2018 But at the same time in this UET Lahore Reciprocal Seats Admissions 2018 only those students are eligible who have appeared in the UET Entry Test as in the Punjab UET Lahore is the only official authority that would be able to conduct the ECAT entry test for admission in the Engineering Colleges of Punjab and like all previous year this year too the University of Engineering and Technology Lahore has conducted the Engineering Entry test on Sunday 15th July, 2018 and after just one week the UET Entry Test Result 2018 is also announced now all the students who have appear in the Pre admission entry test have their result in their hands so students their is no need to go anywhere else just stay in touch with this page and get all the latest updates as right now you are on the fastest growing educational website of Pakistan and some of the details are as follows as
NED University of Engineering and Technology, Karachi
2 seat each in Electrical Engineering and mechanical Engineering
University of Engineering and Technology, Peshawar
2 seats each in Civil Engineering, Electrical Engineering and Mechanical Engineering. 3 seats in Mining Engineering and 1 seat in Agriculture Engineering
Mehran University Of Engineering And Technology, Jamshoro
2 seats each in Civil Engineering and Chemical Engineering and 1 seat in Industrial Engineering & Management.
Mirpur university of Engineering & technology (MUST), Mirpur, Azad Kashmir
3 Seat in Electrical Engineering and 1 set each in Mechanical Engineering, Computer system Engineering, Civil Engineering and Software Engineering.
Balochistan University of Engineering & Technology Khuzdar
2 seats in Civil Engineering, 4 seats in Electrical Engineering and 3 seats in Mechanical Engineering.
UET Lahore Undergraduate Reciprocal Admissions 2018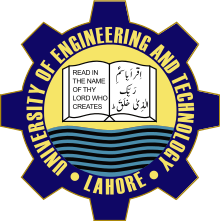 Diploma holder can only apply for the University of Engineering & Technology Peshawar & Dawood College of Engineering & technology, Karachi.
Eligibility Procedure:
Those candidate who have appeared in the Entry test that was conducted for admission in B.sc Engineering program on 15th July, 2018 are only eligible for this reciprocal admission.
Candidate must have passed F.Sc ( Pre-Engineering), B.Sc / Diploma in the annual examination of the year 2018 and got minimum 60% marks and 60%weighted aggregate based on 70% of inter and 30% of entry test marks.
Last date of Application Submission:
17th October 2018
Application Procedure:
The reciprocal application forms can be filled online and to fill the form you have to login so click down for further process
CLICK HERE
The printout application after completion along with all the documents which are required and a payment proof will submitted in the student section of the university of Engineering and Technology Lahore.
Lump sum application processing & preferances fee Rs. 500/- can be deposited in the University account # 01280005533303 by a challan form which is available in Habib Bank UET branch Lahore.
During working days from 9:00 am to 2:00 pm aplication form will be accepted by the officials of UET Lahore
Candidate must note that the incomplete application and those application who are late submitted will not be entertained.
Also the application which is submitted through the Post/Courier shall not be accepted.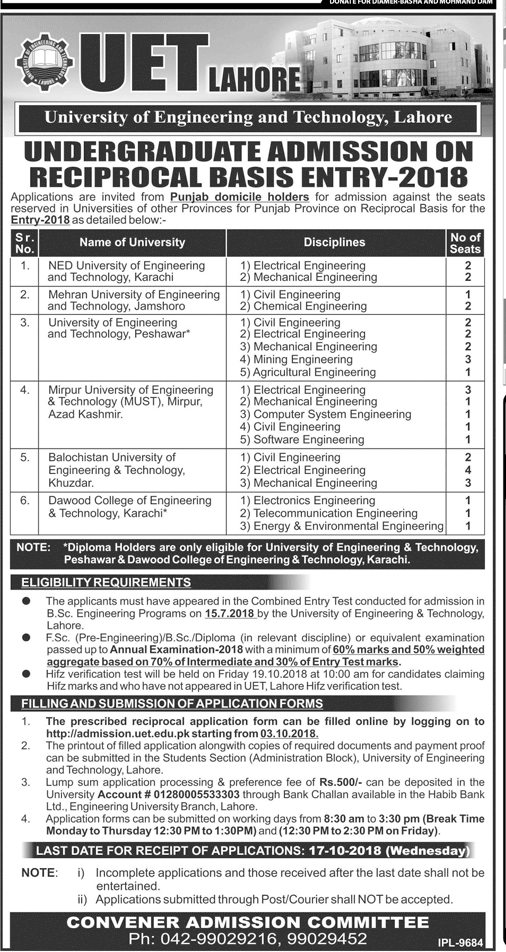 UET Lahore Reciprocal Seats Merit Lists:
UET Lahore Reciprocal Seats merit lists for selected students in above universities are going to announce soon. All students who are looking for merit lists have to wait for several days. After the announcement of these merit list, it will available online at this website. You can check UET Lahore Undergraduate Reciprocal Admissions 2018 merit lists from this website at any time.