UMT School of Professional Advancement SPA Admission 2013 is open in various department so all those candidates want to take admission in this institute must get their application form here and shall submit it to the administration office before the last date. If you are confusing UMT that is University of Management and Technology with the School of Professional Advancement then let me explain that the SPA is the Subsidiary of the UMT. Basically this department of the University is for the lifelong educational needs of the candidates. The main aim or the core value of this department is to build the professional for the future of the Pakistan. The modern world is going so fast that the organizations is focusing on the professional advancement of the employees so that is compulsory for the employee if he or she wants to retain their job and also wants to capture the future opportunities. University of the Management and Technology was established in year 1990 to provide the quality education at the Semi government level to the students of the Pakistan. The authoritative body of the education in the Pakistan that is the Higher Education Commission HEC has given this University the rank of W4 category which is the highest educational institute category in Pakistan and this is the efforts of the students of the institute as well as the faculty members.
UMT School of Professional Advancement SPA Admission 2013
Master Programs:
In the master programs there are two and also one year programs that are offered in the School of Professional advancement SPA and the list of the programs are as follow
Master in Fashion and LUxury Management
Master in Marketing Management
Master in Sales Management
Master of Management Cosulting & organization Development
Master of Human Resource Management
Master of Banking in Finance
Master of Agri-Business
Master of School Management
Master of Information and Communication Technology
Master of Computer Science
Master of Supply Chain Management
Master of Real Estate and Urban Planning
Master of Project Management
Master of Transportation Logistics Management
In the 1.5 Year Programs University Offers:
School Management
Project Management
Agri Business
Information and Communication Technology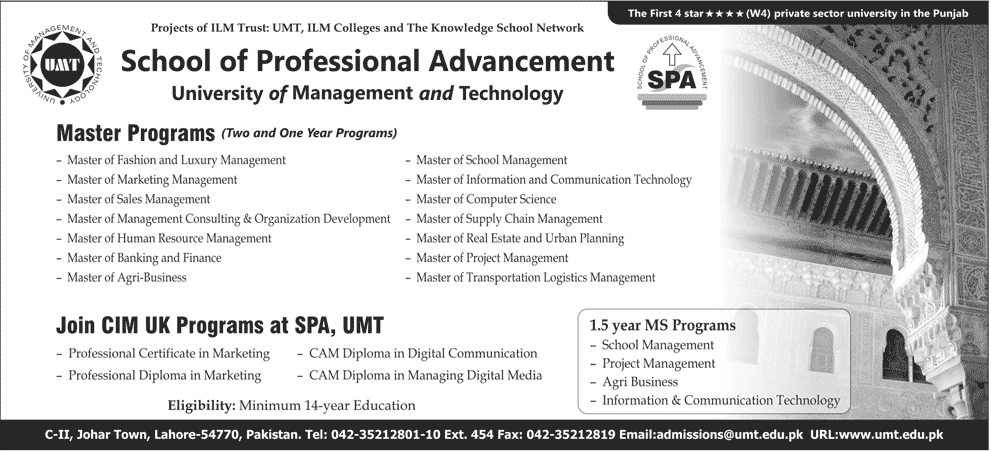 Eligibility:
All those candidates who have a 14 year of education from a Higher Education Commission HEC recognized university are eligible to apply for the Professional Advancement courses.
Apply Online:
CLICK HERE
University of Management and Technology is a name of trust and quality education.
For More Information Contact:
University of Management and Technology
C-II Johar Town, Lahore – 5477, Pakistan
Tel: 042- 35212801-10