4 Years Bachelor Degree Pharm-D admissions 2017 are now open in University of Karachi UOK so all those candidate who want to study Pharm D from a well known and reputed institution of Karachi must have to submit their admission application form till 27thNovember, 2016 as this will be the last date to submit the admission form and after that no admission form will be accepted from any students in any case so keep this date in your consideration if you want to take admission. University of Karachi is the biggest University of Sindh Province so every year thousands of students get admission in this University and complete their educational degree in their respective program. University of Karachi UOK were established in year 1951  and the first vice chancellor of the university were prof. A. B. A Haleem. In the starting of this University there were only two faculties that are of Arts and Science then later on with the passage of time more faculties are being added and now the stage has come when there is total 53 department in the University and 29 research centers that are working under eight faculties Arts, Science, Islamic Studies, Pharmacy, Management and Administrative Sciences, Law, Education and Medicine. There are about more than 800 faculty members that are highly qualified and experience in their specific filed so here is the complete information about the Merit list, last date of submission and availability of admission application form so stay tuned and read this page till end to remove all of your queries.
University of Karachi UOK Pharm D Admissions 2017
Faculty of Pharmacy, University of Karachi has the honor of being the first faculty of Pharmacy in Pakistan. It caters the need of Hospitals and Pharmaceutical Industries. The faculty of pharmacy is equipped with state of the art laboratories and modern technologies imparting quality education and training.
Eligibility Criteria:
All those applicants who have clear its Intermediate class in Pre Medical or equivalent examination with minimum 60% marks are eligible to get admission in the Karachi University.
Entry Test Detail:
Admissions to Pharm D in the University of Karachi will be granted on Pre requisite (Intermediate or equivalent) examination after qualifying the entry test with minimum of 60% marks.
Closing Percentage:
Morning Program:
year 2011 = 77.36%
Year 2012 = 79.27%
Year 2013 = 78.64%
Evening Program:
year 2011 = 74.66%
Year 2012 = 73.64%
Year 2013 = 73.64%
Availability of Admission Application Form:
Admission application form for Pharm D can be obtained from UBL, Silver Jubliee Gate Booth, University of Karachi Branch during 17th November, 2016 to 27th November, 2016 in against the payment of Rs. 2000/- only.
Entry Test result and Merit list 2017:
Entry test Result date and date for the Final merit List 2017 for Pharm D in UOK University of Karachi is not announced yet but as soon as it will announce by the official you are able to get it from here on the very next second.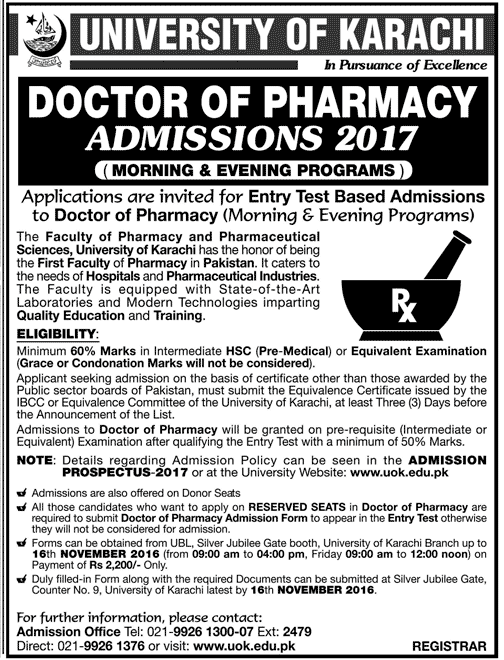 last Date to Submit Admission Form:
Duly filled in admission form along with the required documents can be submitted at the same booth latest by 21st November, 2016
For More Information Please Contact:
Admission Office
University of Karachi
tel:021-99261300 – 07 Ext: 2479