The University of Karachi UOK Pharm D Admissions 2020 is open now. So all those candidates who want to study Pharm D from a well known and reputed institution of Karachi must have to submit their admission application form till 23 October 2019 as this will be the last date to submit the admission form and after that no admission form will be accepted from any students in any case so keep this date in your consideration if you want to take admission. The University of Karachi is the biggest University of Sindh Province so every year thousands of students get admission in this University and complete their educational degree in their respective programs. The University of Karachi UOK was established in year 1951  and the first vice chancellor of the university was prof. A. B. A Haleem. In the starting of this University there were only two faculties that are of Arts and Science then later on with the passage of time more faculties are being added and now the stage has come when there is total 53 department in the University and 29 research centers that are working under eight faculties Arts, Science, Islamic Studies, Pharmacy, Management and Administrative Sciences, Law, Education, and Medicine. There are about more than 800 faculty members that are highly qualified and experienced in their specific filed so here is the complete information about the Merit list, last date of submission and availability of admission application form so stay tuned and read this page till end to remove all of your queries.
University of Karachi UOK Pharm D Admissions 2020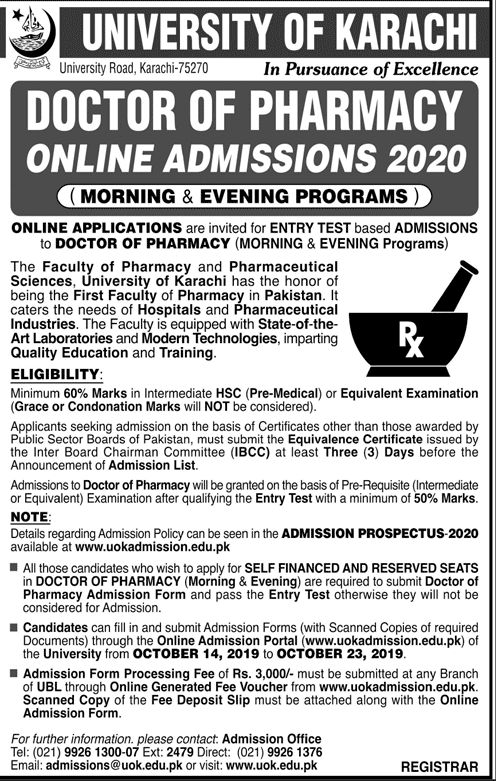 Faculty of Pharmacy, University of Karachi has the honor of being the first faculty of Pharmacy in Pakistan. It caters to the need for Hospitals and Pharmaceutical Industries. The faculty of pharmacy is equipped with state of the art laboratories and modern technologies imparting quality education and training.
Eligibility Criteria for UOK Admissions:
All those applicants who have clear its Intermediate class in Pre Medical or equivalent examination with minimum 60% marks are eligible to get admission in the Karachi University.
Candidates who have completed studies with foreign educational systems have to submit an Equivalent Certificate issued by IBCC 3 days before the announcement of the admission list.
Candidates must pass the entry test with at least 50% marks.
Applying Procedure for the Admissions
Admission form and pospectus are available at www.uok.admission.edu.pk.
Admission forms ca be filled online and can be submitted through the web from 14th October 2019 to 23 October 2019.
The admission processing fee is Rs.3000/- which can be submitted in any branch of UBL bank through online generated fee voucher.
Important dates for application
Starting Date for admission: 14th October 2019
Last Date for Admission:  23 October 2019
Entry Test Detail:
Admissions to Pharm D in the University of Karachi will be granted on Prerequisite (Intermediate or equivalent) examination after qualifying the entry test with a minimum of 50% marks.
University of Karachi UOK Pharm D Admissions 2020
So this was all about the admissions of UOK. So if you want to be a part of this University, you should apply for the admissions as early as possible. The admissions will be on the basis of Merit. So, be a part of UoK by applying online for the admissions.
For More Information Please Contact:
Admission Office
University of Karachi
tel:021-99261300-07 Ext: 2479