The information of University of Sargodha UOS MA, MSc Annual Examination Schedule 2019 is accessible from this remarkable webpage source. UOS, University of Sargodha is one of the top ranking universities of the Pakistan which provide the high proficient education to the student. The University of Sargodha grows his potency in a short time. It is situated between the two rivers Chenab and Jhelum River. University also makes progress in the field of Science, Economic, Business Management, social services, IT Industry, Pharmaceutical, Chemicals and other recourses of the education. The degree which is provided by the University of Sargodha is recommended not national level but also on international level. The university has also providing the information technology department for fulfill the need of IT solution and have a computer lab which contain about 1000 computer machines for the study of the students. University of Sargodha has announced the Annual Examination Schedule for the MSc. and M.A exams. Sargodha University MA MSC Date Sheet will be available here soon.
University of Sargodha UOS MA, MSc Annual Examination Schedule 2019
University of Sargodha which is a reputable institution of the Pakistan for providing an affordable education for the students has now announce the UOS MA, MSc Exams Schedule 2019. The candidates who apply for this session may submit their annual examination fee before the date, if you could not submit your fee after the due date, the fee will charge as double for the next date and if you again failed to submit your, you have a third chance and the third time the fee charged as triple fee. So if you want to avoid from this problems, submit your fee as soon as possible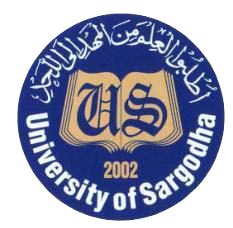 How to apply
The private candidate which are not registered with SOU may get the application form submit it with prescribed fees.
Application forms are available on HBL prescribed branches and also may download from the University website
The candidates who participate in 2019 programs can submit their fee within 15 days after the declaration of the Result
Incomplete application forms will not entertained
So the candidate if you want to appear for the University of Sargodha UOS MA, MSc Annual Examination Schedule 2019 then submit your fee as soon as possible. And also the candidates who want to apply for the new session of the MA and MSc may submit their application forms on the prescribed address of the University. For more info visit this page.