Allied Bank Limited of Pakistan, History, Review, Careers, Internet Banking, Branches and many other information that you could need But first of all let us talk about the history of Allied Bank. Allied bank limited was the firs bank which is established and starts its banking operations in Pakistan as before independence this bank was established in Lahore with a name of Australasia bank in year 1942 and than after the independence it become known as Allied Bank Limited in year 1974. Due to some capital restrictions the ownership of Allied Bank was transferred in year 2004 in month of August to the Consortium Comprising Ibrahim Group. Now this bank has a marvelous experience of previous 70 years. With a lot of experience and customer satisfaction about the bank this bank has made its foundations very strong in Pakistan. This bank has a very large network in Pakistan with more than 830 online branches all over Pakistan so that is why a vast variety of technology based products and services are offered to their customers at Allied Bank Ltd of Pakistan.

Now you can see a number of banks in Pakistan offering many services to the citizens of Pakistan but customers of previous year and now present year both wants an account which services in beyond the expectations of anyone and due to big network and a lot of experience Allied bank Limited is able to give their customers what they want. So when there comes the number one banking systems of Pakistan one cannot forgot to put Allied Bank Limited beyond the considerations. Customer enter into the bank and get each and every service what they want and desire before entering a bank that is why the satisfaction level of the citizens of Pakistan is still more on Allied Bank of Pakistan than any other bank in Pakistan.
Allied Bank Limited of Pakistan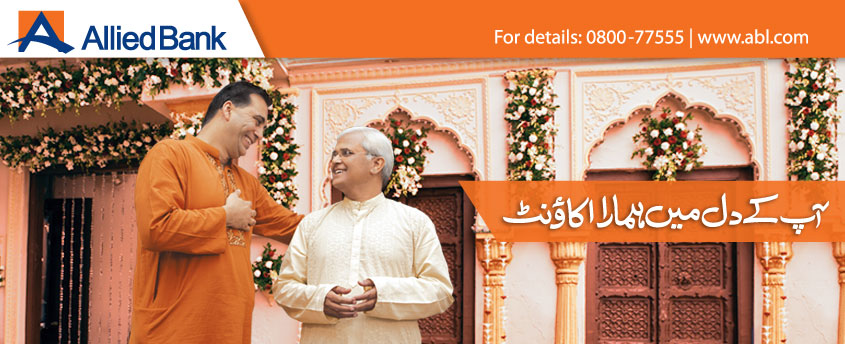 Services given by Allied Bank Limited of Pakistan
Personal Banking of Allied bank Limited:
Everyday Account
Lifestyle Banking
Saving & Term Deposit
Credit & Debit Cards
Domestic Remittances
Bancassurance
E-Banking Services
Business Banking Of Allied Bank Limited:
Corporate And Investment Banking
Transaction And Business Accounts
Home Remittenaces To Pakistan
Saving & Term Deposits
Cash Management Solutions
Trade Services
SME Financing
Agriculture Financing
Services Of Allied Bank Limited:
Branches & ATMs
Extended Hours Banking
Allied Phone Banking
Online Banking
Customer Support
Safe Deposit Lockers
Utility Bills Payment
Hajj Services
Demand Draft
Pay Order
Career at Allied Bank Limited of Pakistan
Allied Bank Limited from its inceptions believe that their big and valuable assets are the human only its people can drive bank to can sustain its growth and better performance. So that is why bank is always ready to strengthen its people for acquiring the best market position in the banking system. Every year a number of fresh Post Graduate of Business, Commerce and Engineering Background are hire from the leading institutions of Pakistan as management trainees. For more information go to https://www.abl.com/careers/
Allied Bank Limited Branches:
Allied bank is the largest banking network of Pakistan with more than 830 online branches all over the Pakistan. So now you have always the quick and convenient access to your Allied Bank Limited accounts and get every banking services.
To download the List of Allied bank Limited network in PDF CLICK HERE
Internet Banking of Allied Bank Limited of Pakistan
Customers in Pakistan are now getting more literate and wants latest technologies so Allied Bank Limited is a perfect match for the present lifestyle of people. Allied bank E-Banking services demands less time to connect, Interact and transact where ever you want to. The three main principles of E- Banking is the security, speed and ease of use. By focusing on these three principles now Allied bank is able to give speed to their customers through a successful and safe transaction for more inquiries visit https://www.abl.com/personal-banking/e-banking-services/
Contact to Allied Bank Limited of Pakistan
Allied Phone Banking: 0800-22522
E-mail : [email protected]
Post: Complaint Management Unit,
Service Quality, Allied Bank Limited, C-21, 21 East Street DHA Phase -1, Main Korangi Road Karachi, Pakistan.
Fax: (+9221) 35316995