Here, you can check BISE Malakand Board SSC 9th, 10th Class Date Sheet 2020. The officials of the board have just released the complete exam schedule for the board exams of SSC. The reason for releasing it too early is to give the concept to the students so that they can prepare for the finals accordingly. This is a very difficult time for the students of Matric because they have a few days left for the exam preparation. So, start studying the important things from now if you haven't started yet. This is the time for them to not waste and just study with full attention. These are the most important papers. The Matric class is the most important one and gives the planning for future studies. It gives the most important way to move forward. For this, the exam schedule is released and you can check it down on this page.
BISE Malakand Board SSC 9th, 10th Class Date Sheet 2020
The Malakand board started its operations of maintaining and conducting matriculation level exams as well as the intermediate exams in the year 2003. This board is working under the direct supervision of the Government. From now every year the board is responsible for the Control, Organize, and regulate the education in more than 450 educational institutions coming in its territory public as well as the private sector schools and colleges. Well in the territory of the BISE Malakand there are two Agencies named District Malakand Agency and District Bajaur Agency and there are two more districts named Dir Lower and Dir upper. So, look down for the date sheets.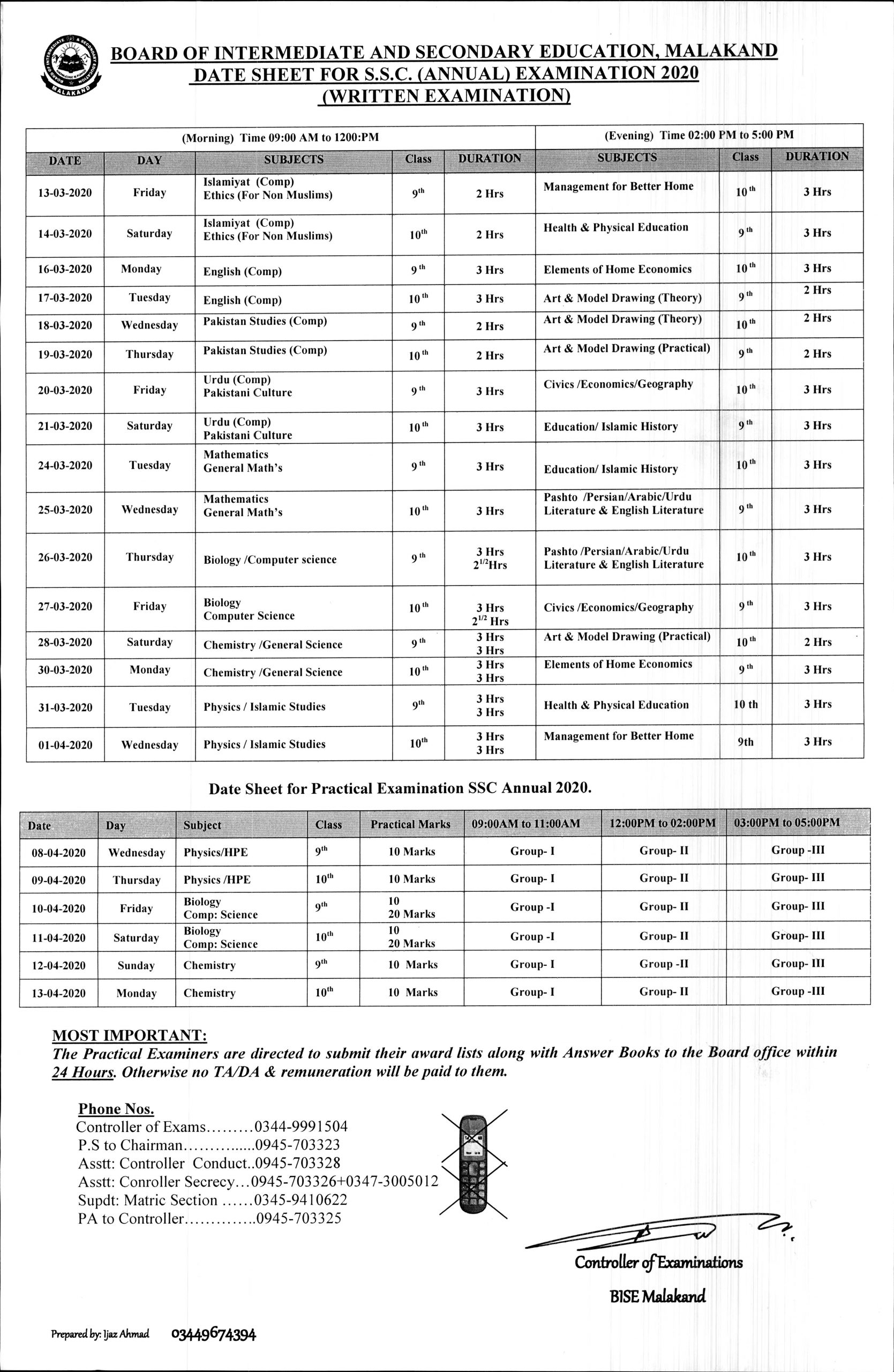 Malakand Board 9th Class Date Sheet 2020
The most important thing before the finals is proper planning. It is a very important thing for them to plan and practice how you will manage the time. As we know the most important part of this planning includes proper time management. Every student should make a proper plan that how he will give them time to every question. The time is very less for subjects like Urdu, Islamiat, Pak Studies, and Science Subjects. So, start revision and self-preparation today.
Malakand Board 10th Class Date Sheet 2020
Due to the afford of the experienced staff and also the cooperation from the government too, people of these districts are becoming aware of the benefits of education that are the reason that every year the number of students in these districts coming for education is increasing every year. There is not just the increasing number of the student but also, on the other hand, there is good improvement in the passing ratio every year. So all those students who are waiting for the annual BISE Malakand Board SSC 9th, 10th Class Date Sheet 2020 can visit this page and can easily download the date sheet if they want to. We hope we clear for what you are here.