If you are looking for SBTE DAE Date Sheet 2020 1st, 2nd, 3rd Year then you are on the right page. The subjects including Civil Technology, Electronics, Electrical and other courses that are being offered in DAE. SBTE is the official body that keeps an eye on all the activities going for the technical education in all the institutes of the Sindh province so it does no matters that in which educational institute you are getting the education of Diploma is Associate Engineer DAE because these all institutes are affiliated from the SBTE and the final degree is also issued to the students by this board. That is the reason for the responsibilities including the registration at the start, then releasing the date sheet is on SBTE. Then it issues the roll number slips and then the exams are conducted. All these are done by this board. Every year, the exams of 1st, 2nd, and 3rd year are held and thousands of candidates appear in it. Scroll down to check the exam schedule on this page.
SBTE DAE Date Sheet 2020 1st, 2nd, 3rd Year
DAE is a three-year Diploma Program that is Diploma in Associate Engineering. The eligibility criteria for all those candidates who wanted to join the DAE Course is simple that they have a passing certificate of Matric Class in their hands and when they take admission in the DAE Course then they are affiliated with the board of their region. Sindh students affiliate themselves with SBTE. Well, there are a lot of choices in the DAE course to choose from some of them are listed below.
Auto & Diesel
Auto & Farm
Architecture
Bio-Medical
Civil
Chemical
Computer Information
Electrical
Electronics
Food Preservation
Garment
Garment (PSIT)
Glass & Ceramics
Instrumentation & Process Control
Instrumentation & Watch
Mechanical
Mining
Metallurgy & Material Process
power
Petroleum
Printing & Graphic Art
Refrigeration & Air-conditioning
Secretarial
Sugar
Textile Spinning
Textile weaving
Telecommunication
Textile Dyeing & Printing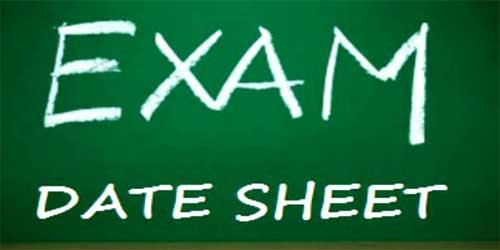 SBTE DAE 1st Year Date Sheet 2020
Every year there are thousands of students who appear in the annual examination of the DAE exams under the supervision of the SBTE and this year too it is expected that the number of students will increase as they are last year so it will be tough task for the officials of the SBTE to handle such a huge crowd perfectly but with the effective and efficient management of the SBTE, this will be handled carefully so students there is no need to go anywhere else for SBTE DAE Date Sheet 2020 1st for Annual examination as your search would end up here.
SBTE DAE 2nd Year Date Sheet 2020
SBTE was came into existence in 1970 as before this board all the activities of the Technical education were taken by the Defunct West Pakistan Board of Technical Education and now this SBTE board is responsible for organizing, Regulate, develop and Control Technical and Vocational Education all over the province. From the first day of the inception of the SBTE, this board is providing quality education to the number of students and now they will going to announce SBTE DAE Date Sheet 2020 2nd Year soon here.
SBTE DAE 3rd Year Date Sheet 2020
Well, students if you are also among those candidates who are waiting for the SBTE DAE Date Sheet 2020 3rd Year exams to be announced then right now you are at the right place from where you will be able to get your officially declared and error-free date sheet without any interruption. This DAE date sheet will be uploaded in the image format so that it is easy for the candidates to download it and could save it to your computer so next time whenever they wanted to view this date sheet they can without connecting their computers with the internet.