University of Engineering and Technology Lahore UET is going to announce ECAT Entry Test Result 2019 By Name, Roll Number on 21st July, 2019 at 06:00 pm in the evening so all those students who want to take admission in the engineering colleges of the Punjab can get their online ECAT result from this page. ECAT stands for Engineering College Admission Test and it is compulsory for all those students who want to be a engineer in their professional life as without taking admission in the Engineering College they are unable to be a Engineer so that is the reason that every year students appear in the ECAT test and only those who get passed in this UET ECAT Entry Test Result 2019 will able to get admission in the top Engineering colleges and Universities of Pakistan. The responsibility of conducting the ECAT Entry Test is in the hands of the UET which is the best engineering University of the Pakistan. Every Year University of Engineering and Technology conduct the ECAT entry test in the month of August and this year ECAT Entry test were held on Sunday 14th July, 2019 and now its time for the result as thousands of students are looking forward for their UET Lahore Entry Test Result 2019
ECAT Entry Test Result 2019 By Name, Roll Number
For the Admission in the all the Public Engineering Colleges of province Punjab Entry test were held in the 11 examination centers of Lahore, Islamabad, Harippa, Taxila, Multan, Bahawalpur, Faisalabad, Gujrat and Mianwali. There are total 5000 seats in the Engineering colleges of the Public sector and for that 45,000 students applied and appear in the entry test taken under the supervision of the UET and then officials will announce UET ECAT Entry Test Result 2019. The biggest Examination center among all were itself the University of Engineering and Technology Lahore as in this examination center there were total 12, 787 students were present. In the UET Kala Shah Kaku campus there were total 3000 students. The starting time for the entry test is 10:00 am but due to the bad weather ECAT entry test starts on 11:00 am with 1 hour delay time. There were a huge number of parents also present outside all the examination center and they all are prying for the good entry test of their children.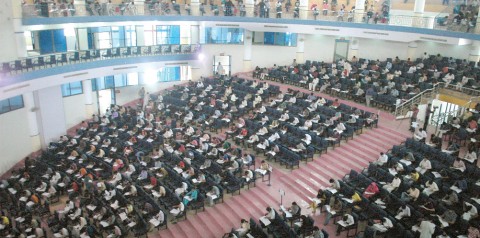 View Some more Related Information
Top Engineering Universities In Pakistan
Engineering Colleges In Lahore
PEC Recognized Engineering Universities
The total time of the entry test is 100 minutes and in the UET Lahore the vice chancellor of UET General (R) Muhammad Akram were also present there. While taking to media Vice chancellor said that the UET ECAT Result 2019 will be available online to the students on 22nd July, 2019 evening. So students keep in touch with this page order to get ECAT Entry test result as this page will be updated on that date as soon as the official will declare the result.
It is to be reminded once again that this ECAT Entry Test Result 2019 By Name, Roll Number is just on its way. We have seen that each and every year, UET take this entry test, it is this MCQ based test and they also reveal the result in just few days. In the same way, for this time, this UET Lahore ECAT test result 2019 is just coming soon. Right on 21st July, 2019, you will be able to know that whether you have passed this ECAT test or not! You just have to visit the UET site, just enter your name and roll number and then that site will be telling you that whether you have passed or failed in this UET Lahore ECAT entry test, all the best for this.