Here it is informed that Bahauddin Zakariya University Multan Postgraguate and Undergraduate Admission 2019 1st, 2nd, 3rd will be uploaded to this page as soon as the officials will declare it so students if you are also among those candidates who have submitted their admission application form to the admission office for Postgraduate and Undergraduate programs 25th September, 2019 as this was the last date to submit the application form and all those forms that are received within that due date are then checked and after that the BZU Multan Undergraduate merit list 2019 will be displayed by the officials and on the same date and time when the officials will declare the merit list for the selected students this page will be updated to provide you from here so that is why candidates there is no need to go anywhere else just stay in touch with this page to keep yourself up to dated from all the latest updates. None of the officials has yet declared any announcements regarding the BZU Merit List but when any of the officials does this news will be updated to this page immediately so that it could be reach to you as fast as it could be. so have a look down for more updates and the complete merit list.
Bahauddin Zakariya University Multan Undergraduate 2019
Bahauddin Zakariya University Multan Admission Courses Offered:
Post-Graduate Programs
Master of Science Biotechnology
Islamic Studies master of art
Master of science Economics
MBA 3.5 years
Master of Art English
M.Sc Applied Psychology
Undergraduate
 Programs
Bachelor of Science Physics, Chem, Bio
B.Sc (Hons). Agriculture
Bachelor of Science Urdu, English,
BS Economics & Finance, Education
Pharm-D 5 years programs
Veterinary Sciences
BBA, LLB 5 years programs
BS Economics
BZU Multan Merit List 2019 will be available on university website..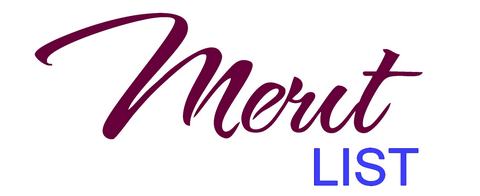 Bahauddin Zakariya University is established in Multan and know as BZU and if you are a student then you must have heard this name in your educational career as this is one of the top university of Pakistan that also has other city campuses all over the Pakistan. BZU has getting 9th position by the HEC ranking in all over the well general universities of Pakistan. From the first day of the inception of BZU the management as well as the faculty is trying to provide quality education and to facilitate students as much as they could only this is the reason that when ever for the new session admission are being announced their are many applications that are received to the officials by the willing students but due to the limited number of seats university is not in a condition to allow admission to every single students that is why this merit list bring ease for the management to choose the best students among all. All students must have to submit their application online by schedule of BZU University www.bzu.edu.pk. Those candidates which are apply to take admission in LLB-5 year they will submit application for LAT test result. This university available these PEEF HEC-NEED Based' USAID' University Endowment Fund' UBL and HBL,scholarships for Bs/BSc. Ms/MSc and M.Phil.
Last date to submit application for admission:              25th September 2019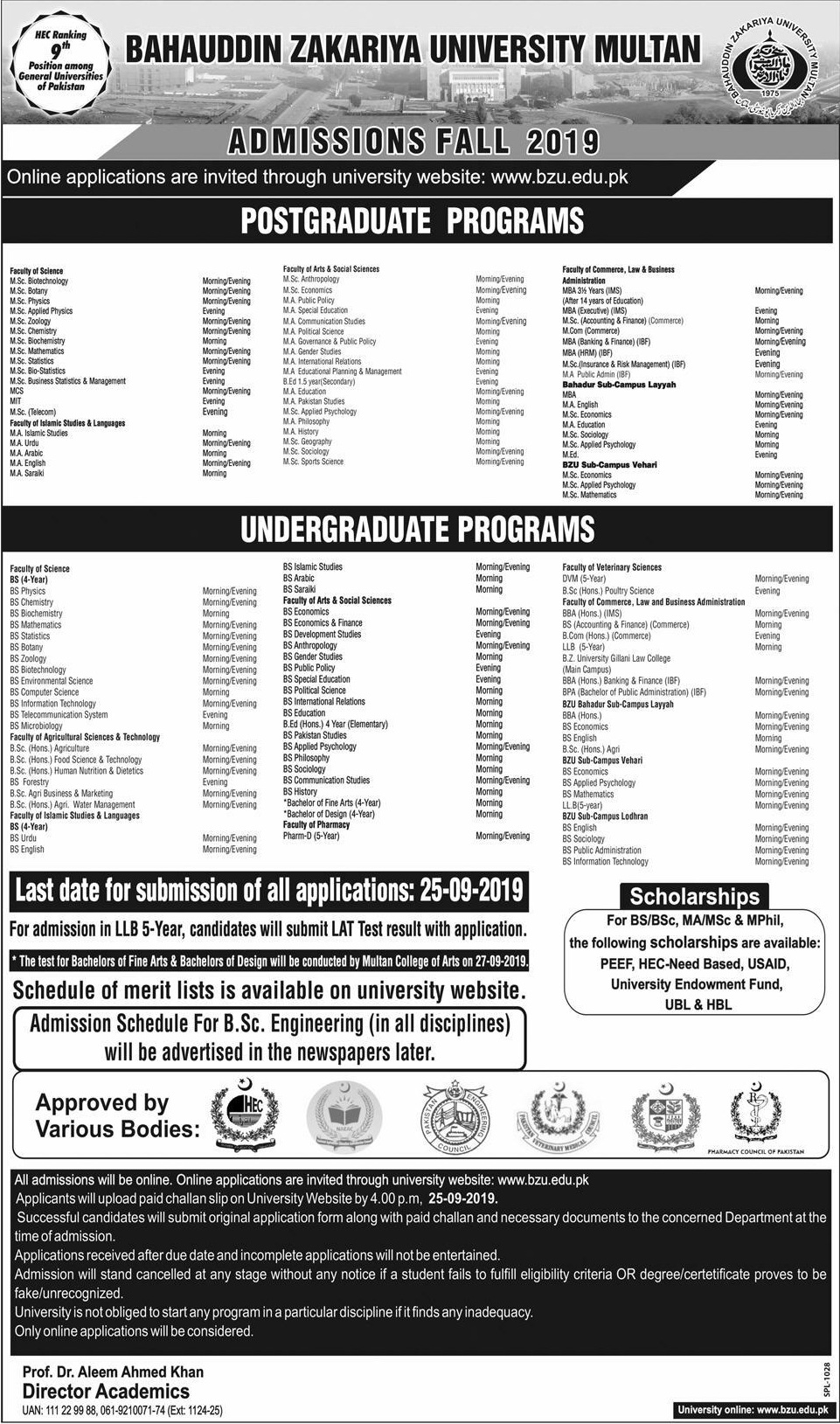 Bahauddin Zakariya University Multan Admission 2019 Eligibility Criteria:
        All candidates must have to required 12 years education or equivalent intermediate degree with at least 50% marks for taking admission undergraduate programs 2019. For post-graduate program must be appeared in 14 years education with at least 60% marks. As only those candidates who got their name in the BZU Multan Undergraduate Merit List 2019 will be able to submit their semester dues and confirm their seat that is why it is very important for you that you must be well updated from the Merit List that is officially announced and for this ilm.com.pk will be your best source that could provide you that. Well students there is another option in front of you if you want to get Bahauddin Zakariya University BZU Multan Undergraduate Merit List 2019 and Bahauddin Zakariya University Multan Undergraduate Admission and that is you can go directly to the University campus and can view it by yourself on the notice board of your relevant department but if you do not want to go physically to the university and also want to get the online Merit list then this page will be your best source to get it stay with us.