University Of Engineering And Technology UET Lahore 2nd, 3rd Merit List 2017 and after that 3rd Merit list 2017 will also be published soon in few days as soon as the official of the University declares it. This year UET has establish total 13 exams centers that are just for the purpose of entry test as UET is among the first preference Engineering University for the students so a huge number of students apply to take admission in different engineering programs every year. To control all the students  and after pure selection process select the finest one is a tough job. 2nd Merit List 2017 of UET will be available here on this page as soon as the University Official will declare it so stay in touch with this page in order to stay up to dated and same is the case with 3rd Merit list 2017.
This year in 2017 University of Engineering and Technology hold Entry test on 16th July, 2017 and after few days University Officials published their first merit list for the B.Sc Engineering and B.Sc Technology and according to the officials there are 45000 students who has taken UET entry test 2017 and among that only 5000 candidates are those who will be selected. Only in UET Lahore campus there are 12000 students during the entry test.
UET Lahore 2nd, 3rd Merit List 2017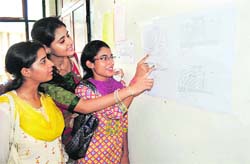 After the first merit list on candidates have to submit there dues and documents to the University administration within 4 to 5 days as that will be the last days give to the students otherwise their name will be struck off from the list and then University of Engineering and Technology Lahore has to declare its 2nd merit list and the next person will get admission on the seat of the candidates who did not submit its dues and documents on due time to the University admission department and the procedure will continue to the 3rd UET merit List 2017..
In few days here above you can see merit list 2017 so what you have to do is just click on the link which will be available on that day. After Clicking on the above link just write down your roll number of the entry test than date of birth and last your National Identity Card Number (CNIC) and than your result will be in front of your eyes and last date for selected candidates to submit their dues and all required document to the university officials will also be declared here soon.
Related Posts:
Those candidate who submit late dues or documents will not be entertained by the University administration so be on time if you want to be a student of University of Engineering and Technology. So stay in touch in order to get your UET Lahore 2nd, 3rd Merit List 2017 quickly and fast before the others.