Expected Merit Of Medical And Dental Colleges Of Punjab In 2018 will be more than 84% as the previous year MBBS and BDS merit in all governmental Medical Colleges is 80% but this year this merit has gone more up which is really  big problem for all students. According to officials this year in Government Medical colleges there are 60751 application form received and among them only 3305 candidates will be able to get admission in Government Medical Colleges in MBBS and BDS Due to limited number of seat. So all those students who cannot get admission in MBBS and BDS in Government Institutions will look forward for the private Medical Colleges in Pakistan and there are such students who cannot afford huge study expenses of private colleges in MBBS so they will put their wishes in heart.
Expected Merit Of Medical And Dental Colleges Of Punjab In 2018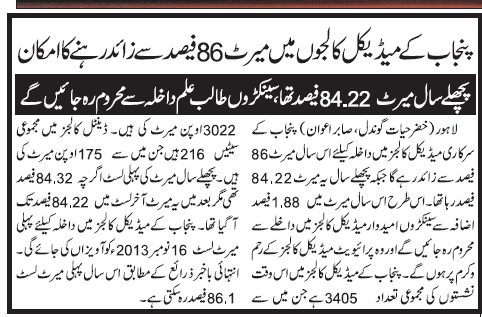 Punjab Medical and Dental Colleges Merit List 2018
In the medical and dental colleges entry test 2018 which is conducted by the University of Health Sciences (UHS) there are 36,098 students among them there are 11,110 are males and 24,988 are female candidates. This test was conducted in 12 different cities of Punjab and total 20 centres are formed so that this test could be completed without any problem. Cities in which this test were taken is Lahore, Sargodha, Sahiwal, Gujrat, Gujranwala Faisalabad, Bahawalpur, Multan, Muzaffargarh, Rahim Yar Khan, Rawalpindi and Hassan Abdal and due to security reasons a large number of police personnel are there along with bomb disposal squad and fire brigades. There were proper security arrangements with mobile phone jammers, CCTV cameras etc.
Every year there is an increase in the Medical and Dental Colleges of Punjab Merit of about 1 to 2 percent so Expected Merit Of Medical And Dental Colleges Of Punjab In 2018 is that if the last year merit for the admission in Medical and Dental colleges are 81.1% than this year it will raise to approximate 82% to 82.5%. So all those students who want to take admission in Government medical colleges should keep in mind that merit otherwise private medical colleges are waiting for you or you have to leave this wish here. The first priority of all the FSc Pre Medical Students are to take admission in the Public sector Medical Colleges but due to limited number of Medical Colleges as there are just 16 medical colleges in all Punjab in Public sector so only few hundred students are able to get admission in these colleges so the merit list will be displayed and merit will be high then previous year.