If you are searching for General Hospital Lahore Jobs 2019 Application Form Interview Date then you are on a right page. Lahore General Hospital is situated in Lahore near Ferozpur road Lahore. This institution was initially as beggar house by Mrs. Naheed Sikander Mirza after that due to some reasons the beggar house was converted in to a Hospital for general public named by Lahore General Hospital. This hospital facilitate to the poor people with cure. Many doctors are available 24hrs service at Emergency department. Lahore General Hospital opened vacancies a few months ago for different kind of positions many candidates applied for these and waiting for interviews. The selection committee of LGH checks out the documents of all candidates and after a long period of selection criteria. Now they have to decide the calls for interview to the eligible candidates.
General Hospital Lahore Jobs 2019 Application Form
The focused is perfect in maintaining the request as per the necessary approach. It is normal to maintain the application form and interview date of jobs. The possibility is being for the job is being mentioned according to the schedule already announced. You have to just apply for the job on the white paper and attend the interview. In such kind of job interview is most important. The online application form shall be submitted to remain intact to make the straight approach from the recruitment cell till the job posting. It is made possible through the General Hospital Lahore Jobs 2019 Application Form. The purpose of the application to mention your particulars.
One Blank Page consider as Application Form and submit it with 
Domicile
CNIC
Disable certificate
Two passport Size Photographs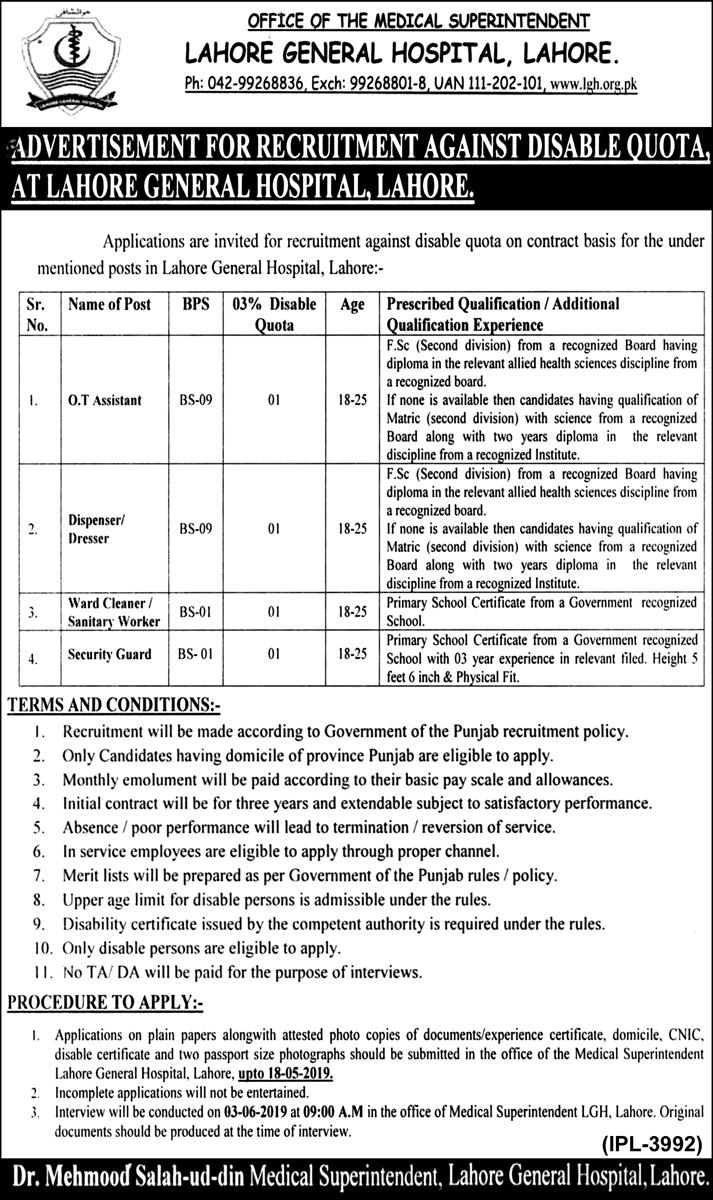 LGH Jobs 2019 Interview Date
Following are the position against candidates are scheduled for interviews at Lahore General Hospital selection committee office Lahore. Interview date is clear and focused as well. The approach is doing best as per the relevance with the policy of recruitment. The following posts are available and interview dates and time are mentioned here as well. Please remember the General Hospital Lahore Jobs 2019 Interview Date because no appearance means no chances at all.
Chowkidar
Naib Qasid
Ward Attended
Ward Cleaner/Sanitary Worker
Sweeper
Interview Date: 03rd June, 2019

Interview Time: 09:00 AM
Instruction for LGH jobs Interviewers
All candidates are required to appear for the interview at selection committee office of Lahore General Hospital.
Original Documents Are required to present during the interview
No TA/DA will be admissible to any candidate at the time of interview
Non appearance of candidates for interview is seems to be disqualified
This list of short listed candidates is updated on the Notice Board of the hospital
So the candidates if your name is appeared in short listed candidates then prepare yourself right now for this remarkable General Hospital Lahore Jobs 2019. For further information about this post please visit our page without any hesitation.