For the information of the people who want to start her business on a small scale now Punjab Rozgar Scheme 2020 Apply Online Form Rozgar psic.punjab.gov.pk has announced because due to COVID-19 a bundle of the people has free from jobs and nowadays they are searching the jobs but still fail. So the chief minister of Punjab Usman Buzdar has officially announced that the provincial government will provide loans on a low-interest rate to those people who start work on small businesses. Punjab Government will distribute the amount of 30Billion rupees among the 16 thousand people. According to management, 1.6 Million people would get jobs. Further, all information of Punjab Rozgar Scheme 2020 Apply Online Form Rozgar psic.punjab.gov.pk is mention in below the content
Punjab Rozgar Scheme 2020 psic.punjab.gov.pk
Punjab Raozgar Scheme 2020 psic.punjab.gov.pk has announced and people can easily apply while middle class, lower-middle and transgender are eligible for the load. The procedure of the loan has started and people are submitting the application for loans as well as all people the people are not eligible because according to the government of Pakistan 20 to 50-year-old women just only get the loan.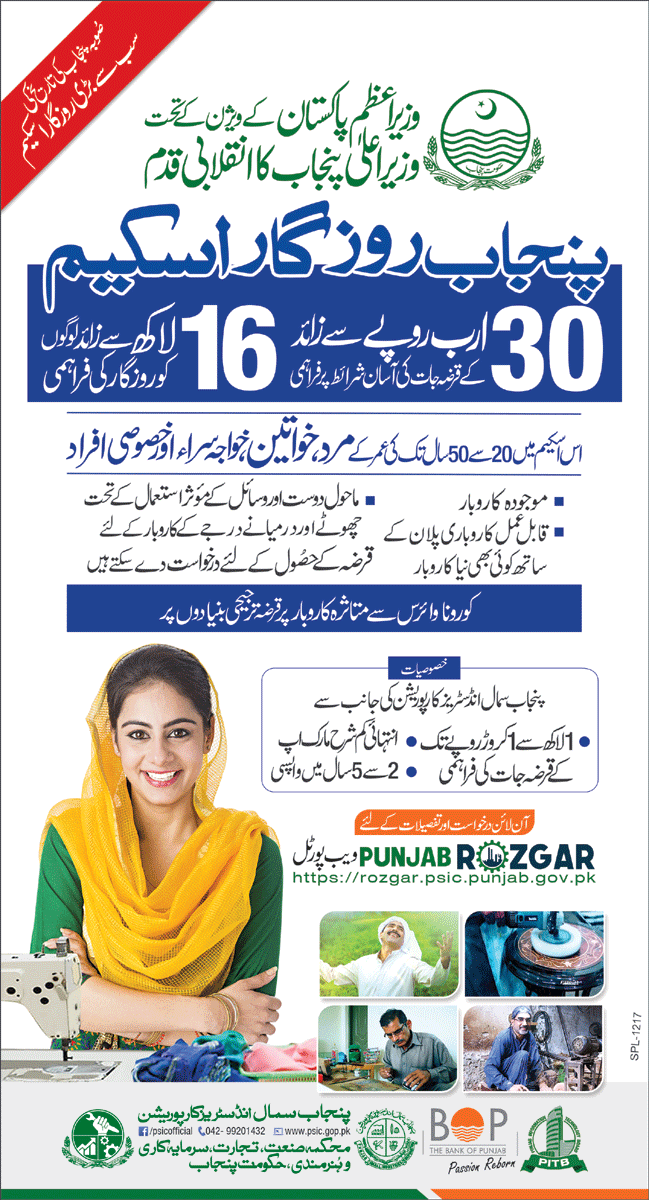 Punjab Rozgar Scheme 2020 Apply Online Form
Registration Form
The majority of the people are confused about application submission so now people can easily apply online form for Punjab Rozgar Scheme 2020. So the information is given in below and people can read.
When people will click on this link then application form will appear on your screen
You will provide all information who demand by the government.
After complete the form, you will click on submit then your application will register.
If you provide the wrong information then your application will reject
After submission of the application then management of this scheme will check your data so be careful at the time of form fill.
Punjab Rozgar Scheme Eligibility Criteria 2020
The government of Punjab has released the Punjab Rozgar Scheme Eligibility Criteria 2020 so before apply kindly read then apply for a loan. So all the criteria are mention below and read them carefully
Male/Female and transgender are eligible
Applicant must be living in Punjab and citizen of Pakistan,
Business place
For startups and new business
those people who are doing business on a small scale they are eligible for this scheme
Valid CNIC
The applicant holder must bring a certificate from TVET and vocational training
University and colleges certificate along with entrepreneurial skill
Existing business ( Government will prefer those people who were doing business but due to COVID-19 lost all the things.)
Micro and other enterprises can apply and take a loan on a 10 lakh to 1 career.
All information on Punjab Rozgar Scheme 2020 is mention in complete detail and people can follow the instruction, as well as 20 years to 50 years people, are eligible for this opportunity on the other hand from this scheme many people who want to start her own business they can easily start. The return policy of loans is very easy because according to the government of Pakistan people can easily return the loan amount between 2 to 5 years. Registration has started while few days are remaining then close.