Punjab University PU official now Issues Timings During Ramzan as Ramzan 2015 is started so all the educational and other organizations are giving relaxation in the routine timings so one by one every organization is issuing new timings for their employees and staff and now Today Punjab University Pu has also announced the timings and according to the official announcement order from the Registrar PU will remains open from 08:00 am to 2:00 pm in the after noon except Friday as the Friday timings will be from 08:00 am in the morning till the 01:00 pm of afternoon. This schedule is now also available on the official website of the Punjab University and also on the notice board of each department in the University.
PU Issues Timings During Ramzan
Punjab University has issued a notification of office timings during the month of Ramzan-ul-Mubarik. The PU will remain opened from 8:00am to 2:00pm (Monday to Thursday) while 8:00am to 12:00 noon on Friday.
Monday to Thursday Timings: 8:00am to 2:00pm
Friday Timings: 8:00am to 12:00 noon
While the Health Centre, Main Library, CWC staff of essential services of Resident Office-I, Resident Office-II, Project Director and Executive Club will observe the office timings of 8:00am to 1:00pm (All week days except Friday) while 8:00am to 12:00noon on Friday during the holy month.
Monday to Thursday Timings: 8:00am to 1:00pm
Friday Timings: 8:00am to 12:00 noon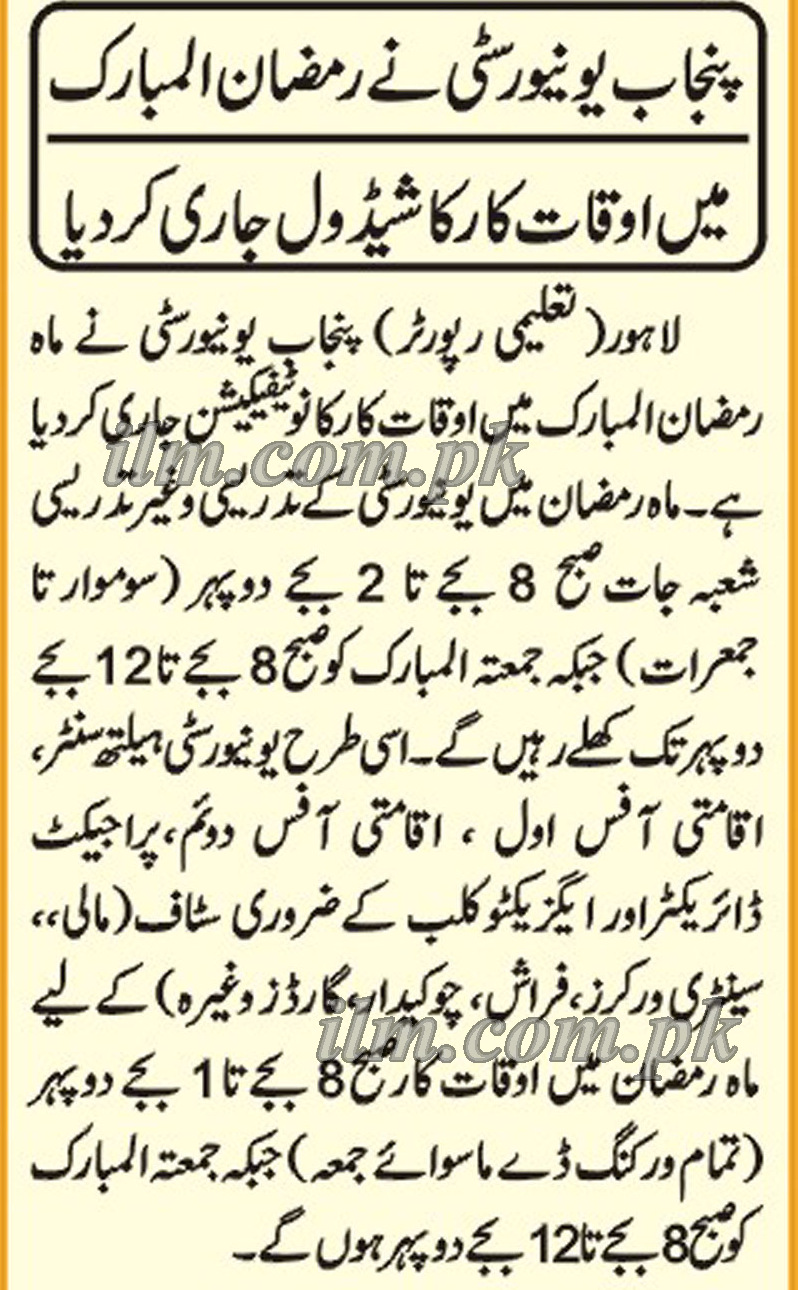 For more information, contact:
Registrar
Punjab University
Tel: +9242 9923 1102
Fax: +9242 9923 1103