Wafaqul Madaris has announced Wafaqul Madaris Top Position Holders 2018 Result 14 May 2018 Wafaqul Madaris has declared the annual examination result of 2018 (1439) and according to the official statement, the passing ratio of the students are 79% which is quite good from previous Year. There are total 175959 students including male and female that are got passed among 223739 number of total students. The Wafaqul Madaris Al Arabia Pakistan Announced Result 2018 by the President Sheikh Ul Hadith Maulana Saleen Ullah Khan and Nazim Maulana Muhammad Hanif Jhalendri. According to the official record, there are total 1459 examination center were established so that students can give their annual examination easily. To confirm the transparent examination overall there are total 8553 examiners fill their duties as Wafaqul Madaris believe in the transparent examination every year. To take participation in the annual examination there are 5507 Madaris and for Tehfeezulquran Examination there are total 5314 Madaris.
Wafaqul Madaris Top Position Holders 2018 Result
سال 1439ھ بمطابق2018ء ميں پوزيشن حاصل کرنے والے طلبہ/طالبات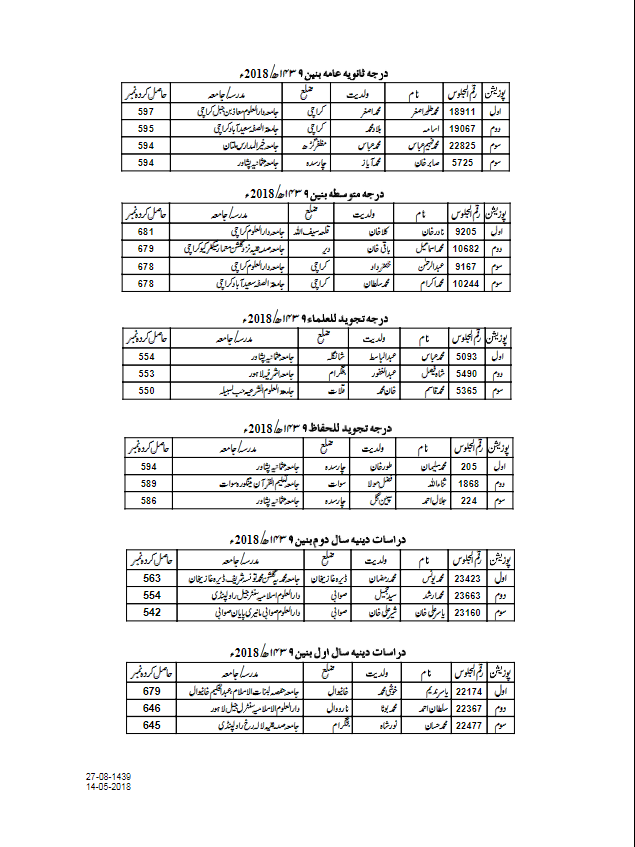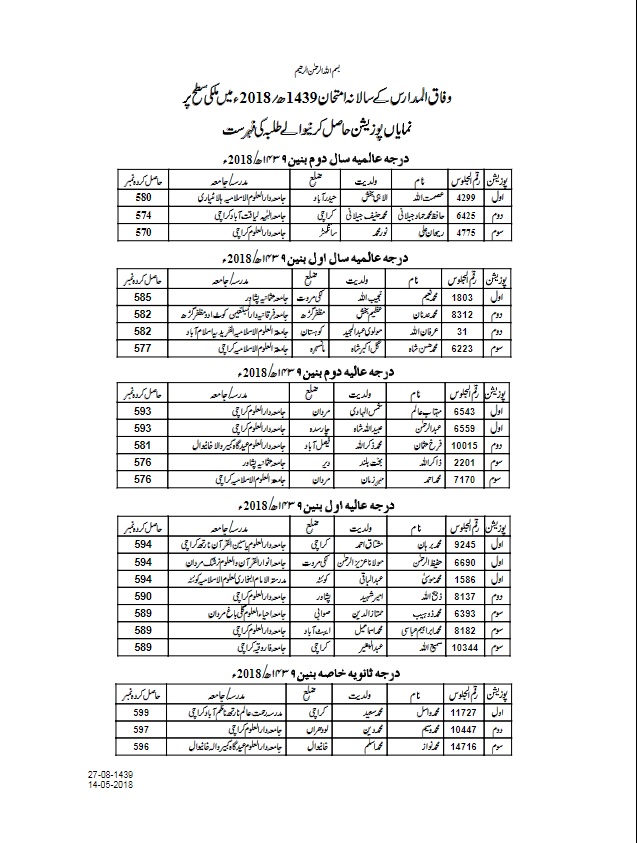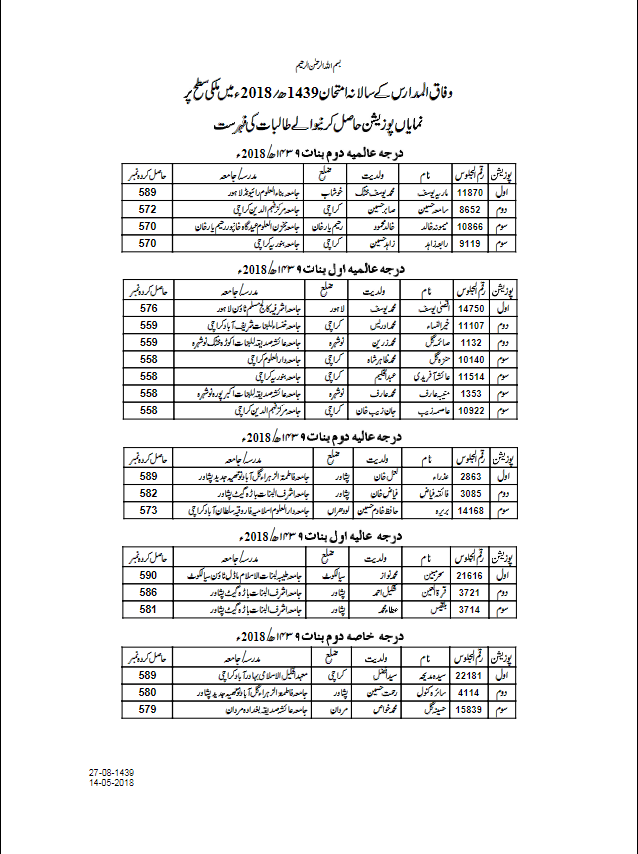 2017 top Position holders list here after announcing the 2018 position holder then Update here
Check the complete detail about the Wafaqul Madaris Top Position Holders 2018 in each class. You can check separate result for girls and for boys from this website. these are the top position holders in Wafaqul Madaris annual exam 2018 which was recently conducted and their result was announced on 14 May 2018. Those students who have performed well got good marks in their annual exam as the top position holder in each class are announced. There are also many students who failed to pass their exam and they will appear in the next year exam because if they will not clear their exam they will not get the degree of this institute. Wafaqul Madaris 1st Position Holders 2018, Wafaqul Madaris 2nd Position Holders 2018 and Wafaqul Madaris 3rd Position Holders 2018 can check from this site. You can also check Wafaqul Madaris Position Holders male student 2018 and Wafaqul Madaris Female Position Holders 2018 Result.