Institute of Business Administration IBA Karachi has to announce the IBA Karachi Skill Development Program 2021 so the Registration Form, Eligibility Criteria, and Some other Important Dates with information are available to this page so that is why if you are also among those candidates who are searching for the IBA Karachi Skill Development Program 2021 details then there is no need to go anywhere else. In this January 2021 Skill Development Program candidates can register themself for Public Speaking, Successful Business Communication, Refining Writing Skills, and Marketing for Non-Marketers, and all the programs are under the Center for Executive Education (IBA CEE). This center offers executive programs in different sectors including Public Sector, the Not-for-profit sector, and the private sector too. All the programs they offered perfectly according to the emerging issues and demand of the engaged business and are of short time duration. This Center for Executive Education (CEE) main focus is to help all the organization so that they could get the effective labor force from the Market and effectiveness could also be seen from the work output of these trained and skilled people. Well as the officials had announced the IBA Karachi Skill Development Program 2021 so read out the article till the end to get complete knowledge.
IBA Karachi Skill Development Program 2021
IBA Karachi Skill Development Program 2021 has announced and students can do the registration. On the other hand, those people who were not done the registration in the previous session now they can apply. Further, all programs offered by this university are going to mention in below. Moreover, registration and eligibility criteria are mention on this page.
IBA Skill Registration Form
You can download the registration form from the official page. In addition, you can apply online and when classes will start the university administration will send you a mail about the class schedule.
MS Excel Professional
The program Public Speaking program will enhance your speaking skills so that you could be spoken as a presenter in front of even hundred of people whom you did not know well this Public Speaking program will start from February to March
Effective Communication & Business Writing:
This Successful Business Communication program is specially designed to enhance and develop your communication skills as in this highly competitive environment it is necessary that you should have these communication skills to get an extra advantage over other candidates. The program classes will start in February and will continue till March. This program total cost for a candidate is Rs. 20,000/-
Arts of Presentation
Arts of presentation is a way to present your work in front of the general public who will like your work and that promote your business and work in a competitive market. This program will commence from February to March 2021 every Monday, Tuesday, Wednesday, and Friday from 05: 00 PM to 07: 00 PM
Personal Development:
Personal Development Skills program will enrich your writing skills with the fineries to pen your ideas as this program will cost Rs. 25,000/- and classes will commence from February and will continue till March 2021
Marketing Financial Services
If you read out the newspapers then most of the jobs in it are related to marketing so what if you do not read marketing come and take admission in this Marketing for Non-Marketers program and learn to gain a competitive advantage in your respective business functions. This program will cost Rs. 18,000/-
Interpersonal Skills
Interpersonal skills are the special enhancing of inner confidence that enriches the quality to convey the others on hour's point of view and to make peoples restrain on the criterion you are providing and have launched by you. So the total cost for this program is Rs. 16, 000/- and will commence from July to August 2021 every Tuesday, Thursday, and Saturday.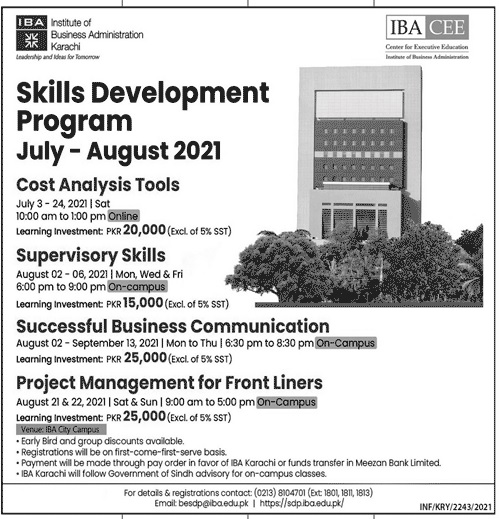 All the information about IBA Karachi Skill Development Program 2021 Registration Form and students can apply because within few days they will close the admission. After the last date, students will not eligible for admission and wait for the next session.