Standard Testing Services STS has announced the tests for Laptops/Tabs and Scholarships for Phase-2. we give detail information how to STS Laptop Scheme Test Preparation 2019-2020. STS is conducting its tests for the students of Matric/Inter and DAE for a long time. This organization is giving many opportunities to hard-working and intelligent students. Through this step, many students can claim scholarships and Laptops which is a basic need for a student. That's why the tests for Phase-2 have been announced by the officials and the students can apply before the Last date. In this phase, the organization takes different tests including Intelligence test, Knowledge test, Education test by the students of Matric and Intermediate. The purpose of this test is to award different scholarships and laptop to the intelligent and hard-working students. Every year the organization holds a test for both Matric/Inter and DAE students. So, this is a good opportunity for the students to appear in the test with good preparation. This will help the students very much. The students of Matric/Inter and DAE can apply online for the test before the last date. So the students, going to apply for the test can register themselves for the test through different ways are given below.
STS Laptop Scheme Test Preparation 2019-2020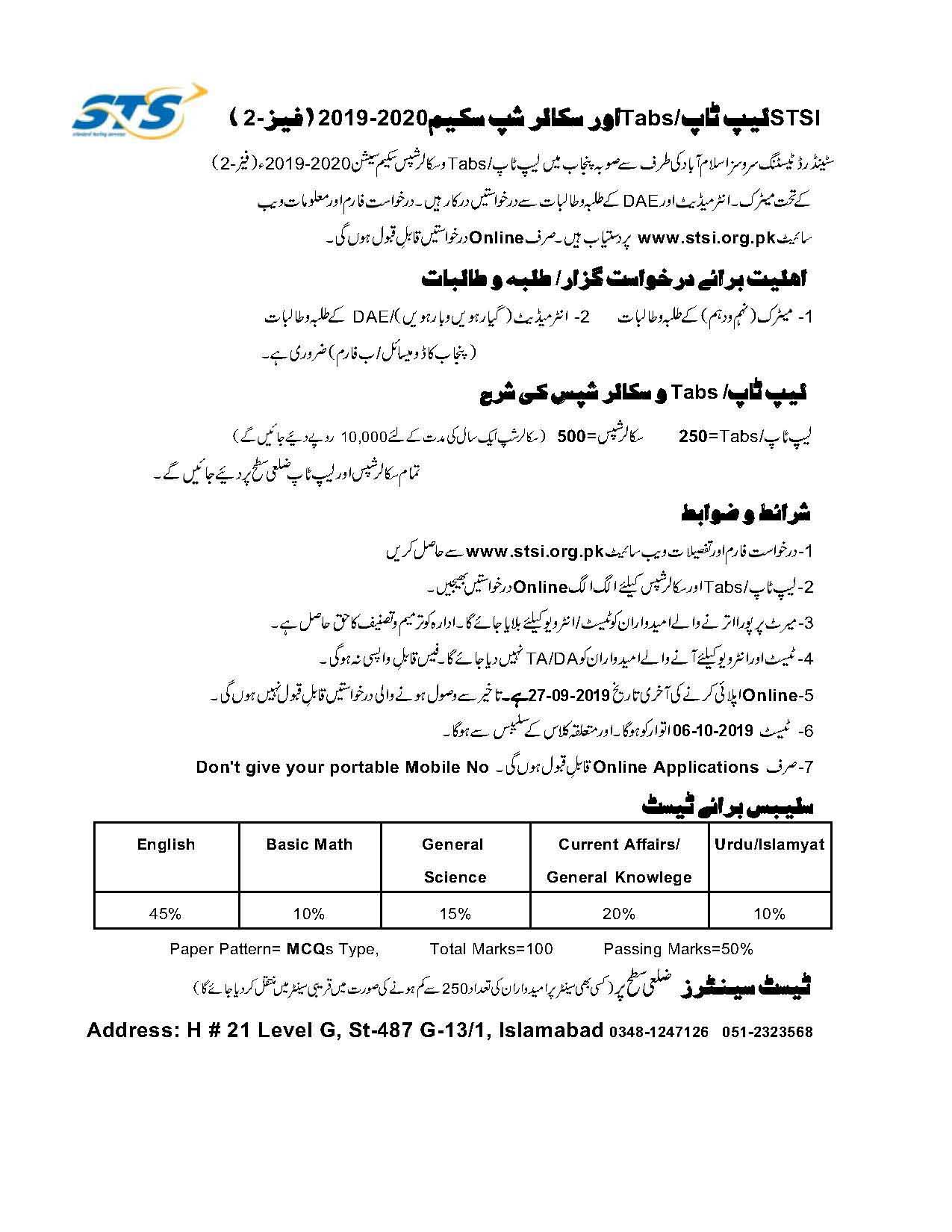 Amount of Laptops/Tabs and Scholarships:
Number of Laptop/Tabs: 250
Number of Scholarships: 500
(Amount of 10,000 per year will be given)
STS Eligibility Criteria:
The candidate must meet the requirements of the test given below:
Matriculation students (both boys and girls) can apply for the test.
Intermediate and DAE students (both boys and girls are eligible for the test.
Candidates must have Domicile within Punjab.
Candidates must submit their Form-B and Domicile.
STS Laptop Scheme Test Preparation 2019-2020 Syllabus
The syllabus for the STS test is:
English
Basic Math
Gen. Science
Current Affairs/
Gen. Knowledge
Urdu/Islamiat
45%
10%
15%
20%
10%
MCQs Type Questions                                  Total Marks=100                                       Passing Marks=50%
The test will be composed of the relevant Text Books of the relevant classes.
STS Applying Procedure:
Visit www.sts.org.pk to download the application form.
Fill the form entirely and submit it until 27 September 2019.
Submit the applications for Laptop/Tab and Scholarships individually.
Only Online applications will be entertained.
The test will be conducted on 06 October 2019.
The candidates meeting the merit will be called for the Test/Interview.
Important Dates:
Final date to apply: 27 September 2019
Test Date: 06 October 2019