Engineering Colleges Admission Test ECAT Test Centers in Pakistan Address Contact Number Details with other information is available here. ECAt Entry Test is the basic test organized specially for the Pakistani as well as for the international students to get admissions in Pakistani engineering colleges and universities in Pakistan. ECAT is the first step to get admissions which is the most competitive admissions in engineering test in Pakistan. ilm.com.pk provides you the list of the whole ECAT Test Centers in Pakistan at which the admission test is going to be conducted in Pakistan. Dear Students in this writing i further put a light upon Engineering Entry Test.
Before this writing ilm.com.pk provides you complete UET Lahore Entry Test Preparation Guide of ECAT for those students who wants to get admission in Engineering College and Universities in Pakistan. Our Team Successfully buzzed up upon Eligibility Criteria for ECAT, Introduction of Engineering Admission Test as well as Fee Structure every student have to take part in this Test. Actually for Registration of ECAT Entry Test in Pakistan there is no 60 or 50 Percent Percentage Criteria for Students. You can apply for ECAT Entry Test either you have good or worst percentage as well. But after this ECAT Entry Test you should have to show good percentage to full fill the University Criteria of 60 Percent Marks as well.
ECAT Test Centers in Pakistan Address Contact Number Details
UET mostly conduct ECAT in July or August and declares results in September. Usually UET conducts ECAT in the following given centers. The candidates are advised to reach their respective ECAT Test Centers in Pakistan one hour before the commencement of test.
Lahore
University of Engineering and Technology Main Campus Lahore 042-99029452
Kala Shah Kaku
University of Engineering and Technology Kala Shah Kaku campus 042-99029452
Taxila
University of Engineering and Technology Taxila 051-9047412
Multan
BZU Engineering College Multan 061-9210051
NFC Institude of Engineering and Technology Khanewal Road Multan 061-9220012
Faisalabad
NFC Institude of Engineering and Technology Faisalabad 0419220355
Bahawalpur
Engineering College Islamia University Bahawalpur 062-9255474
Gujrat
University of Gujrat 053-3643331
Islamabad
International Islamic University Islamabad 051-9019465
Government College of Technology Rasul 0546-553216
Mianwali
DR A Q Khan Institude of Technology Mianwali 0459-371001
Rahim Yar Khan
Government College of Technology Rahim Yar Khan 068-9230025
Sahiwal
Quid e Azam College of engineering and Technology Pakpattan Road Sahiwal 040-4501385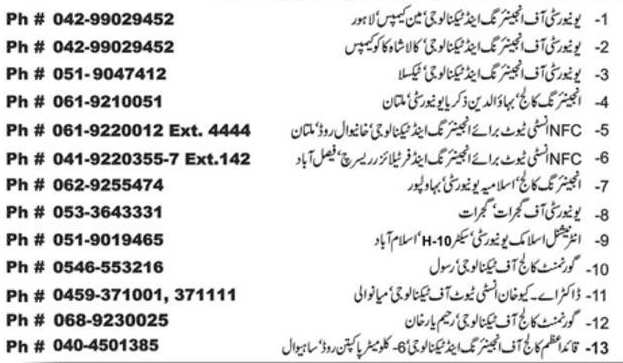 Although with the dedicated Team and Most active Management Entry Test Officials have there are also illegal activities are expected on the Test Day. As last year it happened that ECAT Test Paper was leaked out. There are some sort of students exist in Pakistan who don't want to study and show hardworking behavior during studies they just want to explore those illegal ways which can gives them admissions in Engineering University in Pakistan. Pakistan Engineering Universities are there for students help who wanted to gives their ECAT Test Centers in Pakistan for Admissions and already got good percentage in Pre-engineering or Intermediate Level.