The officials of the hospital and Management has announce the Civil Hospital Karachi Jobs 2019 so the interested candidates can Apply Online. The complete Eligibility Criteria for the chk.gov.pk Jobs 2019 is listed on this page as well as in the Advertisement below. The hospital require almost all the staff performing their duties with the honesty and hardworking so if you have the educational background of the same field as mentioned in the Eligibility and also have some experience then this is the best career opportunity for all of you. Let me mentioned here that the Civil Hospital Karachi Jobs 2019 for BPS-1 to BPS-5 can apply before the 13th January as they just need to get the required document and go to hospital on 13th January for an walk-in Interview. On the other side the chk.gov.pk Jobs 2019 for BPS-6 to BPS-15 can apply online till 8th January, 2019.
Civil Hospital Karachi Jobs 2019 Apply Online chk.gov.pk Jobs
Among all the Civil Hospital Karachi Jobs 2019 these are the jobs listed below as you can also view them in the advertisement below on this page so have a look here.
CT Scan Receptionist
CT Scan Technician
Assistant percussionist
Neurophysiology's Technician
Research Assistant
Data Entry Operator
AC and Refrigerator Supervisor
Computer Operator
Purchi clerk
Senior Auditor
Anesthetist Technician
Angiography Technician
Bronchoscope Technician
Cardiology Technician
Computer Operator
CT Scan Technician
Dental Technician
Dispenser
ECG Technician
Echo Technician
ECT Technician
EEG Technician
Endoscopy Technician
ENT Technician
Eye Technician
ICU Technician
Lab Technician
Lady health Visitor
Laser Technician
Neuro Radiographer
OT Technician
Ophthalmologist Technician
Physiotherapy Technician
X-Ray Technician
Steward
Dark Room Attendent
Lab Assistant
OT Assistant
Physiotherapy Assistant
Cahier
Dietician
Mid Wife
Nurse Aid
Black Smith
Generator Operator
Gastetner Operator
Inclinator Man
Junior Store Keeper
Sui Gas Mechanic
Civil Hospital Karachi Jobs Last Date :

8th January, 2019
chk.gov.pk Jobs 2019 Advertisement
As the officials of the Civil Hospital Karachi has announce this chk.gov.pk Jobs 2019 Advertisement in the leading newspaper of the Pakistan so that is why you can also get from the newspaper as well as from this page. rest the complete information of the jobs with details is available in the advertisement below.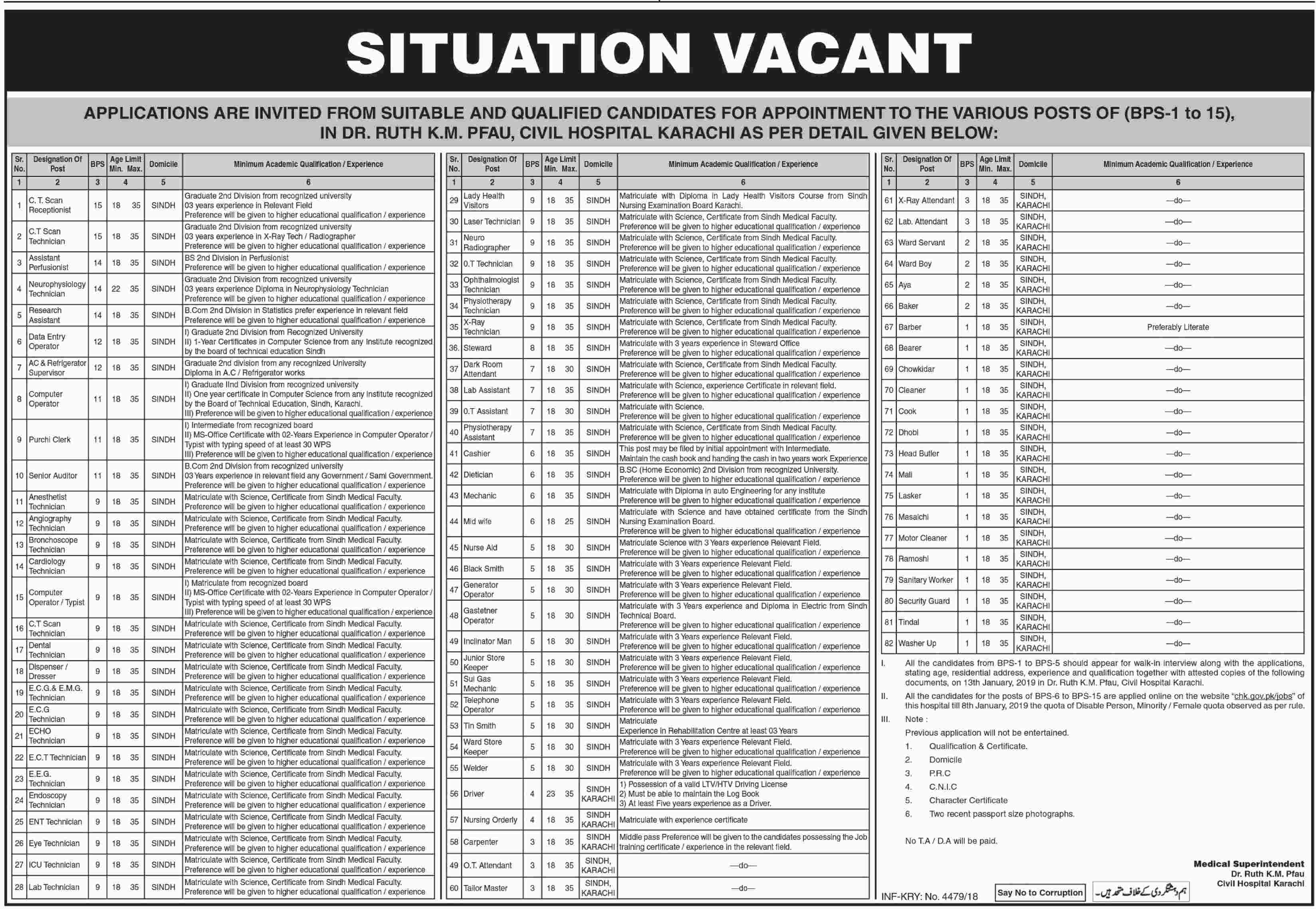 Civil Hospital Karachi Jobs Online Apply 2019
All those candidates who complete the eligibility Criteria as mentioned in the advertisement and wanted to be part of this organization can Apply online before the last date. According to the officials of Civil Hospital Karachi the last date is 8th January so all the applications should be Civil Hospital Karachi Jobs Online Apply 2019 before that date.
CLICK HERE TO APPLY ONLINE
along with the Civil Hospital Karachi Jobs 2019 candidates have to submit the Qualification and Certificate of their educational career, Domicile Copy, P.R.C, CNIC Copy, Character Certificate and two recent taken passport size Photographs. Those applications who found incomplete in any sense cannot be entertain in any case.